Do you have leftover hard-boiled eggs and chocolate candy from Easter? Here is the perfect solution!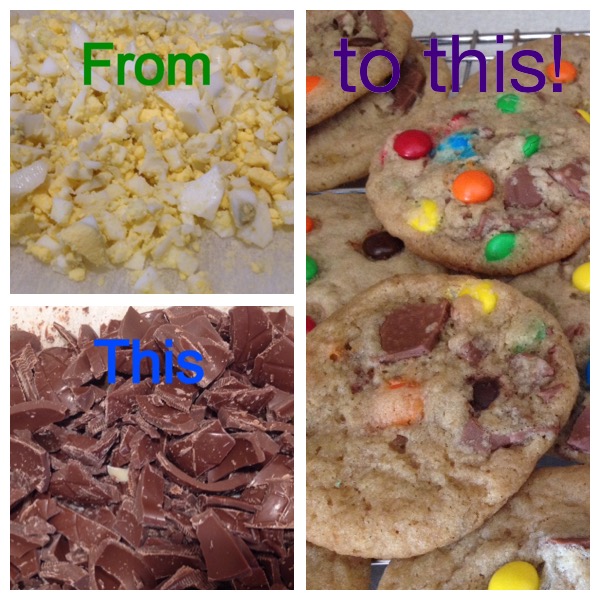 1 cup butter (softened)
1 ¼ cup brown sugar
2 teaspoons vanilla extract
2 hardboiled eggs – finely diced
½ teaspoon salt
1 teaspoon baking soda
2 ¼ cup flour
2 cups chopped Easter candy (or chocolate chips)
Preheat oven to 350 degrees. In a small bowl, mix flour, salt and baking soda together. In a mixing bowl, cream butter and brown sugar together until fluffy. Add the vanilla extract and the finely diced hardboiled eggs and mix together. Add the flour mixture. You will see small pieces of egg in the batter. Don't worry, these disappear after the cookies are baked. Stir in 2 cups of chopped leftover Easter candy (I had Easter packs of mini M&M's that I added along with chopped chocolate eggs). Roll into tablespoon-sized balls on a parchment lined cookie sheet. Bake 9-11 minutes or until barely brown on edges. Let cool for a few minutes before transferring onto a cooling rack.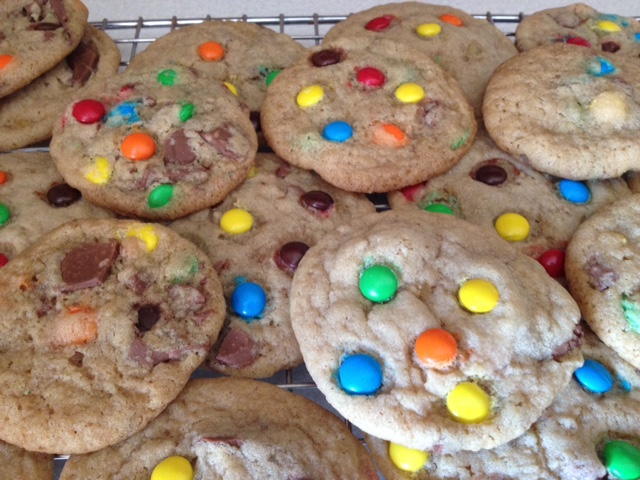 These are incredibly yummy! And, BONUS: You can eat the raw cookie dough without worrying!!! There are no raw eggs in the dough! Talk about a win/win situation. Let other people make devilled eggs and egg salad sandwiches from their leftover eggs. I'll take these cookies over that any day. These were so good that I will boil eggs in the future just to make them!