Thinking back to my childhood, I can't even remember a single time we bought popsicles from the store. We had a great popsicle mold and I guess my Mom just figured, why buy them, if you can make them? I suppose she was right….Popsicles are super easy to make, the kids love helping and when you make them at home, you're skipping most of the ingredients that make store bought popsicles unhealthy (like added sugar and food dyes).
The apple didn't fall far from the tree I guess, because it's very rare that I buy my kids popsicles. They're just so simple to make and the flavor combinations are endless! As summer approaches, I want to encourage you to just be creative. Use whatever juices and fruits you have on hand and for some extra protein and calcium, add in a yogurt!
All you'll need is about 5 minutes, a blender and a popsicle mold. I found ours at Target, but you can get them anywhere.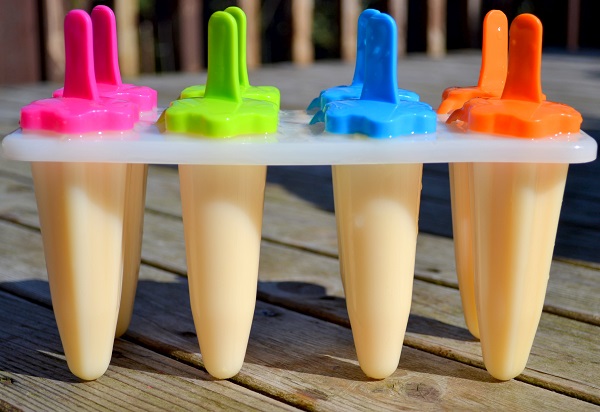 Here's a popsicle recipe we love:
Pineapple Orange Popsicles
•1 cup pineapple chunks
•1 container of yogurt (any flavor would work)
•1 cup 100% orange juice
•1 baby orange
Put all ingredients into a blender, blend well and then freeze.
Please share your favorite popsicle recipes below! I'm always looking for new ideas!