How is it that I always seem to end up with uneaten, overly-ripe bananas? I'm sure there is a metaphor for life in there somewhere, I'm just not sure what it is. I know there are lots of healthy things one can do with overly ripened bananas, but somehow I always end up making banana bread. It's the one baked good that my husband loves (which means that I won't HAVE to eat it all myself).
Because following a recipe bores me to tears, I am forever tweaking and adding and deleting things every time I bake anything. My husband always says: "Enjoy this now kids, because you will never eat it again!" He thinks he's hilarious. But, he is also right. I just can't seem to duplicate a successful baking experiment because I always think of a different way to make it the next time. I can't help myself.
But, (for now), this is my favorite easy banana bread recipe. Enjoy! (Because you'll never get it again!).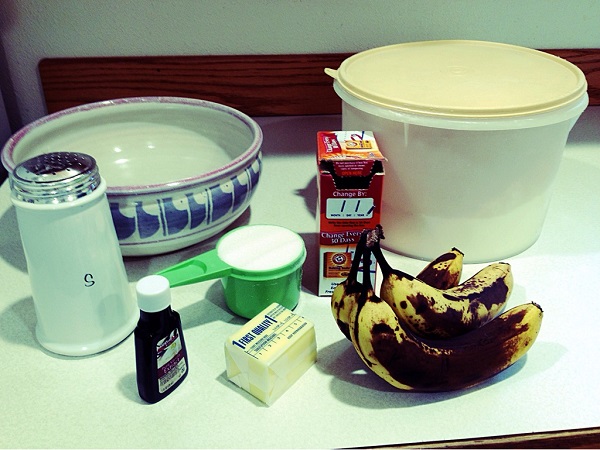 In a bowl, stir together: 3 mashed ripe bananas and 1/3 cup melted butter (room temp).
Add: ¾ cup sugar, 1 egg and 1 teaspoon of vanilla extract.
Sprinkle: 1 teaspoon of baking soda and a pinch of salt over the banana mixture.
Lastly, add 1 ½ cups of flour and ½ cup of chopped nuts. Stir just until combined.
Pour into a greased loaf pan and bake at 350 degrees for 50-60 minutes (I baked mine for 40 minutes and tented with foil for the last 10-15 minutes so the top wouldn't burn).
And, there you have it, a delicious afternoon snack. It's perfect with a cup of tea or a glass of milk.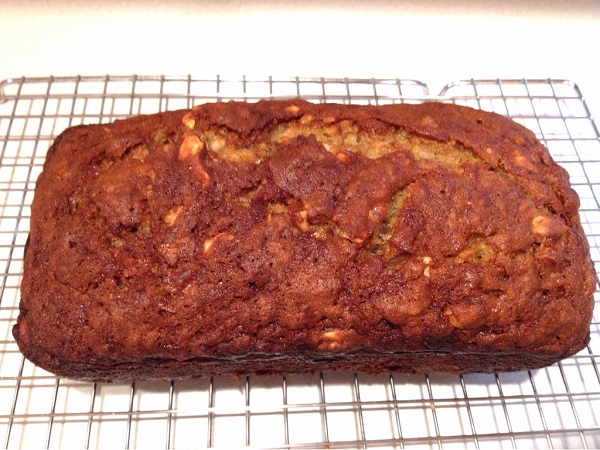 Ooh, you know what would be yummy in this recipe? Mini chocolate chips! Or how about a half teaspoon of cinnamon for a bit of spice? Oh, raisins! I love raisins in baked goods. I wonder what sunflower seeds would taste like in this. Or, what about a combination of all these things?
Eat up, honey. Because you really aren't ever going to get this same banana bread ever again!