Recently I wanted to get back on track with cooking healthy(er) and, in the name of accountability, committed to sharing what I've been serving my family every night this month. Plus, don't you just love peeking into other peoples' homes? Well, here we go! {Read more about the idea behind my September Re-Set and see what I ate during week 2, week 3, and week 4.}
---
So far, so good! I planned well, shopped well, and prepped well so dinners were a breeze this week. I spent about 90 minutes over the weekend chopping, mixing, and organizing so individual meals came together incredibly fast.
The first week of a new change always seems easy because it's still exciting and you're energized about your progress. I'm hoping I keep this up for week 2, because we're feeling great in our house – AND we've made it a full week with completely clean plates and no dinnertime drama from the kids. WHAT?!? This is amazing.
---
Sept. 1 – grilled chicken sausage, garlic sweet potato mash, salad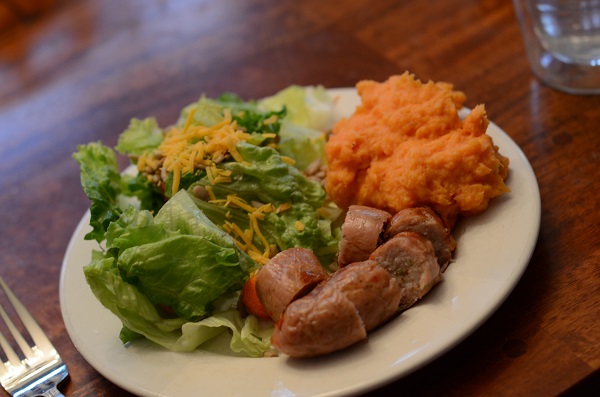 I'd made the sweet potatoes in advance so all I had to do was heat them in the microwave, grill some sausage, and toss a salad. Simple, healthful, and delicious. Time to table: 20 minutes.
---
Sept. 2 – grilled chicken tacos with cabbage slaw, cilantro lime dressing (very loosely based on this recipe), and queso fresco on corn tortillas with canned black beans on the side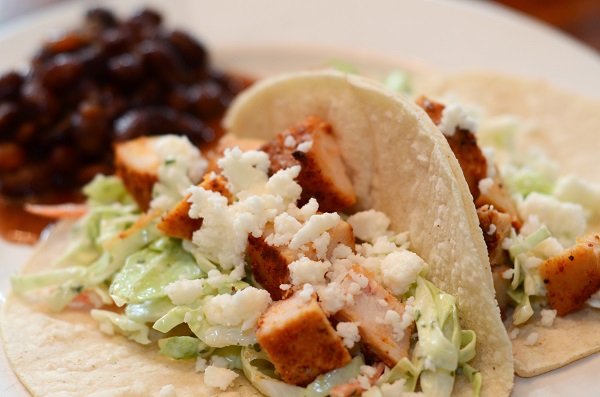 I'd pre-seasoned the chicken (very loosely based on this seasoning combo) and pre-mixed the dressing over the weekend, so all I had to do was grill the chicken, toss the cabbage slaw with the dressing, heat the beans with some salsa for extra flavor, and throw the tortillas into a pan to warm them up. This was amazing, and by far the weeknight winner for all of us. Time to table: 20 minutes.
---
Sept. 3 – slow cooker BBQ pulled pork over cilantro-lime-dressed cabbage slaw tossed with black beans, corn, and red onions
Oh hello, double duty. I'm no fool. Yesterday's dressing and cabbage slaw re-appeared but got a facelift. This salad was another winner, and held up amazing as leftovers. I also used it as taco filling for lunch with some grilled chicken. Since I'd made the pork and roasted the corn during my weekend prep time, the time to table was ridiculous: 5 minutes.
---
Sept. 4 – asian short ribs over rice noodles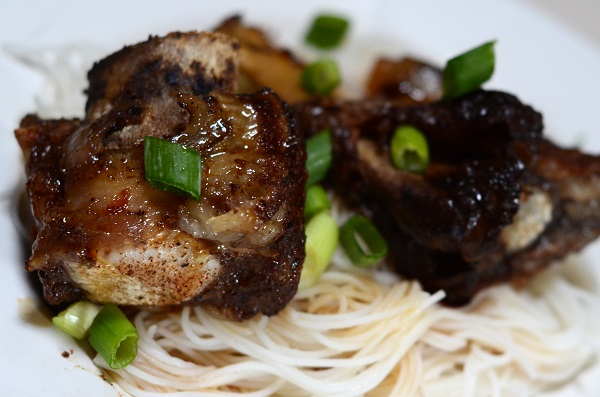 We were in a hurry to leave the house this evening, so I didn't get a chance to sauté veggies on the side as originally planned. Still, I figured my home-cooked meal without veggies was better than fast food in our rush. This was just fine, but nobody's fave. We probably won't make this again. Time to table: 20 minutes (for the noodles).
---
Sept. 5 – turkey chili verde over rice with cheddar cheese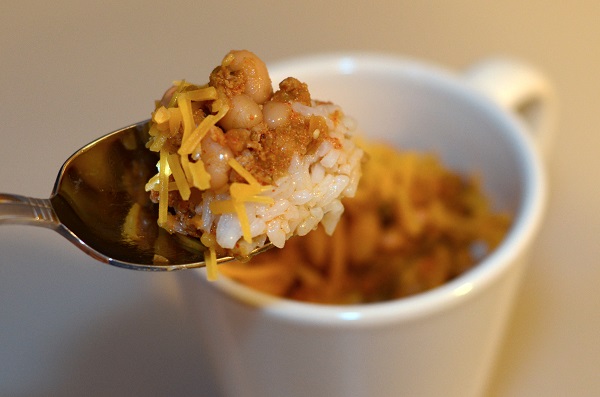 After a busy weekend day, I was proud that we avoided take-out. We ate some chili I had frozen a couple of months ago after cooking a large batch. I just had to make rice, because that's how I eat my chili. You should try it. I'm not sure you'll go back. Time to table: 20 minutes (for the rice).
---
Sept. 6 – roast chicken & potatoes with roasted carrots with thyme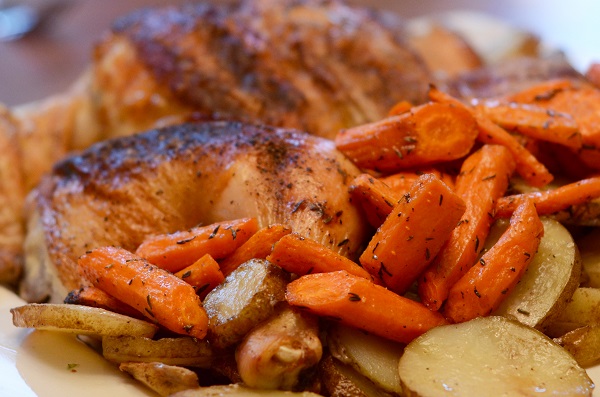 I LOVE Sunday dinners. Unhurried time in the kitchen is life-giving for me, and I really enjoy cooking something a little more labor-intensive and special for Sunday evenings. While it takes some prep work and a little extra effort, this recipe is SO worth it. The chicken is delicious, the skin crispy & seasoned, and the potatoes are cooked in the pan drippings. Seriously. Why haven't you bought yourself a chicken yet and started this dish? Time to table: 2+ hours, but who cares? I spatchcocked a chicken, I chopped some vegetables, I drank some wine. #LivingTheDream
---
Sept. 7 – grilled sausage, loaded baked potato salad, corn on the cob, baked beans, pears, and chips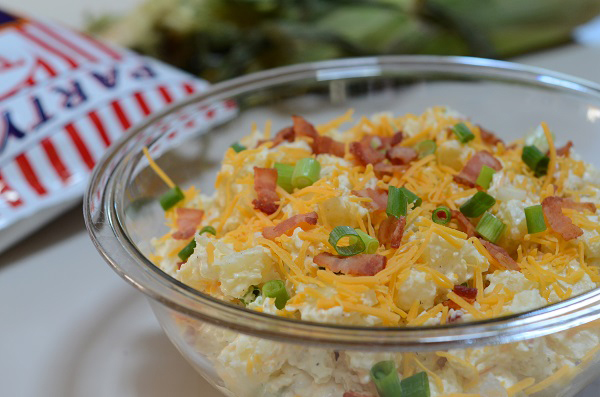 Hello Labor Day BBQ with friends! Obviously this menu wasn't the healthiest of the week (exacerbated by the fact that it was finished off with s'mores over the fire pit), but at least I didn't default to convenience foods. And since the point of this whole exercise is not perfection, but rather to make a grace-filled effort to get back on track, I'm wholly satisfied with this week.
Tune in next week to see if I can keep this up. I hope it goes just as well (and is just as delicious) as this one!