Paris has fascinated me since I was a young girl.
Growing up, most of my life I lived with my dad and stepmom, except when I spent summers with my mom. I would lie in bed with her on those summer nights, all cozied up under soft blankets, and she would teach me French words and phrases. They all sounded so beautiful to me. With her large looping handwriting, she would scribble French words into a red notebook that had a French poodle on the cover, and I took it all in, making sure to tuck Paris into my heart. I wanted to learn, I wanted to keep listening to the beauty, and I wanted to hang on to my mom for a little bit longer because I knew the summer days would end soon enough.
My mom and her parents had lived on the outskirts of Paris when her father was stationed at the US European Command headquarters in Camp-de-Loges from 1964—1966. From the ages of ten to twelve, Mom called Maisons-Laffitte home. She told me she loved it there and that the people seemed so free, unencumbered by what others thought. They just lived and enjoyed life and food and conversation. My grandfather was also fond of Paris, particularly the wine and the eight- to eleven-course meals. Both my mother and my grandfather shared a love of the culture.
Hearing the stories of Paris from my mother and grandfather sets my heart yearning to see it for myself; I have never been there. I want to experience the beauty and the art and the food and the culture.
But this longing for Paris sparks something else in me. I find myself beginning to dream about living another life.
My imagination takes me to Paris in the 1920s. Midnight in Paris, one of my favorite movies, captures perfectly my ideal Paris. The movie takes the lead character, Gil Pender (played by Owen Wilson), back in time to that era, where he meets F. Scott Fitzgerald and Ernest Hemingway among other writers and artists who have a genuine camaraderie with each other in that city that seems to never lose its sparkle. I would have loved being part of that time, going to cafés every day, writing, staying up late, and having long conversations into the night about God and faith and art and music and all of the things that set flame to my soul.
My imagination takes a turn, and before long I'm dreaming of two lives, paralleling each other. In one life, I'm doing what I'm doing now. I'm married, raising my precious children, homeschooling, and, as Barbara Mouser says in Five Aspects of Women, trying to raise life above the mere existence where God has me. In my other life, I move to Paris and get a place at 39 rue Descartes where Hemingway wrote, wake slowly in the mornings, ease my way into my coffee, and run my fingers on notebook pages ready to be filled. I have time to write words that matter, that encourage the soul, because I have time for depth. At the end of the day, I put my work in my bag and walk in the rain along the Seine, then stay up late in rooms filled with music and laughter. Conversations run deep, and my soul's need for beauty and purpose and relationship is realized.
Something in me aches as I come back to reality. Why these dreams? Why this longing? I'm happy with my life, thankful for all I have. And yet . . .
It is this longing for Paris that leads me to explore my deeper longings.
---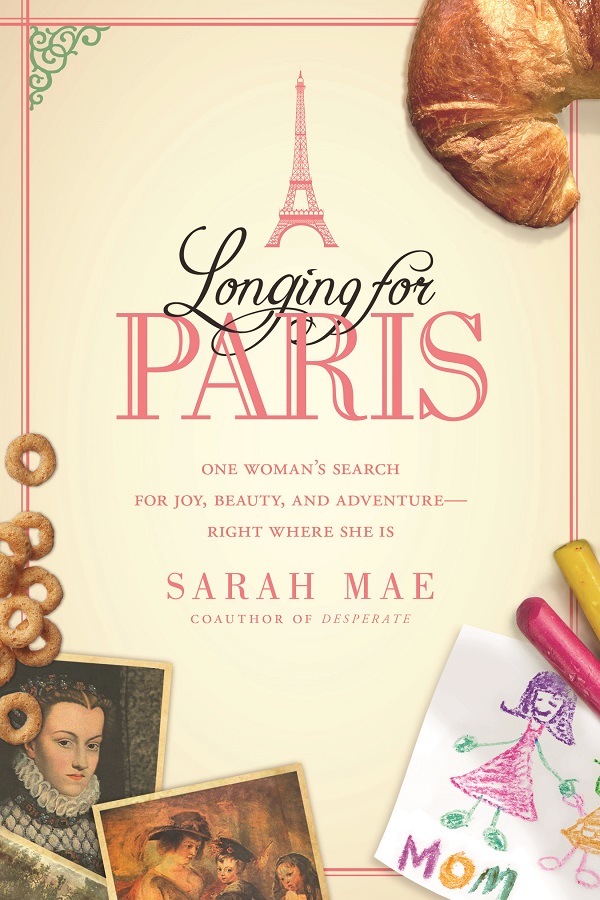 Sarah Mae's new book Longing For Paris: One Woman's Search for Joy, Beauty, and Adventure – Right Where She Is (Tyndale Momentum) recently released, and it can be yours! Enter to win a copy for yourself!