While the malls may have been cashing in on holiday shopping since early October, I don't believe the Christmas season starts until after Thanksgiving. As I was decorating – yes, one of my traditions is to decorate on Black Friday – I started thinking about Christmas traditions. I texted some of my friends to find out more about some of the traditions they grew up with or have now with their families. Here are the top ten Christmas traditions they shared with me that I wanted to share with you. Maybe there's room in your holiday for a new tradition or two!
1) Matching Christmas Pajamas. This seemed to be the most popular amongst those I asked. Growing up, we always opened "one random gift" on Christmas Eve. It was always Christmas pajamas. Clearly my mom rigged that "random" part. Now that I am the mom, I get my two kids pajamas early in the season so they can wear them all month long. I am a huge fan of the pajamas at Gymboree.
2) Special wrapping paper. One of my friends uses different wrapping paper for each family member. Seem like a pain? Think about Christmas morning and how easy it would be to not have to call out who each present is for! I also have special Santa wrapping paper so anything in that is straight from the North Pole.
3) Black Friday Traditions. I went shopping one year and discovered it is not my thing. I wasn't prepared and ended up making odd purchases, being angry with the crowds and really getting in the opposite of the Christmas spirit. Maybe you and your family have a black belt in Black Friday shopping. I commend you for that! My husband and I take our kids for Santa pictures and then head home for a family day of decorating and Christmas movies.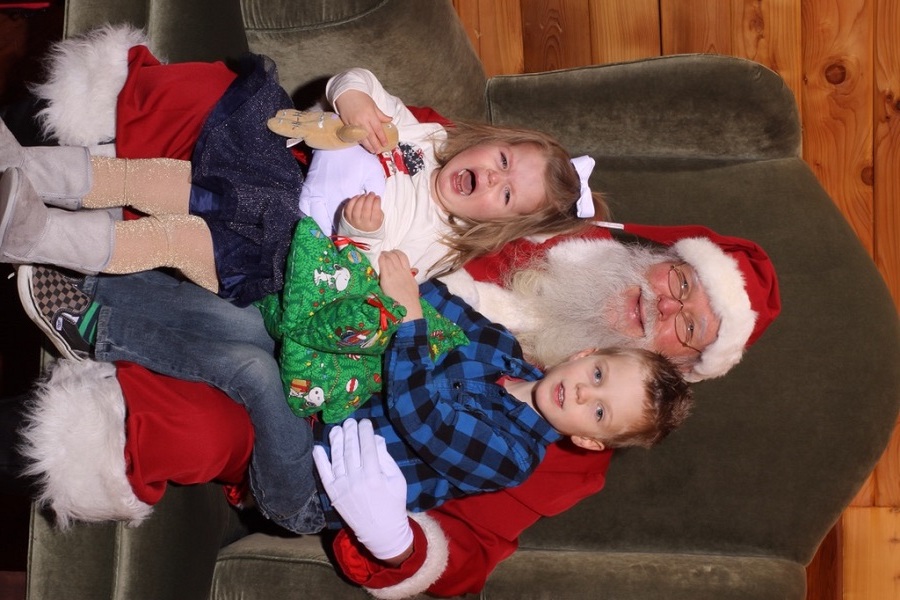 4) Tree lighting roles. One of my friends has her oldest be in charge of the final plugging in of the Christmas tree, her middle child gets to pick the first ornament that goes on the tree and the youngest goes on daddy's shoulders to put the angel on top. Of course, once the youngest gets too big that might not work.
5) Toys In, Toys Out. It's important to me that my kids learn the value of providing for those less fortunate. Before Christmas, it is mandatory that my kids go through and donate toys and clothes. It makes room for more but also teaches them that the world is bigger than just themselves.
6) Adopt A Family. Each year, my friends and I adopt a family in need. Typically we have adopted a family with small kids but this year our hearts were called to a family with teenagers as those are sometimes overlooked. Senior citizens are another age group that is often in need but over looked.
7) Christmas Lights and Christmas Carols. This is something we always did growing and I have continued it with my own kids, only I have added a stop to Starbucks so that I have energy for the evening. Not sure how my mom did without that! Our church offers a Christmas Eve Eve Service (yes, the night before Christmas Eve). We leave about an hour earlier than normal to drive around, sing Christmas carols and look at all the fun neighborhood lights on our way to church.
8) Find the Christmas Pickle. As though Christmas isn't chaotic enough, here is a game to add to it. Learn more about this wacky fun tradition here. You basically hide an ornamental pickle in the tree and the first to find it wins. It's harder to find than you would think. My mom has a blast watching her grown children hunt for it. She hides two! We have not yet had my small kids participate so we wait for them to nap and then start this one.
9) Letter to yourself. This is something I have done since I was a kid and hope I always do. Each December, I write a letter to myself. I write things that I hope to accomplish in the coming year, things I am thankful for etc. I started having my five year old son do it last year (well, I wrote what he told me) and will start with my two year old daughter in a couple of years. I then pack the letters up with the Christmas decorations so I can unpack it and read it a year later. It is so much fun to hear my past self in the letter.
10) Want, Need, Wear & Read. This is something I read years ago and keep saying I am going to make it one of our traditions; I've yet to do it. Instead of overloading kids with presents that they don't really need, make it a tradition that they get something they want, something they need, something to wear and something to read.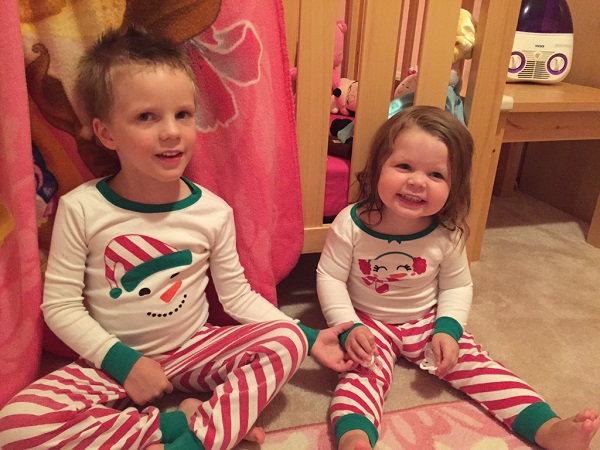 What are some of your traditions? Maybe your idea will be featured in a future post! We'd love to hear from you!
---
Do you have a topic idea for Top Ten Tuesday? We're looking for guest writers for this feature; email us at comments@allmomdoes.com with your 1-2 sentence pitch. If it's approved you'll be asked to write the full article and it will be published on allmomdoes!