Cranberry Bliss Bars have always been such a rare, special treat to me. Last year, when I discovered that I can make them from scratch, it was a total game changer. I made these for our MOPS Christmas party and I can't wait to make them again soon.
If you have a weakness for the ones in the store, try making them at home! Not only are they amazing, but they're also beautiful so they're perfect on cookie plates for your neighbors, garbage truck driver or mail lady!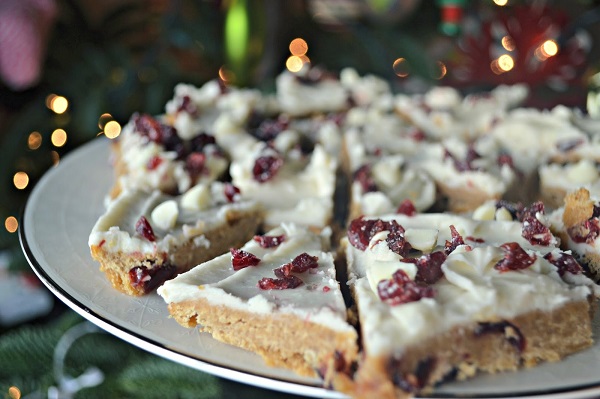 Cranberry Bliss Bars
Adapted from Averie Cooks
Ingredients: For the Bars
1/2 cup unsalted butter, melted (1 stick)
1 large egg
1 cup light brown sugar, packed
1 1/2 teaspoons vanilla extract
1 cup all-purpose flour
1/4 teaspoon salt, optional and to taste
3/4 cup white chocolate chips
1/2 cup dried cranberries, loosely packed
1/2 teaspoon orange zest
---
Ingredients: For the frosting and topping
1 cup white chocolate chips, melted and divided
4 ounces cream cheese, softened (whipped or light may be used)
3/4 teaspoon vanilla extract
2 cups+ confectioners' sugar (I used about 2 3/4 cups)
1/4 cup dried cranberries, loosely packed (optionally, roughly dice them if the pieces are larger)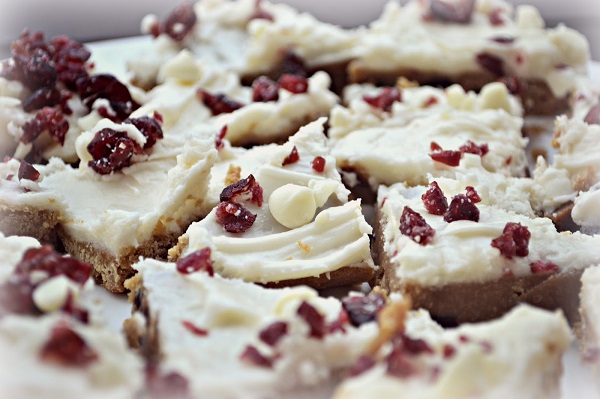 Directions: For the Bars
Preheat oven to 350F.
Line an 8-by-8-inch pan with aluminum foil, spray with cooking spray; set aside. In a medium microwave-safe bowl, melt the butter, about 90 seconds. To the melted butter (allow it to cool slightly so you don't scramble the egg), add the egg, brown sugar, vanilla, and stir to combine. Add the flour, salt, and stir until just combined, taking care not to over-mix or the bars will be tough. Fold in 3/4 cup white chocolate chips, 1/2 cup cranberries, orange zest, and stir to combine. Pour batter into prepared pan, smoothing it lightly with a spatula or offset knife if necessary.
Bake for 18 to 21 minutes, and center is set and golden or until edges begin to slightly pull away from sides of pan, or a toothpick comes out clean; do not overbake. Allow bars to cool before frosting them. While they cool, make the frosting.
---
Directions: For the Frosting and Topping
In a small microwave-safe bowl, melt the white chocolate on high power, about 1 minute, reheating in 10-second intervals, or until it can be stirred smooth. White chocolate is notorious for scorching so melt it very carefully, and slowly, heating in quick bursts, and keep a watchful eye; use a double boiler if that's easier.
To the bowl of a stand mixer fitted with the paddle attachment, combine cream cheese, about three-quarters of the melted white chocolate (about 3/4 cup, just eyeball it), 2 cups confectioners' sugar, vanilla, and beat until smooth and fluffy. Start by mixing on low speed so sugar doesn't spray, and then beat on medium-high for about 3 minutes. Mixture will seem stiff at first but will loosen and fluff up after 2 to 3 minutes of beating on medium-high; stop and scrape down the sides of the bowl as necessary. Add additional confectioners' sugar (I used about 2 3/4 cups, I like it on the thicker side) based on taste preference and desired frosting consistency. Frost the bars.
Evenly sprinkle 1/2 cup cranberries over the top of the frosted bars. Evenly drizzle with remaining melted white chocolate, reheating for a few seconds in the microwave if it has set up. Allow bars to set up for at least 30 minutes before slicing and serving. Bars may be stored in an airtight container in the refrigerator for up to 1 week.