There's something about a big pot of soup on the stove.  This week is the perfect time to make a giant pot of soup to help you slow down after the frenzy of Christmas and warm you up from the inside out.
I'm obsessed with this chicken and wild rice soup – it's my new absolute fave and I've been eating it for lunch and dinner non-stop.  It's comforting, rich, delicious, filling, and packed with veggies and fiber.  Oh, and did I mention it makes 15 cups of soup?  You won't have to cook all week!
Chicken & Wild Rice Soup – adapted from Taste of Home
1 onion, diced

5 carrots, chopped

4 celery stalks, chopped

4 garlic cloves, minced

10 oz mushrooms, chopped

9 C chicken broth

1 C milk

¼ C butter + 3 Tb

¼ C flour

1 tsp dried parsley

½ tsp dried thyme

2 C cooked chicken (cubed)

6 C cooked wild rice

¾ C white wine (I use pinot grigio)
Prep and chop all of your veggies in advance for ease of cooking.
In large pot or dutch oven, melt 1 Tb butter.  Add 1/3 C of your onion, ½ C of your mushrooms, and 2 cloves garlic and sauté until soft.  Place aside in a bowl.
In separate pan melt 2 Tb butter and sauté the remaining garlic, onion, and mushrooms along with all the celery and carrots.  When they are done, turn off the burner and leave them until directed later in the recipe.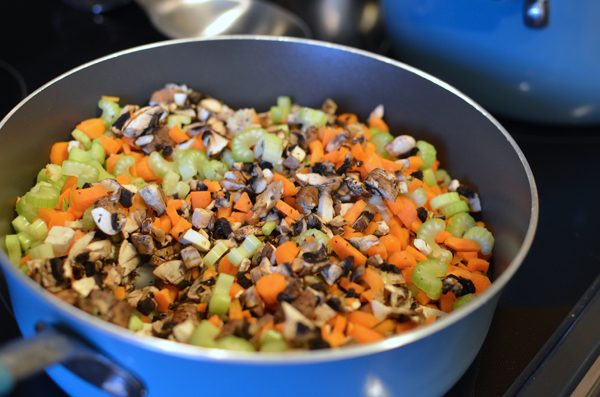 Back in your empty dutch oven, melt ¼ C of butter.  Add ¼ C of flour and cook over medium heat, stirring continuously, for 2 minutes.  Butter/flour mixture should be browned.
Add in 1 C milk, 1 C chicken broth, and the sauteed mushrooms, onions, and garlic you had set aside.  Bring to a simmer and cook for 10-15 minutes, stirring often, until well thickened (like the consistency of condensed cream soup).  Low heat and regular stirring are necessary to prevent the milk from scalding.  Taste and season well with salt and pepper.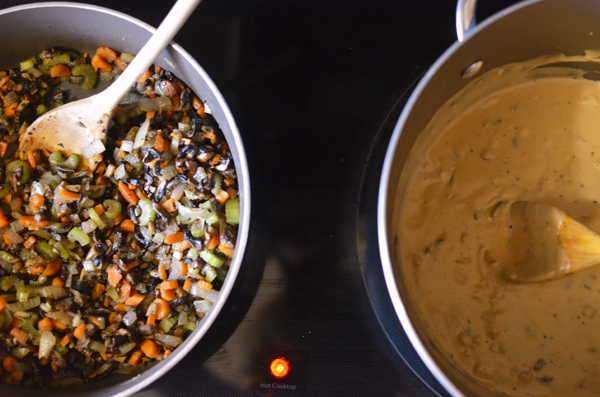 Whisk in remaining 8 C broth to the dutch oven.  Add sauteed veggies from the separate pan along with 1 tsp parsley and ½ tsp thyme.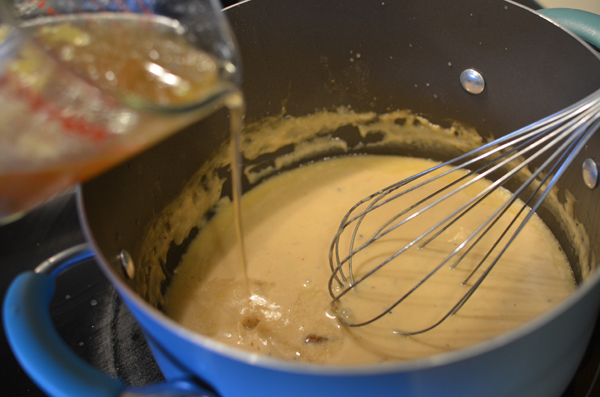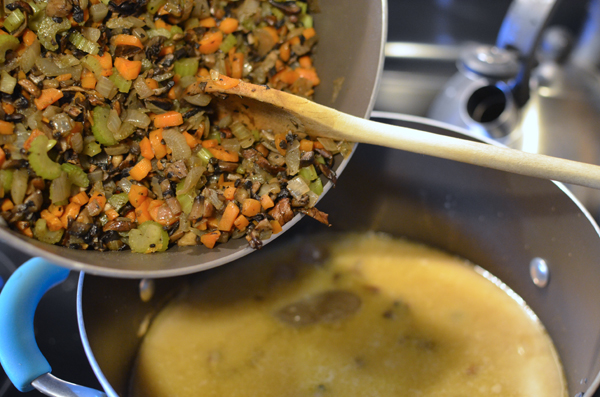 Bring to a boil; cook for 2 minutes.  Taste; season with salt and pepper if necessary.
Add in chicken, wild rice, and wine.  Heat through.  Season with salt and pepper if necessary.*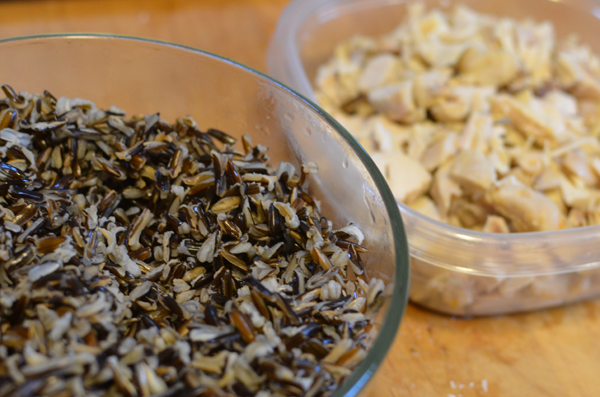 Makes approx 15 cups; 299 calories per cup.
*A note about salt – I haven't included amounts here because the volume will change depending on the type of broth you use.  I make my own chicken broth and don't season it, so I tend to season pretty liberally when I'm cooking.  If you use low-sodium for full-sodium broth, your amounts will vary.  Season to make your taste buds happy!