September is here!!! But instead of it getting me down, I am embracing it and thinking about the wonderful things that come with the change of season. Like layers and boots, hot soups and pumpkin spice lattes. I am still hoping for another month or so of summer and crossing my fingers for some high September temperatures, but I did allow my family a glimpse into fall the other night by making this super yummy and tummy-warming dish. Keep this on hand when the weather starts to change.
Time – 10 Minutes Prep and About 22 to Cook
You'll Need:
1 Tb Olive Oil

4 Cloves Garlic, minced (I love the jarred or frozen kind so there is no chopping up garlic!)

1 Onion, chopped

1 Bell Pepper (I use red or orange because my kids hate "green stuff), chopped

1 Tbsp Chili Powder

4 Tomatoes, chopped

1 Chipotle Chile in Adobo Sauce, seeded and chopped (caution – this can make it too spicy for kids) + 1 Tb sauce from the adobo sauce

1.5 Cups Corn (canned or frozen is fine)

1 lb Boneless, Skinless Chicken Breasts, cut into ¾ inch pieces

2 15-Ounce Cans Kidney Beans, rinsed

2 Tbsp Sliced Fresh Basil (obviously my kids take theirs without this "green stuff" garnish)

(optional) Sour Cream & Cheese for garnish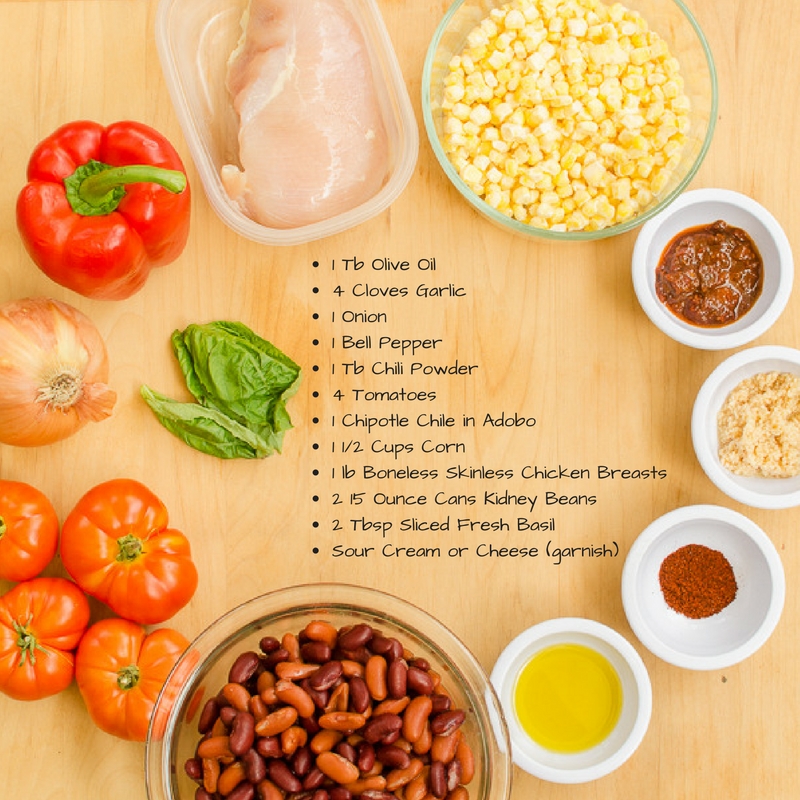 Directions:
In a large saucepan or Dutch oven, heat about 1 Tbsp olive oil
Add garlic and onion
Cook, stirring often until the onion softens (about 3 minutes)
Add the bell pepper
Cook about 2 minutes until the pepper softens
Add in the chili powder
Add in tomatoes, chipotle pepper and adobo sauce
Cover
Simmer for about 6 minutes until tomatoes are tender
Stir in corn
Add chicken and beans
If it seems too thick add 1 C water or chicken broth
Stir often until the chicken is cooked through (about 10 minutes)
Season with salt & pepper to taste
Serve immediately or let simmer to serve later
Garnish with more onion, cheese, basil. My husband likes to add chive and onion sour cream which is actually pretty amazing.
*I have also transferred this into a crockpot to then set on low to simmer all day.*
Enjoy!