You guys. Summer is COMING. I can feel it when the sun peeks out for a few hours, shines through my windows, and warms my spirit in a way that my furnace never can.
And with the changing of the seasons and the onset of spring cleaning comes the desire to climb out of your winter cocoon and tackle ALL OF THE HOUSE PROJECTS. Decluttering – yes! Yard work – must do! Deck repair – it's nice enough to keep the tools outside!
But as much as I love me some serious productivity, you need to stop filling up all of your weekends. I'm serious. Because you're robbing yourself of some prime family time.
You all work hard during the week. I do, too. I totally get that when the weekend comes it feels like you finally have time to either catch up on the housework that's remained undone all week, or tackle new, big projects that need attention. And that's all well and good, but make sure you specifically reserve some of your summer-season weekends for FAMILY FUN. Here's why.
1. Fun family time improves family relationships.
When you're at home working on projects you can go an entire day without actually having meaningful interaction with your kids. Specificially setting aside time to spend together will make sure you get some quality time.
2. It relieves stress.
When you have a good time, it releases endorphins. These make you happy and help you relieve stress. It's science.
3. Kids need to break up the monotony, too.
You might feel good about getting projects done around the house, but it doesn't feel nearly as rewarding for your kids. Getting time away to do something fun as a family is exciting for them.
4. You need something to look forward to.
It's scientifically proven that if you have something to look forward to, you're happier. And while you might be happy to get certain things done around the house, the reality is that it's still work. No matter how excited you are about getting projects finished, the anticipation that comes with looking forward to an upcoming family adventure is different.
5. You're teaching your kids about balance.
Yes, kids need to know about housework and productivity and responsibility. But they also need to know that relationships are important, and they need to see you balancing both things well. Setting aside time for family fun – and taking a break from your projects on occasion – is healthy for them to witness.
So are you convinced? Are you ready to make some memories this summer? The good news is that family adventures don't have to be complicated or involve a full-scale vacation. In fact, Family Day Camp at Miracle Ranch has a full day of fun already planned for you – all you have to do is show up!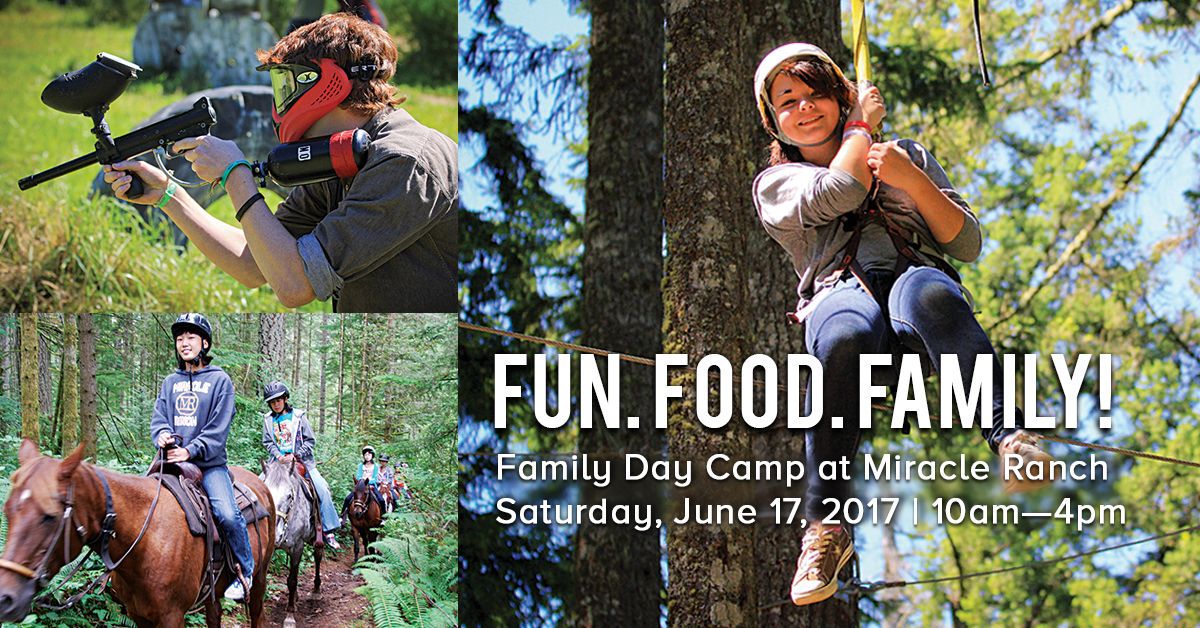 Activites, games, paintball, horseback riding; a whole day making both smiles and memories for your family, and you don't even have to pack lunch – because it's included, too! And even better – kids three and under are FREE!
Sign up for Family Day Camp at Miracle Ranch, held on Saturday, June 17th. Put those house projects on hold for one weekend, set aside time to show your family how important they are to you, and start your summer off with an adventure you won't forget.
Learn more and sign up here!