There are so many ways you invest in the lives of your children. From the moment they're born you've sacrificed for them, poured yourself into them, and brought them up within a specific set of values to give them the best start you possibly can.
But what happens when you send them off to school?
There are many good schools, public and private, and many good teachers in both. Obviously you want your child to get a good education – to read, write, and put two and two together. You probably also want them to make friends and learn good social skills – we all want to see "plays well with others" on that report card. But what about those values? With all the effort you've made to teach them good morals – are schools going to support your family's values and respect the way in which you've raised your child? It's unfortunate, but it is harder and harder to find a public school that will do so.
It may not be possible for every family to choose a private Christian school, and in that case you'll want to be doubly sure your children receive the added reinforcement of your family's values and morals at home. When a Christian school is an option, though it does cost money, many have found it to be the best investment they've ever made as a parent. There's debate about when to start a child in Christian education, but we feel the answer is clear: the earlier the better.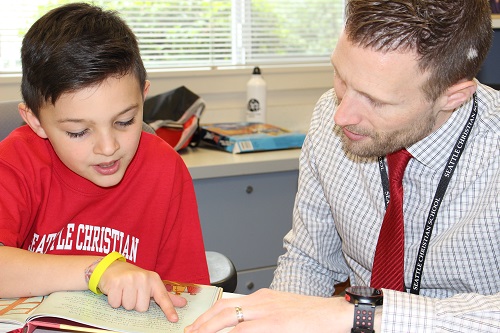 Enrolling your child at a Christian School as early as Kindergarten provides the student a firm foundation for growth socially, academically and spiritually into the elementary years. By sharing the love of Jesus Christ, teachers enthusiastically work to create an excellent educational experience for each student in a safe, caring and positive learning environment.
In addition to receiving the individual attention and instruction specific to their learning needs, your child will be known, valued and cared for throughout their entire school experience – from the early years all the way through High School.
"Teaching elementary students at Seattle Christian is a joy! Having their faith nurtured at home, church and school provides stability and confidence in our students and it is wonderful seeing them grow academically as well as in their relationships with one another and with the Lord." – an elementary teacher at Seattle Christian School
Enroll as Early as Kindergarten from Seattle Christian School on Vimeo.
Are you interested in finding a school where your child can thrive academically AND spiritually? One such school is Seattle Christian School. The beautiful 13-acre campus is conveniently located just off I-5 in SeaTac. Because of its centralized location, the school serves families from over 25 communities including SeaTac, Burien, Seattle, Kent, Auburn, Bonney Lake, and from Tacoma to Bellevue and Issaquah.
What's unique about Seattle Christian School?
One Campus. The Elementary, Middle School and High School are all located on ONE campus! Families love this convenience, especially if they have more than one child in school. This also provides opportunities for older students to mentor younger students through Chapels, Reading Programs, Science Units, Art Projects and assisting in elementary classrooms.
Over 140 churches represented. Church partnerships help equip our young people to impact their world for Christ. In fact, Seattle Christian hosts an annual Pastor's Breakfast as a way of encouraging, connecting and blessing the church pastors in the area.
Why do so many families continue to choose Seattle Christian?
Based on a recent school survey, it's because of the Strong Academic Program and Spiritual Emphasis. Watch the video above and see for yourself, and get more info at www.seattlechristian.org