Cupcakes are awesome. Let's just say that up front. They're pretty much the perfect food.
The frosting-to-cake ratio is perfect. They're pre-portioned. You don't need a plate or fork to eat them. They're yummy. And, they are the cutest food around.
But, let's face it, moms. We're tired. And, unless you're a frustrated pastry chef, baking them from scratch can feel like way too much work.
Cupcakes are readily available for sale in every grocery store. But, unless you shop at gourmet markets, the cupcakes you usually see are incredibly unappealing. The garishly colored frosting frankly scares me. And, the dry cake just isn't worth the calories.
Cake mixes to the rescue!
Did you know that many commercial bakers (yes, even wedding cake bakers) use cake mixes? The key is this:
DON'T FOLLOW THE DIRECTIONS!
Here are some professional hacks used to make cake mixes taste homemade (and sometimes even better!).
Hacks to Make Your Cupcakes Taste Amazing
BUTTER HACK: Replace the oil called for with melted butter. Here are the swap stats: ¼ cup oil =1/3 cup melted butter, ½ cup oil = 2/3 cup melted butter, ¾ cup oil = 1 cup of melted butter, and 1 cup of oil = 1 ¼ cups of melted butter.
EXTRA EGG: Always add an extra egg. Always. Trust me.
WATER SWAP: Amp up the flavor of your cupcakes by swapping out the water with other options. Milk, almond milk or coconut milk go well with any flavor of cake. Coffee makes chocolate cake taste amazing. Flavored sodas are also a good swap. Try lemon/lime soda with a lemon cake mix or cola with chocolate. Or use fruit juice (orange juice with a white cake mix would be yummy). Buttermilk is another good swap (add a few extra tablespoons since it is so thick).
CREAMY HACKS: Add ¼- 1/2 cup of sour cream or yogurt to your batter or two tablespoons of mayonnaise.
PUDDING: Add a dry pudding mix to make your cake more decadent and add flavor.
MIX-INS: Add grated lemon or orange peel to your batter. Throw in some chocolate chips or nuts. How about dried fruit or candied sprinkles? And, I always add almond extract to the batter (because I'm Norwegian and that's what we do!). But, you could add vanilla, orange extract, lemon, maple, or whatever tickles your fancy.
Now that you have the basics down, here is a recipe I came up with. My family loved them and I ate way too many (so much for the pre-portioned thing).
HIDDEN SURPRISE CUPCAKES:
Follow the directions on a box of funfetti cake mix, EXCEPT: Add an extra egg, replace the water with the same amount of milk and add ½ teaspoon of vanilla or almond extract.
Bake the cupcakes for half of the recommended time. Remove them from the oven and press a chocolate kiss or a small mini candy bar (those tiny square ones) well into the dough. Return them to the oven and finish baking. This method assures that the candy doesn't just sink to the bottom.
Once baked and cooled, stir another ½ teaspoon of vanilla or almond extract into a can of fluffy white frosting. Frost and enjoy!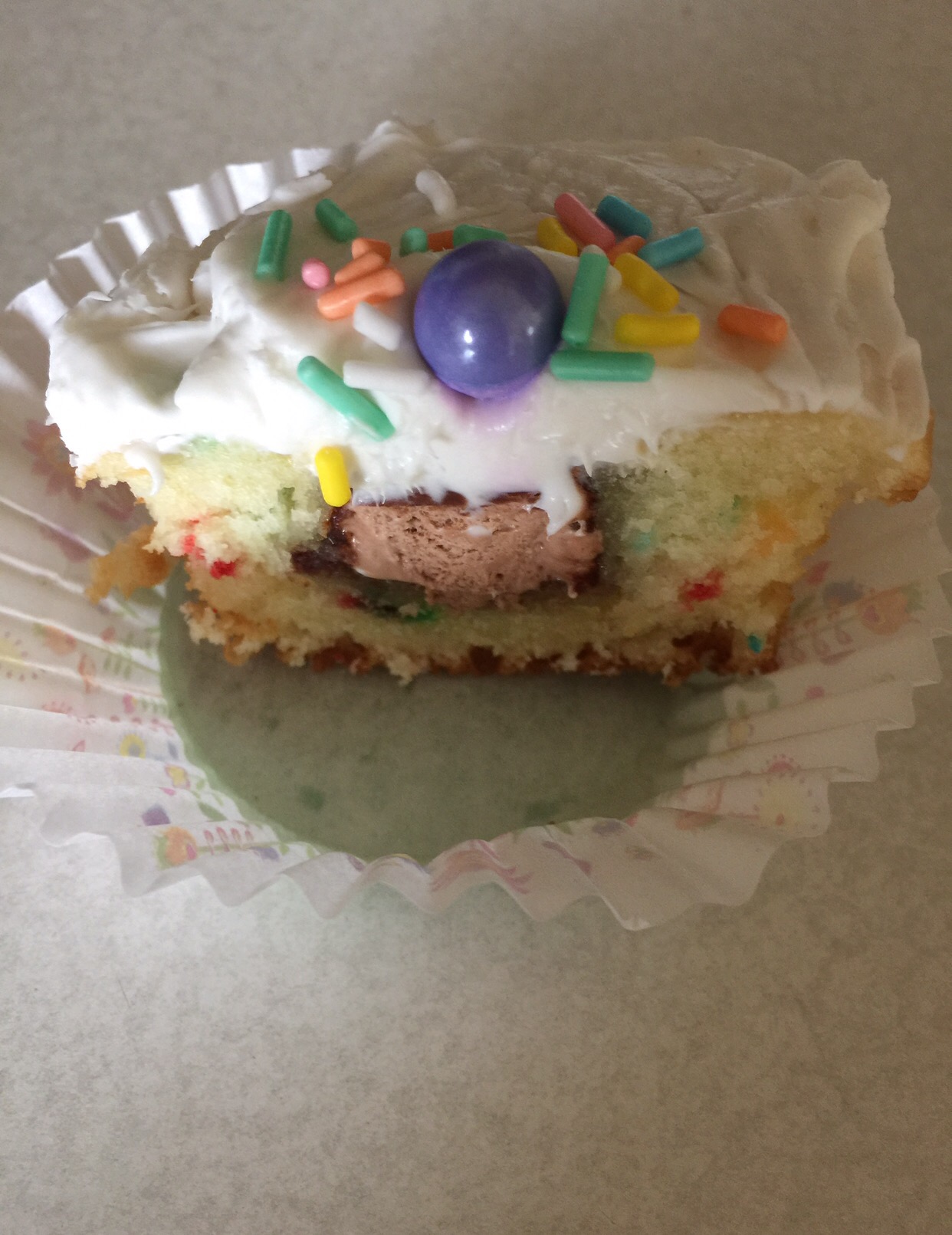 OK, now share pictures of your creations!