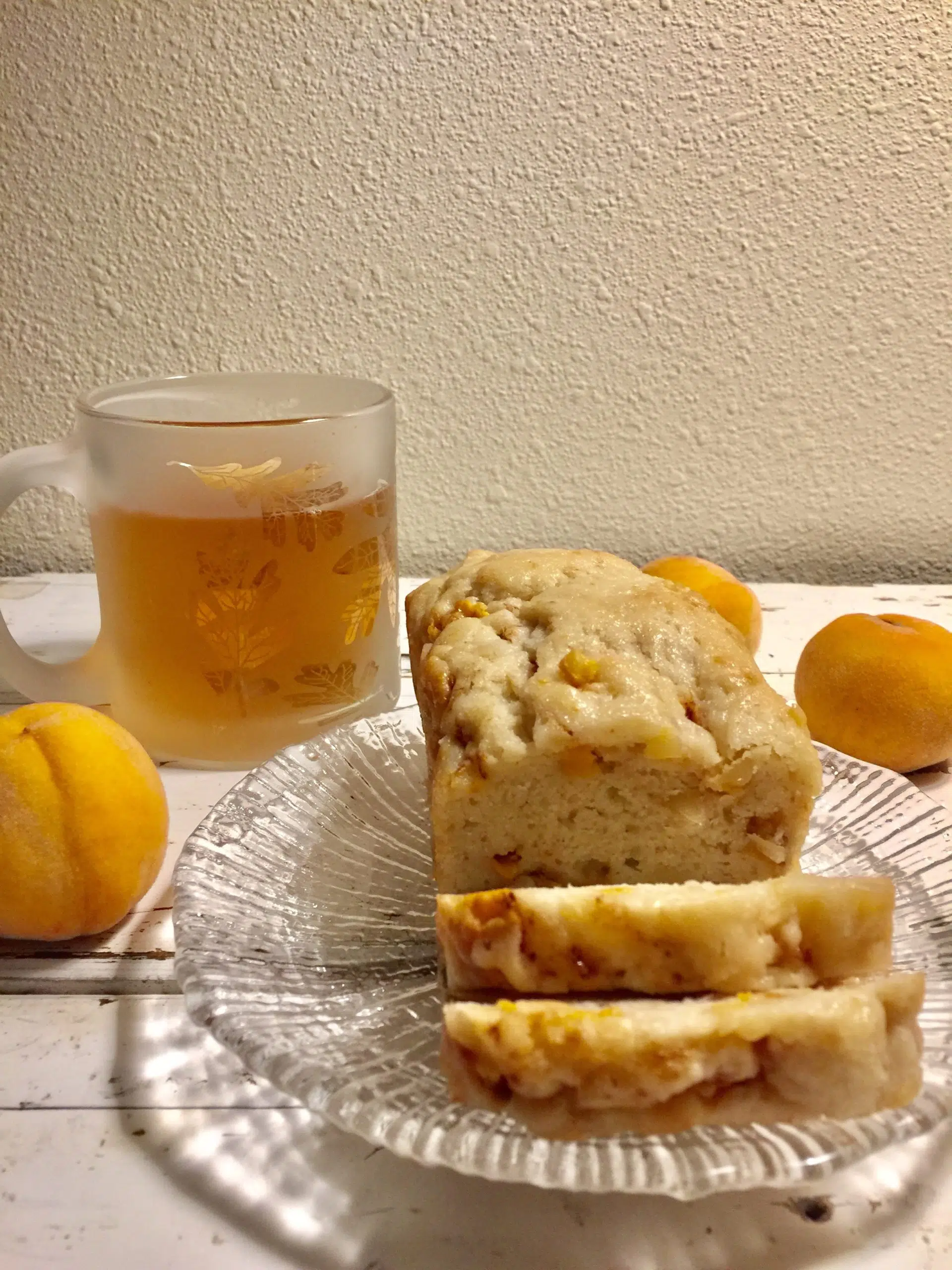 We have a lot of different fruit trees growing in our yard.  But, the peach tree is my family's favorite.
Peaches are one of those foods you either love or hate.  I have a friend who won't even touch a peach, much less eat one.  The fuzzy skin creeps him out that much.
But, we love them.  We watch the tree greedily from the time the pink blossoms appear on the bare, leafless branches in spring to when the fuzzy little green fruit develops into the beautiful salmon colored peaches in late summer.  And, the smell of ripe peaches is divine.
Now, I love a peach pie with a crackly-sugared crust, but this year I decided to branch out.  I first saw a version of this bread on lifeloveliz.com and with a few tweaks I made it work for my family.
A few tips:
This recipe is perfect for four mini loaf pans and trust me, baking mini loaves is way easier than using one standard loaf pan. For one thing, the inside cooks before the crust burns.  For another, you can share with friends!  But, if you want to use a standard loaf – go for it (you may need to tent with foil).
You might be surprised at how much extract is called for, but trust me, it's worth it! Also, splurge on pure extract, not imitation.
Here's an easy way to peel peaches: plunge peaches into boiling water for 30 seconds – one minute (depending on how big they are), remove them with a slotted spoon and plop them into a bowl of ice water. The skins will slip right off!
PEACHY-KEEN BREAD:
1 cup sugar
½ cup softened butter (1 cube)
2 large eggs
1 Tablespoon vanilla extract
1 Tablespoon almond extract
1 cup milk (I used almond milk)
2 cups flour (I substituted gluten-free flour)
2 teaspoons baking powder
1 cup nuts (I used slivered almonds)
2 cups diced peaches
Preheat oven to 350 degrees.  Grease one standard loaf pan or four mini loaf pans.
Cream the butter and sugar together.  Add the eggs, vanilla, almond extract and milk and mix well.  Add in the flour and baking powder (if you're using gluten-free flour, don't overmix).  Stir in the nuts and peaches gently.
Pour the batter into your pan(s) and gently smooth the top(s).
Bake for 60-75 minutes for a standard pan or 35-45 minutes for mini pans (or, until a toothpick inserted in the center comes out clean).
My family loved the flavor and the moist texture of this bread.  The combination of almonds and peaches is amazing!  My loaves disappeared in the blink of an eye.  I hope your family enjoys this recipe as much as mine did!