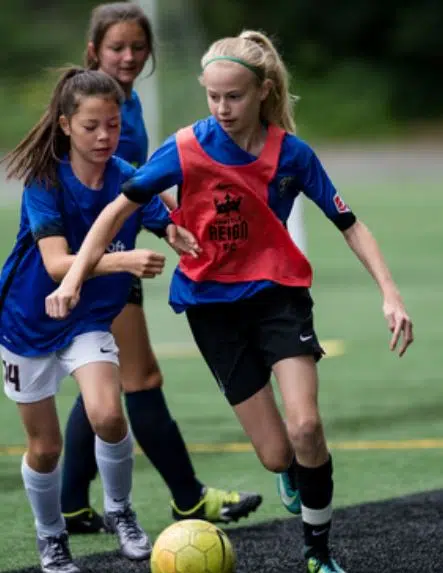 Your girl, she can do anything she wants.
You know this. And so does she.
But at some point she stops believing it. Gets disillusioned. Feels the limits keeping her confined.
Cultural messages tell her who she "should" be. And, perhaps more damaging, who she shouldn't be.
But your girl, she can be anything. And you want her to know that she doesn't need to be tamed. She doesn't need to fit into a box.
But how in the world do you teach her that in a way that lasts?
The best way to teach your daughter to be a strong woman is to expose her to strong women. Let her see women doing great things and hard things and amazing things.
Introduce her to women who don't accept those limits.
We'd love to help you do this at our upcoming event on Sunday, June 3rd. Bring your daughter to Spirit Night with the Seattle Reign FC. Not only will you get to watch them play Orlando Pride, but girls 8-16 get to attend a bonus pre-game soccer clinic on the field.
The clinic will be held from 2:30-4:00 pm at Memorial Stadium and will be led by assistant head coach Milan Ivanovic. Your daughter will get to play on the field where the pros play, get a free t-shirt along with an upper grandstand ticket, and even get to meet some of the Seattle Reign FC players!
PLEASE NOTE: The Pro Clinic is currently sold out, however discounted tickets to the game remain available for purchase through the link below.
Ready for a fun night out with the family? Then get your exclusive discount tickets only at http://spirit1053.com/spiritnight.
Get ready to show your daughter that limits are not for her!