The Domain has been a popular hot spot in North Austin for years. I remember when it was just a small strip of high-end shops before the multiple expansions. I was in college then and felt so luxurious walking in between stores like Louis Vuitton and Burberry. I remembered thinking that if I had to get a retail job after graduation, this was where I wanted to work, surrounded by beautiful designer items.
That did end up happening. I worked at Juicy Couture for a short while and soon had to quit because I was spending most of my paycheck in the store. My hours spent there basically defeated their whole purpose. By that time, the Domain had expanded quite a bit, adding on more reasonably priced stores towards the opposite end of the mall.  Once the new expansion happened, the place became packed on the weekends. Most days I struggled to find parking before reporting for duty. Little did I know how much more the shopping center and admiring fan base would grow.
Soon the new expansion added The Great Lawn, a large patch of turf that would host huge Austin events like Dogtoberfest and Rock + Read. Small playgrounds completed the area to make it family friendly. And just when we thought they were done adding to the Domain and it couldn't get any more crowded, a fresh brainchild made its mark.
Rock Rose became the newest local hot spot hard and fast.
What once was only available downtown was now becoming part of the suburban North. Millennials were the first to embrace the trendy bars and restaurants but now there's a new demographic starting to notice all this new area has to offer– families.
While the popularity of this place continues to catch on, there is the hope of parking in contrast to similar spots downtown. There are several parking garages to choose from and once you escape the annoyance of getting to your destination, it's all fun and games. The place does always seem to be busy like most of Austin these days, but it all becomes worth it once you realize the variety that is offered here. Teens will love just about every store on the strip but there are a lot of cool places for young families as well. Here are some of my favorite spots:
Sprinkles
Two words people- Cupcake ATM. Not only is Sprinkles famous because they make delicious treats but they have an ATM right outside of the shop for you to order your favorite cupcake. It's fun and your child will love it. And, if you feel like loading your furry family members in the car with the kids, they can get a special doggie cupcake.
It'Sugar
The name pretty much tells you everything you need to know. It'Sugar is a fun candy shop where you can take home your favorites by the pound but that's not why this place is popular. Here you can buy giant sized candy bars, Rice Krispy treats and more! When I say giant, I mean giant!
Hat Creek Burgers
Hat Creek not only has great burgers and healthy meal options to munch on but they offer impeccable customer service as well. You'll win the family over with their one-of-a-kind playground that features a revamped airstream, slide and more. And if that's not enough, your kids will enjoy watching their favorite cartoons on the TVs mounted outside.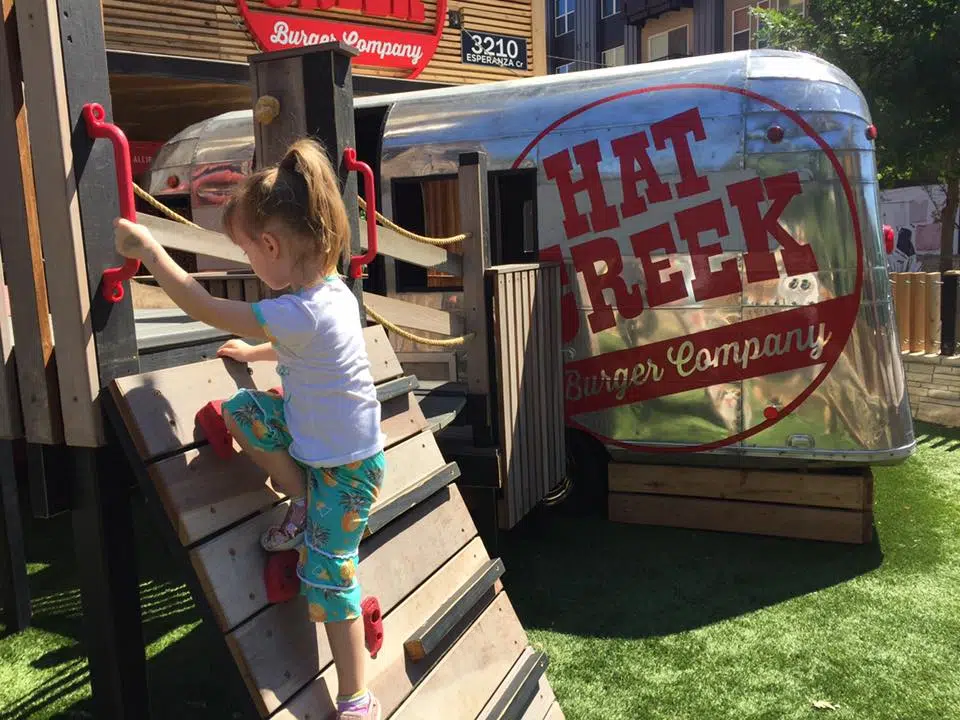 While these three places are enough to make the destination to the Domain worth your time, depending on your family dynamic, there are plenty of other spots to discover. My daughter loves to go to Lush and test out their new bath bombs and lotions. There are also tons of makeup stores for you to try out new looks in. And if you get tired of all of that, Whole Foods is right around the corner with a playground and plenty of good eats to enjoy.
And if that's not enough, The Domain Northside always hosts family friendly events. For example, NORTHSIDEkids hosts a monthly theme where parents can take their kids to enjoy free activities, crafts, photo booths and more. There's also a fun event benefiting Austin Angels coming up called The GR8 SK8. It too is free and the streets will be transformed into a glow in the dark roller skating rink! I like to follow their Facebook page to keep an eye out for what events are coming up next.
So the next time you're looking for an easy yet fun way to entertain your family, explore Rock Rose at the Domain and share your favorite finds with us in the comments below!