Waldo is hiding in a community near you. Can you find him? Each July we enjoy a Waldo hunt in our local community sponsored by a local bookstore. You need to see if they do this near you because it is an absolute blast! Basically my kids love it so much that my son dresses up like Waldo during the event.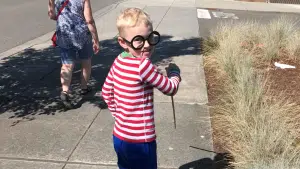 This past weekend we headed down to the Mill Creek Town Center, a local shopping area near us and 25 businesses were participating. Basically they hide a stand-up Waldo in their business and then the kids have to find him. It always gets us into businesses we wouldn't normally enter and we've discovered some fun new stuff. Plus, the KIDS LOVE IT! We have so much fun. Generally the get a pin from the bookstore for finding 10 and then entered into a drawing for Waldo books if they get 20+. It is an easy, free thing you can do together!
Here are some Waldo Events in Washington state that I know about. If you aren't in Washington check out this site for a complete list!
Edmonds – hosted by the Edmonds Bookshop
Mill Creek – Hosted by the University Bookstore
Bellingham – Hosted by Village Books
Lynden – Hosted by Village Books & Paper Dreams
Spokane – Hosted by Auntie's Bookstore
IndieBound.org has put together a complete list of local Waldo hunts by state so check here to find one near you!
We love this event and hope they keep doing it for years to come!