I've been spending a fair amount of time on Google Maps lately. Trying to remember from high school the conversion of kilometers to miles. Getting surprised that even the mighty Google can't figure out exactly how many miles it is from my front door to a village called Kahunge, in the Kemwange region of Uganda. Best I can guesstimate, it's about 8500 miles from where I'm currently sitting writing, to Racheal, a little girl who lives in the same area as the little boy we've been sponsoring for the last few years.
The last time I was trying to figure out mileage to Uganda was when we sent two of our kids there for a mission trip. My daughter McKenna and my son Justus boarded a flight that would include multiple stopovers and twenty-one hours in the air, when they finally landed in Kampala, one of the largest cities in Uganda. Their time there was hugely impactful on them. They served at a school for children who had either lost their family or whose families placed them at the school to further their education and opportunities. It was a powerful, transformational two weeks, and both McKenna and Justus came home with a deep love for Uganda and a fire to continue to help children there. We intentionally chose a child from Uganda to sponsor through Compassion as a result. And that's where I learned that, when we take action, we can literally change the future for a child.
The little boy we sponsor lives in a very remote area of Uganda, close to the Kibale Forest. The Kibale Forest region is five hours east of Kampala and is well known to researchers for its chimpanzee population, which lives in the Kibale National Park. Just a bit south of this area is where Racheal lives. She's six years old, and has already endured the loss of one of her parents. This region is an AIDS-affected area, and the need for medical care and nutrition is urgent. This beautiful little girl has been waiting for sponsorship, and for just over a dollar a day, you could ensure that she would receive educational resources, medical care, and help through a faith community.
I'm so thrilled to let you know that of the three children who were available to sponsor in this remote region, one of them now has a sponsor! Now I'd love to make sure that Racheal finds a sponsor as well. It costs just a little over a dollar a day to bring tremendous change to a child and to a community. In my house, on my budget, that means I'm keeping the AC set just a bit higher this summer. For you, it might be as simple as cutting back on that speciality coffee to just a few times a week, rather than everyday. All of us have a little something that we could give back to make an incredible change in the life of a child.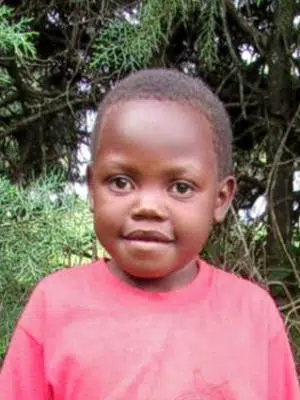 So here's Racheal. She lives right down a dirt road from the little boy who is blessing our lives. She has a future full of possibilities. Together, we can help resource her community. Together, we can make sure her future of possibilities real. Together, we can share the love of God to a remote community situated 8500 miles from where we call home. Together, we can create tangible, lasting change for a child. Together, we can change the future.
Go to compassion.com/allmomdoes and give yourself the gift of sponsoring Racheal.