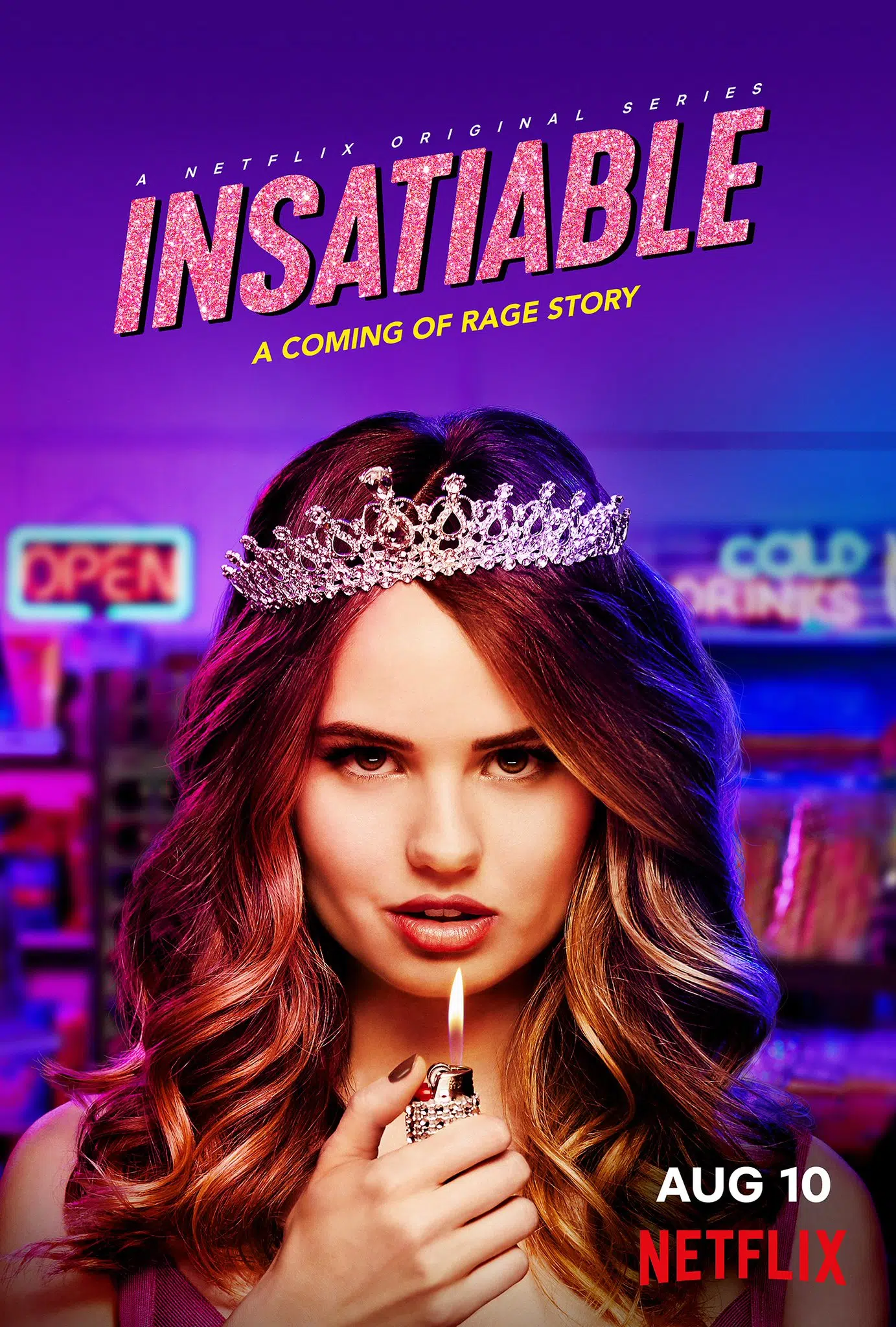 Despite the petitions and backlash throughout the web, Insatiable released this month and instantly gained a trending status on Netflix. After my own personal viewing of the trailer and reading scathing reviews online, I felt it was important to at least view the first episode and see if the predictions of this show were true.
Worries that the new series would lead to eating disorders and happened to be chock full of fat shaming mentality dominated media headlines. Concerning to say the least, enough so to convince me to stay away. But when there seems to be a majority opinion surrounding a certain subject, it's easy to simply go with the flow.  Lately I've been trying to be fair despite my conceptions and give everything that seems reasonable a chance. Besides, the writer of the show specifically asked critics to give it exactly that, a chance.
So that's what I did; I watched the first episode.
I had resolved to give this brand new series shrouded in controversy 37 minutes of my life. Perhaps we had all been wrong to judge so early. Maybe it wasn't as bad as people had feared.
Well friends, I'm here to tell you that if we're judging an entire series by the pilot episode (which, by the way, most TV executives do) we have a serious problem on our hands with Insatiable. Within the first 30 seconds of the episode, I was already annoyed. 30 seconds!
The main character, Patty, opens the series by talking about how her appetite is insatiable. As a curvaceous woman myself, that is the most ignorant statement someone can make when talking about the plus size community. As a member of that community myself, we aren't all overweight because we like to eat. Yes, that's a factor for some but there are so many other reasons as well, including health issues, that have contributed to weight gain.
But Patty's not the only problematic character in the series who continuously makes outrageous comments throughout the series hinting at continuous fat shaming. Meet Bob, a lawyer and pageant coach that helps ladies "become their best selves." Right off the bat when we meet him we get this blanket statement that insinuates that you have to be perfect and poised to be on top. Young women need to know that makeup, hair and weight don't define worth. You can live your best life without any of those things.
Now before we get any further, I get that we're talking about characters which means they can carry a certain personality to get a point across. But from my preliminary findings, it seems that characters like Bob are portrayed more towards being the good guys, the ones who are misunderstood, the under dogs. And if that truly is the case, the statements they make throughout the series would build support for whatever overall message the show is trying to portray. So, with an understanding that this series has been characterized as a dark comedy, I do take these type of statements made by the characters throughout the series seriously.
In the first episode, we find Patty in a place of change. She states that she doesn't want to let food be her higher power anymore. So, she decides to go on a cleanse. We join her in gym class as she's jogging and within the first few seconds of this scene, she passes out on the floor. Her friend asks her when she last ate. Her reply, "Last Tuesday."
This is where I could see the first eating disorder trigger, which was the main concern when frustration started brewing around Insatiable's release.
Yes, it is good that there is a negative action from Patty participating in this cleanse. But the idea that not eating equals weight loss is planted here. Unfortunately in our culture, sometimes all a desperate viewer needs in an idea, whether it be good or bad. I myself went on so many diets in my teenage years trying to drop the pounds, starving myself in the unhealthiest ways. Why? Bad education. It's so important for our young girls to learn that taking great care of your body means eating when you're hungry. Your body was built to communicate with you and it's our job to listen to it.
So why does Patty feel pressure to lose weight in the first place? Aside from the bullying going on in her high school, the mother in this story is absolutely atrocious. She's emotionally abusive and just hearing her talk about her daughter makes me cringe. While seeking legal counsel from lawyer and shunned beauty pageant coach, Bob, she shares how her daughter punched a homeless person in the face by stating, "He tried to take away her chocolate bar. She's very serious about her food."
Again with the food thing!
Fat people (I'm allowed to say this as I myself am, well, fat) don't sit around eating all day and they don't live on solely junk food. Why does this myth keep coming up? It's so insulting. The mother proceeds to show Bob a photo of her daughter in the yearbook saying, "You know, it can't be easy looking like that." Excuse me? Since when did being fat mean that you were ugly? There is so much fat shaming going on in this scene and while I believe she is supposed to be portrayed as an unsupportive parent, it doesn't take the sting away from her words.
Having a series full of people who are constantly talking about the body in a negative way will give viewers the perception that all people are like this. It supports society's unrealistic standard of beauty and may make people feel like they will be treated badly like this if they themselves don't watch their weight. We have to take focus off of weight. It causes so many self-image problems that can become the catalyst to something much worse.
By this point I'm already ready to turn this trash off but I have 30 minutes to go and I made a commitment to watch the entire episode for an honest review. Bob meets skinny Patty and decides he wants to use her to get back in the pageant world's good graces. To connect with her he leans in an whispers, "Do you think I've always looked this good? Back in the day, I had to shop in the Husky section." Why does he find the need to whisper this as if it's a secret? There shouldn't be any shame in what size you are. Also, why can't fat people look good just as they are? I 100% know that they can.
This mentality is called fat shaming, something the writer of the show said wasn't present in the show.
Patty develops an inappropriate crush on her mentor, Bob, and makes several home-wrecking statements. It's all incredibly uncomfortable to say the least. About halfway through the episode Bob tries to have a deep conversation with Patty. He reminds her that she was a victim of all the bullying to which Patty replies, "I was fat. I was out of control." Bob counters, "You were sick, you were scared." She replies, "I still want to eat all of the time." To which Bob asks, "Why don't you?" Her answer, "Because, I'm afraid if I get fat again, you won't think I'm beautiful."
First of all, being fat does not mean you're sick OR out of control. There are so many factors in life that can't be narrowed down to these minute explanations. And then you see again that there is this insinuation that if you eat, you get fat. Teen girls do not need to hear this message.
Eating is good for your body, period.
As I finish the first episode, I've already made my mind up about the series. It sadly lacks of any redeeming qualities. But you may be thinking – you only watched one episode. What if it gets better?
Unfortunately, I went on to watch several episodes after the first. I pretty much knew what I was getting into but wanted to be completely sure that the themes truly did carry out with the rest of the season.
I'm disappointed to report that they do. The fat shaming and eating comments continue surrounded by inappropriate teen/adult relationships, infidelity in marriage, threesomes, f-bombs and so much more.
A great series created for teens? Absolutely not. After all is said and done, it's safe to say that all of the early criticism of Insatiable was right on.
---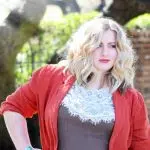 Read more of Jillian's contributions to AllMomDoes here.