Chances are that if you live in the Austin area, you've probably seen an ad or 10 about the newest attraction to come to downtown Austin. And while it seems that there's always something new going on, this is something completely fresh.

You may have heard of the Museum of Ice Cream in San Francisco or The Color Factory in NYC. Both are highly sought after art installations that double as an Instagrammer's dream. I've seen countless photos from the both of them and have always wanted to visit. It seems like a fun day of play. Well, my wish basically came true! The FOMO Factory just celebrated its grand opening over the past weekend.

Nestled in downtown Austin, The FOMO Factory is a local, woman-owned business that takes guests back into their childhood with multiple nostalgic rooms to interact with, take photos in and take a trip down memory lane. Upon entering guests are asked to leave their adulthood at the door where they are presented with a giant birthday cake to climb into, a room stocked full of balloons and so much more. It's a collaboration by Rachel Youens and well-known DIY blogger, Kara Whitten. In fact, multiple tutorials seen on her blog can be found throughout the rooms.

The whole experience could be a blast for families with children 3 and under getting in free and adult tickets only costing $23. Not only will the kids enjoy interacting with the multiple installations but moms will get adorable photos to show off to proud grandparents. But that's not all, it also serves as a super fun solution for bachelorette parties, mom's night out and so much more! Basically, just pick any excuse to get down there and feel like a kid again.

I had so much fun when a friend of mine asked me to accompany her. I hadn't seen her in about 4 years and needless to say, it was one heck of a reunion! Go check out the one thing everyone will be talking about this fall and support a woman-owned business while doing it!
---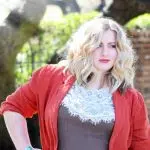 Read more of Jillian's contributions to AllMomDoes here.