Have you ever had an experience that was so special and so wonderful that the very thought of trying to relay it to others is overwhelming?  Well, that happened to me last weekend.  I was so excited to share it with all with you, but when I sat down to write about it I realized there was just too much to tell.  I'm excited to write for you a series of blogs on my experience with The Westin – Seattle. I was given a free stay at The Westin – Seattle in exchange for my honest opinion on my experience.
My granddaughter is an expert on hotels.  She prefers staying in a hotel over any other activity in the world.  In fact, for the past three years, she has told her parents that she doesn't want a birthday party, she simply wants to stay in a hotel for the night.  And, that's what she has done.
When my daughters and I planned a girls' weekend at The Westin – Seattle recently, we knew we had to bring her along.  I'll be honest though, we were a little worried.  Would a child be welcome in such a beautiful hotel?  The verdict: We needn't have worried.   She was welcomed with open arms and she loved every minute of it.
As soon as we walked in the front door she exclaimed, "This is the best hotel I've ever been to!"  I don't know if it was the cozy fire in the fireplace or all the chairs and sofas scattered around the lobby inviting people to sit and rest, but she liked what she saw.  She plopped down in front of the fire and urged us to do the same.
When we finally checked in, Nora was thrilled to be given her own Westin Family Travel Journal and Local Activity Guide and crayons.  A lovely man brought our bags up to our rooms and showed us around.  He was proud of "his" hotel and it showed.  He couldn't have had a better audience than Nora.  She took one look at the room and asked, "Can we live here forever?!"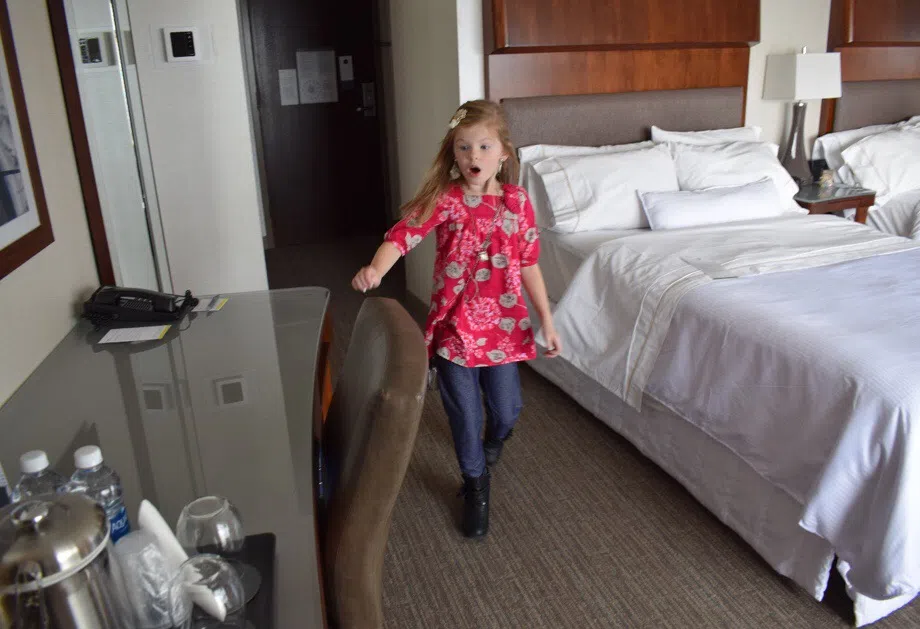 We were welcomed to our room with a sweet note and so many goodies that it felt like Christmas.  There was gluten-free food and drinks for my daughter, gourmet chocolate bars, and the most amazing cupcakes we've ever eaten!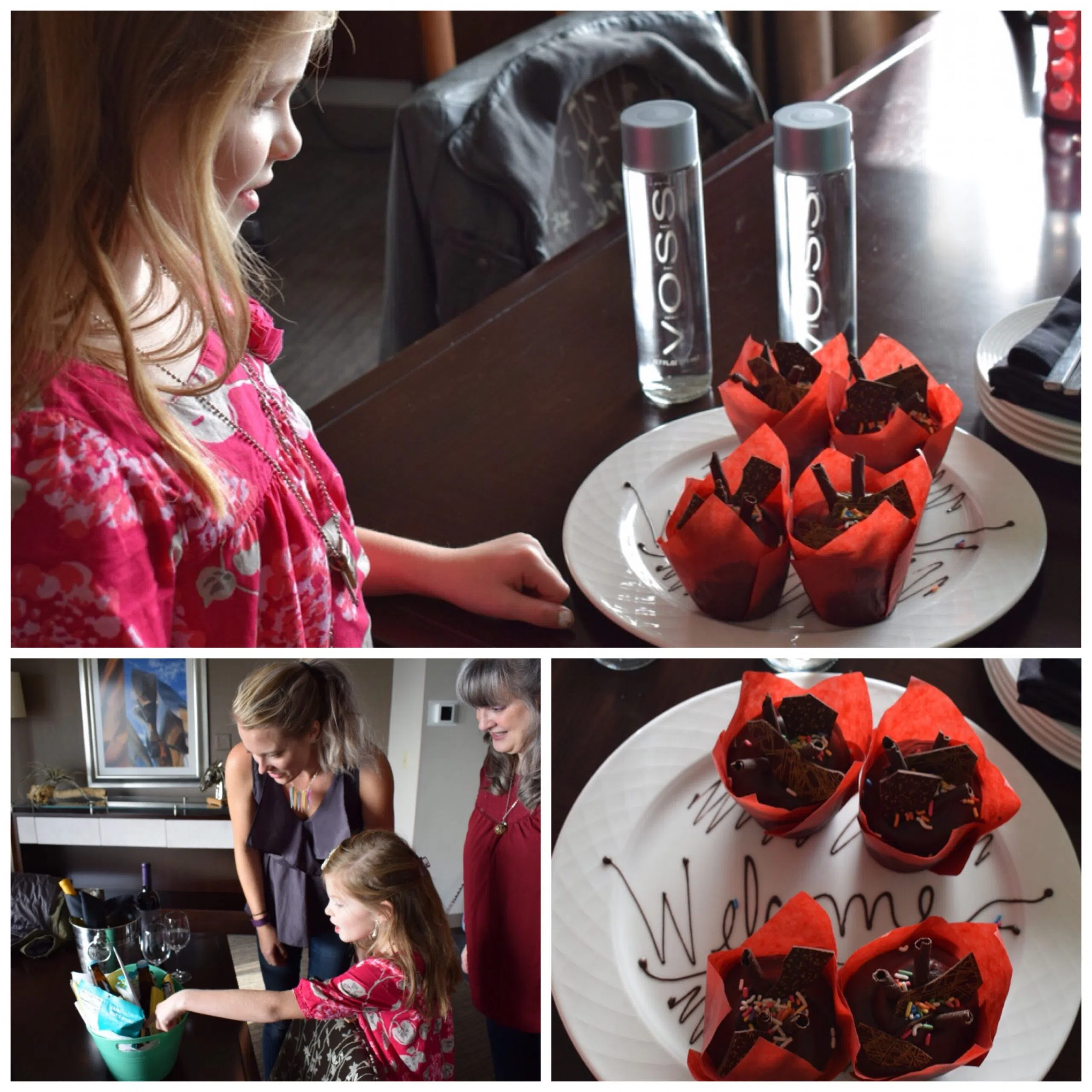 The hotel had heard that Nora loves dried seaweed (she does not get that from me) and you can see how excited she was to find seaweed snacks in the basket!  We were all so touched by The Westin Seattle's thoughtfulness.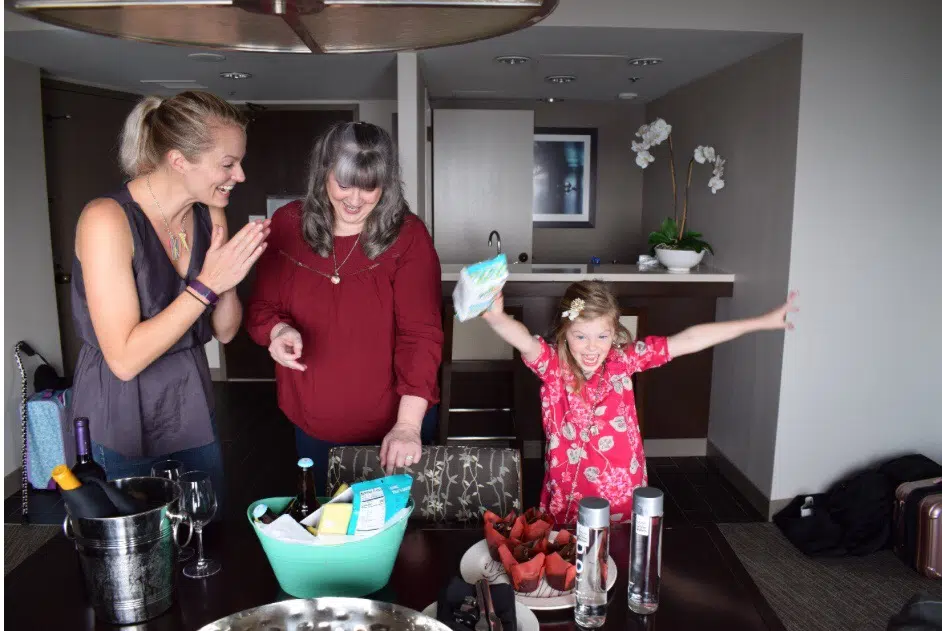 There was also a gift bag for Nora (so much for children not being welcomed at the Westin!).  Inside it was the cutest pink octopus wearing a Westin name tag with Nora's name on it!  She pinned it on her dress immediately and was quite sure it meant she was a part of the team.
We had to drag Nora away from The Westin – Seattle to take a walk in the city.  It felt like everything of interest was only a five minute walk away.  We chose Pike Place Market on the first day.  Nora was enthralled with watching cheese being made and the flowers and fishmongers. It's so easy to forget about the adventures we can have so close to home.
Nora was antsy to get back to The Westin – Seattle so we returned to eat at Relish (located right off Westin Seattle's lobby).
They had a wonderful kids' menu and we all had fun building our own burgers.  We each chose our bun, protein, condiments and add-ons.  Nora chose a beef burger on a wheat bun with bacon, mustard and pickles.  We snacked on sweet potato fries and drank locally brewed root beer while our burgers were being made.  Everything was so delicious.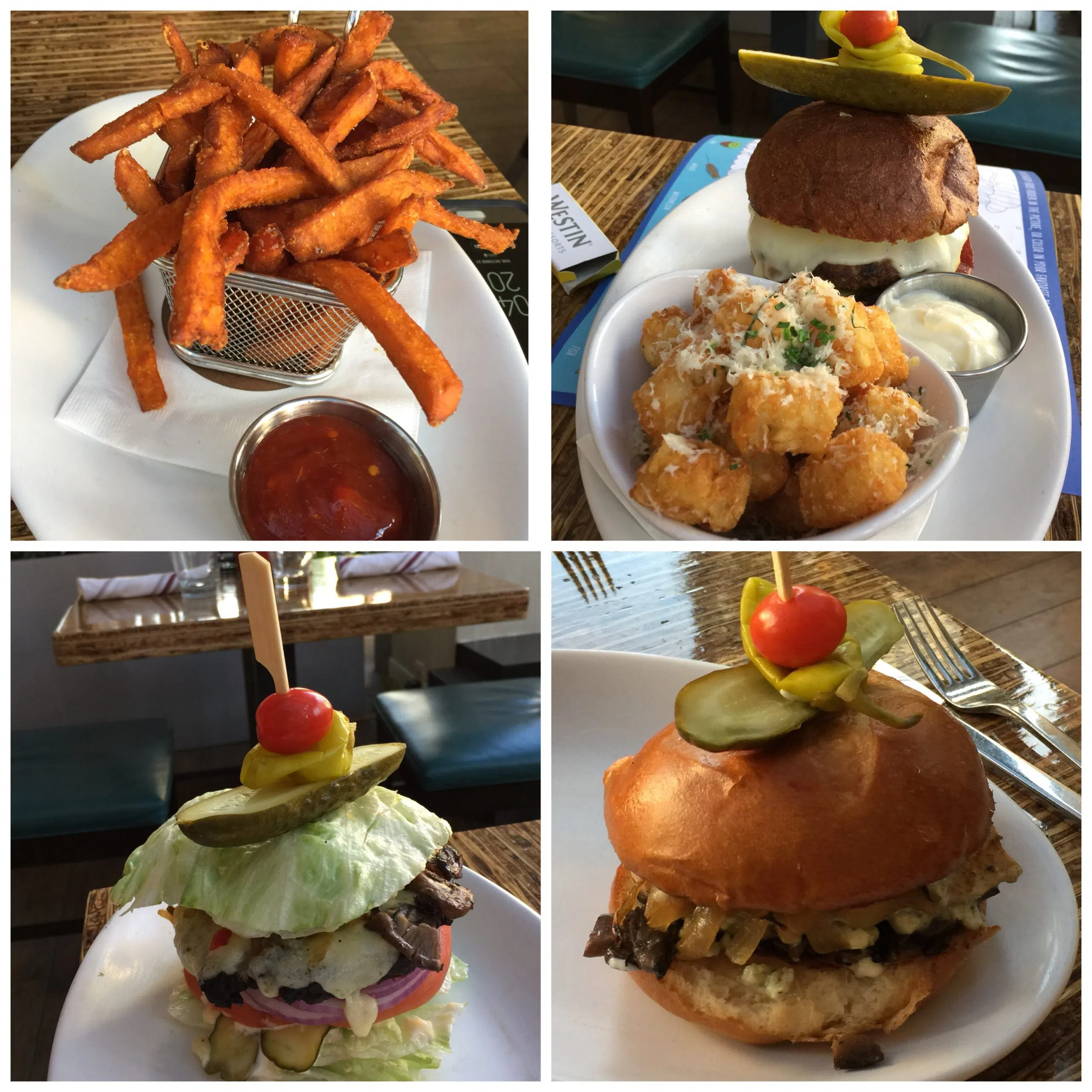 I'm going to end part one of our adventure there.  Part two will include the pool, coffee, a beautiful sunset and more!  I will leave you with more pictures (we took so many!) and this thought: whether you're planning a family vacation, a couple's getaway or a milestone celebration, may I recommend the The Westin – Seattle?  I'll bet you too will have trouble describing how truly wonderful your stay was.