My mother was always filled with fear and never more so than after she had kids.  She was convinced that if she ever stopped worrying, we would all immediately die.
In order to play at a friend's house, we had to have a fire drill there first and locate all the "emergency" exits.  Sleepovers were forbidden if the host had a second story bedroom (too hard to escape in a fire).  And, if a car passed when we were walking to school we were supposed to run up on the nearest lawn (the sidewalk wasn't safe enough).  Although we ignored mom's commands whenever we were out of her sight, her fear still managed to seep into us.  How could we help it when it surrounded us night and day?
Because I share some of her DNA, I soaked up more than my fair share of fear.  In my late teens and early 20's, I became agoraphobic.  I had a small geographic area I felt semi-safe in and anything outside of that was too terrifying.  Even a trip to the grocery store required careful planning and courage.  Sadly, back then no one talked about such things, so I had to struggle through anxiety on my own.
Unlike my mother, once I had kids I realized I had to change.  Of course I wanted to protect my kids from harm, but I didn't want them to live with the incapacitating fear I had been subjected to.  It was a tough line to walk: wanting to keep my kids safe and yet allowing them the freedom I never had.  I struggled at times to find out where to draw the line.  How could I allow them to spread their wings without putting them in danger?
There was nothing in my background to teach me those parenting skills.
But, I gave it my all.  I said yes to things my mom would have freaked out about.  I commended them for brave decisions they made and new adventures they experienced.  There were so many times I waved them off with a smile while inside I cringed and quaked.  And, I prayed.  Oh, how I prayed.
My kids all have that anxiety gene that was passed down to me, but they have pushed through and are living brave and exciting lives.  They have taken trips to far-off lands by themselves.  They have gone to trapeze school, zip-lined, cliff-jumped and rock climbed.  My son is a skydiver and loves nothing more than hurtling himself out of a plane towards the ground thousands of feet below.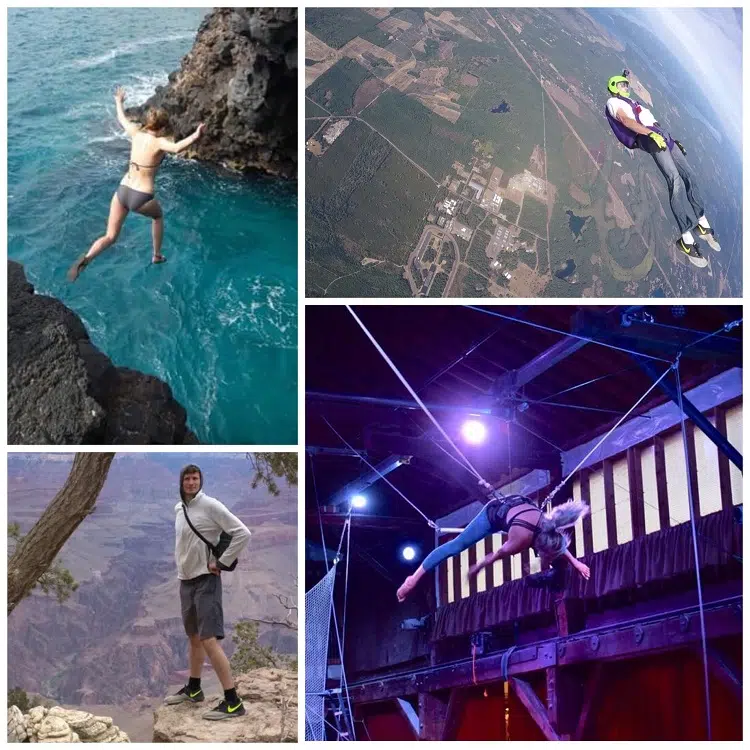 And, every time I receive a photo from one of them of their latest feats my heart still skips a beat.  But, most of all, I celebrate their bravery and thrill at their successes.  For, they have battled anxiety and won.
I think all moms can agree that the thought of losing a child can bring fear to even the bravest of moms.  But, when fear takes over our lives, it can be extremely harmful for both mother and child.  I'm proud that I did my very best to stop the cycle of fear that pervaded my own childhood.
Because, living a life of fear is no way to live.
---
Read more of Ann's contributions to allmomdoes here.