ENTER TO WIN A STAY AT WESTIN SEATTLE
It's December!  And, that means it's a great time to plan a staycation (or entertain out-of-town company) with some fun things to do in our area.  There are tons of things to do in Seattle at Christmas time. Here are just a few ideas to get you started:
Ride the Holiday Carousel at Westlake Park.  What's more fun than an old-fashioned merry-go-round?  Take a ride and then visit Westlake center for some shopping!
Are you in the mood to watch ice sculpting, performances by local children, or go ice skating?  Then, Winterfest is for you!
Animals and Christmas lights?!  Yes, please!  Head to the zoo for Wildlights.
There are some wonderful events going on at Pike Place Market this month.  Check out their link for information on: a holiday gift guide, an Instagram selfie contest (fun!), music, holiday cooking classes and so much more!
ENCHANTED LIGHT PIC by Jeremy Parker  Visit Safeco Field and see the light maze, visit Santa and Mrs. Claus and glide across the ice skating trail.  Everyone I know who has already been to the Enchant Christmas light display has loved it!
If you haven't been to the Bellevue Snowflake Lane, you really owe it to yourself to take a trip.  It's fun for all ages and located in the heart of Bellevue, right next to the mall and lots of amazing restaurants.
This one would require a drive, but the scenery along the way to Leavenworth makes it worthwhile.  Visit this Bavarian inspired town and check out their Christmas light displays.  Buy a nutcracker while you're there!
Whether you choose tickets on the lead ship or one of the following ships, or even if you sit on the shore to watch, the Christmas ships never fail to thrill.
From free light viewing in neighborhood to impressive light extravaganzas check out this page for a list and links.
Need some more ideas?  Check this calendar of events out.  It has something for everyone!
Okay, I can't stop (don't we live in an amazing area?!).  Here are some more great ideas for tours, coffee shops and other classic Seattle venues to visit during the holidays.
To end this list, may I suggest a stay at the beautifully decorated Seattle Westin Hotel while you enjoy some of the ideas on this list?  Many of them are within walking distance from the hotel.  Plus, your kids will love the Westin (you'll have to pry them out of the pool when it's time to go sightseeing). Enjoy a SPECIAL HOLIDAY WEEKEND RATE of only $105.3 per night or ENTER TO WIN a night now. Book now before it's too late!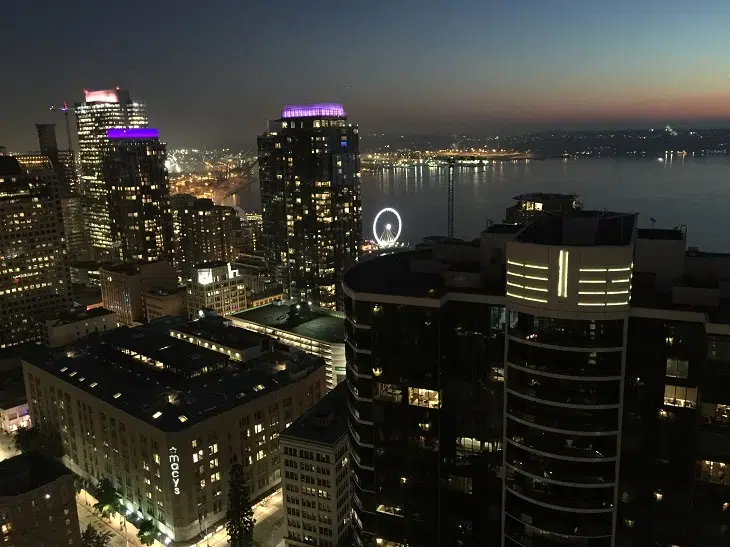 ---
Read more of Ann's contributions to allmomdoes here.