So there I was, the evening before soccer camp, sitting on the floor of the consignment store under a pile of assorted sporting shoes Googling "What is the difference between football and soccer and baseball cleats?"
At this age my kids' feet grow so quickly that when I buy something as specialized and infrequently-used as sports gear, I prefer to go used. They're usually in decent condition (because they've been outgrown far too quickly by someone else's kid!) and work just fine. But even though I love getting a good bargain, of course I always want to make sure I get the proper equipment to avoid the risk of injury – to my kid or someone else's.
So if you're like me and want to save a few bucks by buying used but are confused by the giant bin of cleats and need help figuring out which ones are right for the sport you need, I've got the answers.
(Forgive the poor photography. I thought dragging the big camera into the thrift store would be a bit obvious, so we're sticking with cell phone photos today.)
Soccer (outdoor):
Soccer cleats are the easiest to identify. If you look at the pattern of cleats on the bottom, there is not one at the very front (a "toe cleat"). The reason for this is because it can injure the leg of another player. There will probably be two that are spread apart at the front, but there won't be one at the very tip of the shoe.
Soccer cleats also tend to have the lowest ankle profile and the softest shoe body.
Baseball:
Baseball cleats have a toe cleat, so look for it at the front of the shoe. They are also higher than soccer cleats to provide more ankle support, and tend to have the firmest body.
Football:
Football cleats look very similar to baseball cleats and distinguishing the two can prove to be very difficult. Like baseball, they come with a toe cleat but typically (though not always) have a few more pegs in the center of the shoe and provide more arch support than baseball cleats. They're also a little softer than baseball cleats.
Football cleats come in high-tops, mid-height, and lower profiles; players may have a preference based on their playing position and their need for strength vs. agility.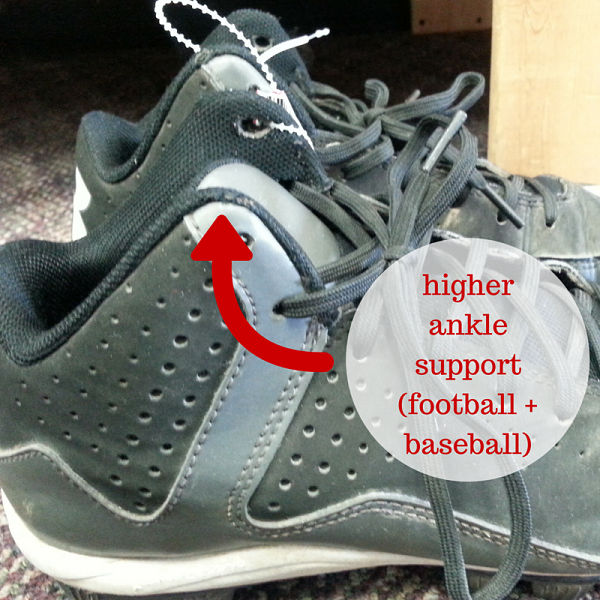 Bottom Line:
Sports technology changes constantly and your child is probably still a few years out from the NFL, so just do your best and don't sweat it too much. But be sure to pay closest attention to that toe cleat – if you buy football or baseball cleats they will not be allowed on the soccer field due to the risk of injury. Soccer cleats are more often permitted on football and baseball fields, but if you really want to buy a shoe specific to that sport, opt for one with a toe cleat. Don't spend too much time stressing about which is which – even the person at the sporting goods store admitted to me that the difference is minimal, especially at this stage.
Oh, and if you run across metal cleats – it's best to leave them on the shelf. While some cleats may be manufactured with metal, many youth leagues ban them for safety reasons. So unless you're certain your child will be allowed to wear them, stick with the plastic or hard rubber versions!