Get ready for a fact that will blow your mind – the most prevalent childhood diseases in the US (in order) are dental cavities, asthma, diabetes, and obesity – with dental cavities being the most common and 5-8 times more common than asthma.
Yes, you read that right – tooth decay is the #1 chronic infectious disease in children.
Studies have shown that more than 51 million school hours every year are missed due to illness associated with dental disease. Untreated dental disease affects a child's ability to eat, sleep, and function well both at home and at school. Researchers have found a strong relationship between poor oral health and likelihood of poor academic performance.
The good news? Cavities are preventable!
Children's Cavity Prevention Starts With You
Tooth decay is an infectious disease caused by bacteria in your mouth that can be shared between people. The simple act of sharing a spoon or occasionally "cleaning" a pacifier in your mouth could introduce the disease-causing bacteria in your baby's mouth. Thus, the prevention of cavities and gum disease in parents is crucial even before your child is born! So make sure to follow the simple routine below:
A Simple Routine:
1) Brush for 2 minutes 2 times/day
2) Floss daily
3) See your dentist regularly for routine checkups (every 6 months at a minimum)
Your dentist can review other factors that affect cavity risk, such as diet and fluoride use, during routine checkups. Your baby is susceptible to dental disease as soon as their first tooth appears, so start early!
Your Child's First Dental Visit:
A child's first dental visit should be within 6 months of eruption of his/her first tooth and no later than his/her first birthday. Your child's first dental visit will be to:
– monitor development and growth, including eruption of teeth
– check your child's mouth for cavities, trauma, any abnormalities
– review cavity risk
– discuss habits at home including oral hygiene, diet, fluoride intake
But most importantly, the first dental visit is about introducing you and your child to their dental home and making your child comfortable in a fun and positive environment!
Caring For Your Young Child's Teeth:
– Baby: wipe their gums with clean, moist gauze or washcloth after feedings or nightly. As soon as the first tooth appears, tooth decay can occur (first tooth typically erupts around 6 months of age).
– Children under 3 years of age: Begin brushing twice a day as soon as the first tooth erupts. Use a smear or "rice-sized" amount of fluoride toothpaste.
– Children 3 to 6 years of age: Use a 'pea-sized" amount of toothpaste.
Use soft, age-appropriate toothbrush. Parents should dispense the toothpaste and should perform or assist with brushing until you're comfortable that your child can brush on his or her own. Make sure that your child does not swallow large amounts of toothpaste, and best to keep rinsing to a minimum to allow the fluoride to be effective. As soon as your child has two teeth that touch, begin flossing daily. Best to develop a flossing habit early! You'll need to help with flossing – children usually don't have the dexterity to use traditional floss until they can tie their shoes.
A Note About Fluoride:
Fluoride is nature's cavity fighter. Fluoride, a naturally occurring mineral, helps strengthen teeth during development even before they erupt and remineralizes tooth enamel making it more resistant to decay. Fluoride is added to tap water in most communities and present in most toothpastes and mouth rinses. Community water fluoridation and fluoride in dental products are responsible for significant drops in cavity rates in the United States.
Starting early with your child's dental care can protect their teeth for decades to come and prevent absences during their school years!
---
This post is sponsored by Light Dental Studios. They will be hosting a FREE (seriously!) dental event in Puyallup on Saturday, January 30, 2016 and invite you to come by for services. See below for details!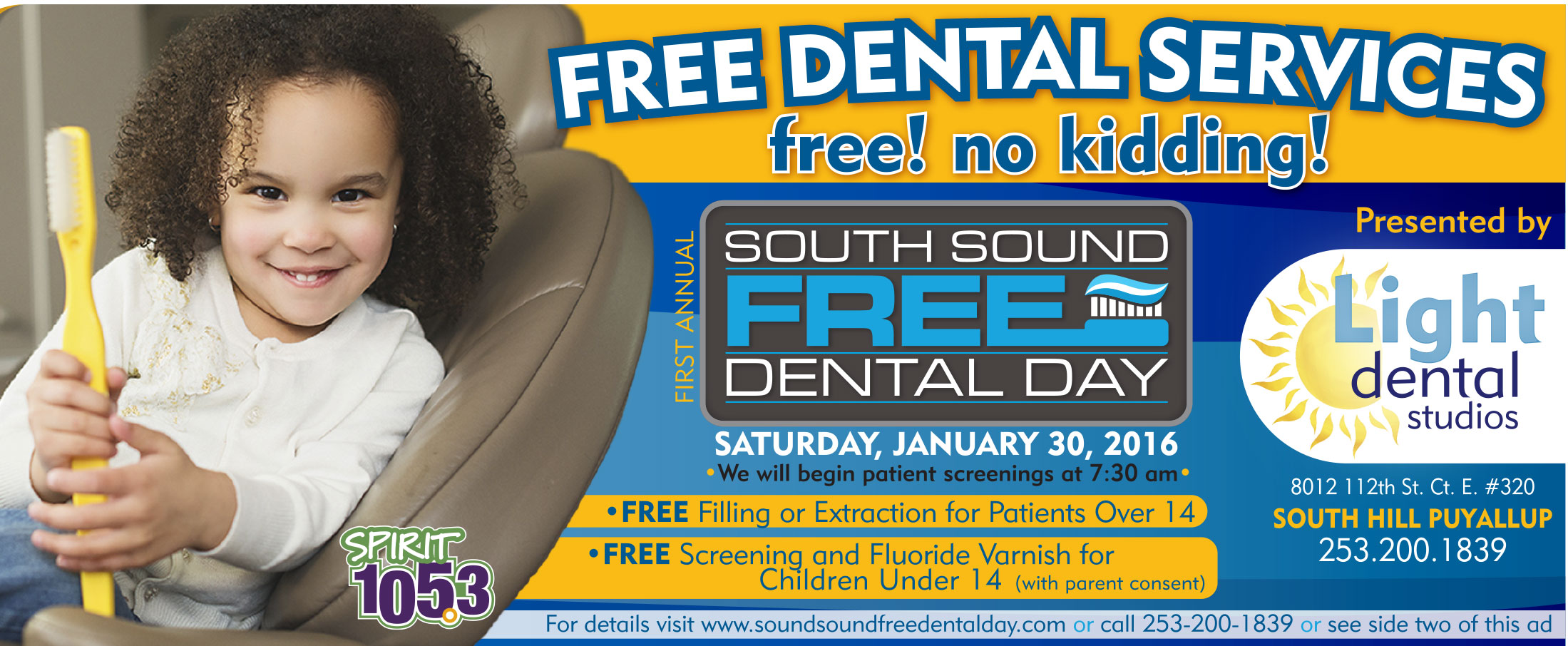 Blog References: