I hesitated whether to even tell you that these cookies are flour and egg-free (and can be gluten-free with the right ingredients) because often that means "taste-free" as well. And, these are delicious! Even my husband (who is one of those odd people who dislike sweets) loves them.
The original recipe (which I modified because I can't help myself) was called "Breakfast Cookies". But, in our house, they ended up being "All-the-Time Cookies"!
If you do need to watch your gluten, be careful that your ingredients are gluten-free. Many granolas have gluten and so do some chocolate chips and peanut butters. Otherwise, go wild and substitute whatever you have in your house.
GRANOLA COOKIES
1 ½ cups granola (break up any large chunks)

1 ½ cups oats (I used half rolled oats and half steel cut because I was pantry cleaning)

1 cup diced dried fruit (I used dates, but try a mix of cherries, apricots, raisins, or whatever you have)

½ cup chocolate chips (I used mini chips or how about using pecans instead?)

¼ teaspoon cinnamon (optional)

½ teaspoon salt

2 ripe bananas

½ cup peanut butter (or, almond butter)

¼ cup honey
Heat your oven to 325 degrees and line two cookie sheets with parchment paper.
In a medium bowl, stir together the: granola, oats, dried fruit, chocolate chips, cinnamon and salt.
In a mixing bowl, mix the two bananas together on medium/low until they're nice and mushy. Add the peanut butter and honey and blend well. Pour in the dry ingredients and mix on low only until blended.
Shape into "pucks" or drop into scant ¼ cup piles. You should also know that these do not spread while baking, so they will stay exactly the way you put them on the pan.
Bake for 15 minutes or until set.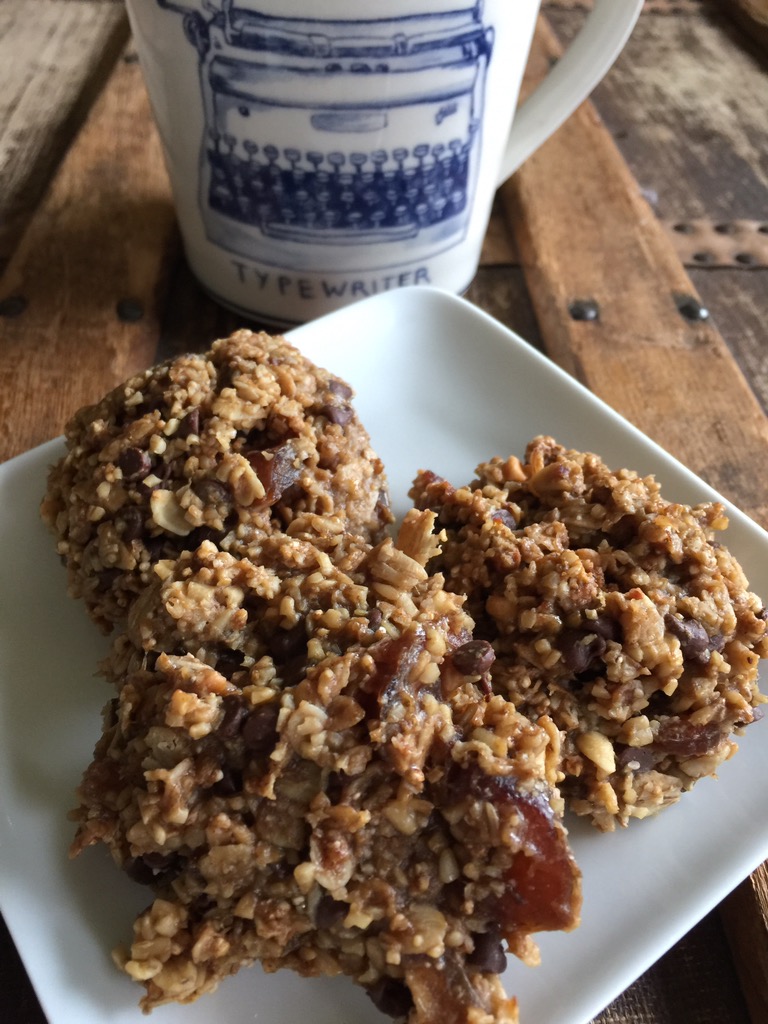 Now, for the helpful hints:
Spray your measuring cups with cooking spray before measuring the honey and peanut butter, they'll slip right out!

The dough is sticky. I pressed mine into a small gravy ladle with a spatula and then popped them onto the cookie sheets. You could also roll them with wet hands and then flatten them into discs.
I hope you enjoy these as much as we did. And, please write in and tell us what ingredients you used to make them uniquely yours!