At the beginning of the year, one of our New Year's Resolutions was to save up money to finally remodel our kitchen. We knew were going to do it ourselves because my husband is handy and that would be the most economical option. But while we started socking away money and had an idea of our savings goal, we didn't really know what the final number needed to be.
So early in the year we headed to one of those big home improvement stores, met with a kitchen designer, and walked away with a clear picture of how much we would be paying for cabinets and countertops. It was on par with what we expected – after all, those are pretty much your biggest expenses when you're re-doing your kitchen. So we laid out our savings plan and hoped to have enough money to do the remodel by the end of the year.
But then my husband started researching online cabinet retailers and discovered an option called RTA cabinets (short for "Ready-to-Assemble" cabinets). They are cabinets that are shipped flat and you do all the work of putting them together yourself. This has the potential to save you TONS on the cost of your cabinets. After looking into a lot of different companies, we decided to order from a company called easykitchencabinets.com. You guys, the quote was HALF of what we got from the big box store – and that includes the upgrades we wanted like all-wood cabinet boxes, soft-close drawers, pull-out pantry shelves, and lazy susans.
So since we'd instantly shaved thousands off of our budget, my husband was up for the task, and I had full confidence in his ability, we ordered our RTA cabinets from Easy Kitchen Cabinets.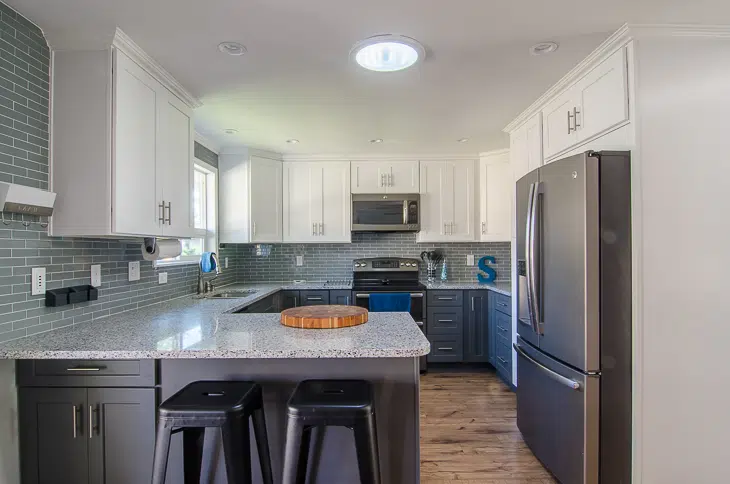 But a bargain's not really a bargain if you do poor work or get frustrated enough that you quit in the middle of it. In order for a DIY kitchen remodel to go well, you have to have the right tools. Not only will they save you time and frustration, but they'll ensure the work you do is quality. In particular, you want your cabinets to last for years so they need to be durable and put together well. If you don't do it right, your work won't last.
So I consulted my husband and asked for his list of essential tools to pull off a DIY kitchen remodel. If you're ready to tackle this project, make sure you've got these things.
Essential Tools for a DIY Kitchen Remodel
1. Impact Driver with various bits: You'll be using this for everything. It's particularly helpful for disassembly of old cabinets, the reassembly of new cabinets, subfloor repairs, and drywall installation. You might be tempted to just use a standard drill, but an impact driver will make your life so much easier.
2. Oscillating Tool: This is good for making small cutouts in your drywall or flooring.
3. Table Saw: This is handy when you're ripping down sheets of plywood or cutting filler strips on cabinets. Be sure your blade is of good quality so you don't tear the wood or chip the finish – especially if you're making cuts on pieces that will be visible.
4. Miter Saw: This is great for cutting scribe, molding, or trimming pieces to size.
5. Long Level: A good-sized level is essential for leveling your cabinets. Unlevel cabinets make for a rough countertop fit, not to mention a wonky kitchen in general. A small level won't cut it – three feet is good; four is better.
6. Tile Saw/Tile Snap Tool: There are different types of tile saws. You can usually rent an industrial-grade one or buy a cheap one to do the trick if you're cutting tile for the floor. However, if you're using glass tile (like subway tile) on your backsplash, use a tile snap tool instead. Otherwise, the glass will splinter, your work will look shoddy, and you'll be frustrated with the results.
7. Multi-Meter: This is great for testing outlets just in case your kitchen is wired wonky or not to code.
8. Wire Fish Tape: If you need to run new wires from the ceiling or add new outlets, you'll want this on hand.
9. Drywall Trowel: Believe it or not, something this simple can make or break how level your cabinets sit on the walls. You'll want a good drywall trowel for any for drywall repair or install you'll be doing.
10. Various Hole Saws: These are great for installing recessed lighting and making space for plumbing.
11. Quick Grip Clamps: These will hold your cabinets together as you're assembling them. No need for a partner to hold them in place.
12. Counter Sink Drill Bits: These are helpful during cabinet assembly because it makes the screw head flush with the cabinet box.
The good news is that if you don't already have these things on hand, you'll definitely find plenty of uses for them even after your remodel is complete. All of them are great to have around the house anyway. And if there are two more things you should have on hand when doing a DIY kitchen remodel they would be:
13. Youtube: On YouTube you can get fantastic advice from the pros (and those home remodelers who have gone before).
14. Patience: Things will go wrong. You might encounter a problem you weren't anticipating, your cabinets might need some adjustments before they're level, or maybe you'll discover a mistake you made in your initial kitchen measurements. If you're not up for problem-solving and get flustered easily, a DIY kitchen remodel might not be right for you.
Are you considering a kitchen remodel? My husband and I will be doing more posts in this series – including budgeting, timelines, and (most importantly) how to survive without a kitchen while you're trying to feed your family. If you have any topics you'd love us to tackle, please let us know in the comments!
Meanwhile, PIN THIS so you can reference it once you're ready to begin construction:
---
Read more of Kristina's contributions to allmomdoes here.