As moms, we're busy. We want the best for our kids but sometimes we need a shortcut or two. Sure, fresh is best – but it's also time-consuming. So instead of just swapping your Goldfish for Cheddar Bunnies or simply switching to organic mac-n-cheese, I've pulled together a list of convenience foods that you can actually feel good about feeding to your kids.
---
A quick note about how I decide what's healthy for my kids – I pay the closest attention to sugar content, protein, fiber, and whether or not it contains whole grains. I pay almost no attention to calories, fat content, sodium, whether it's organic, or other things. You may have different priorities when it comes to evaluating nutrition for your kids, and that's okay. You know best what your kids need!
---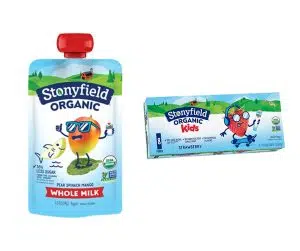 Yogurt
Yogurt has a reputation as a healthy snack, but many brands have an alarming amount of sugar. Stonyfield is not only organic, but has less sugar than the leading kids' brand. However, be aware that sugar is still the third ingredient so it still needs to be consumed in moderation (maybe it's a teeny bit better since it's organic sugar?). They come in both tubes and pouches, and the pouches have some flavors that even have veggies in them. My kids love these!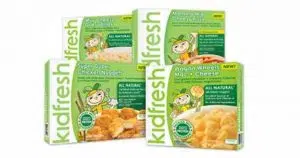 Frozen Meals
I love KidFresh frozen meals for a quick, easy dinner when I have no time to cook. They actually have pureed veggies in the kid-friendly foods like mac and cheese or chicken nuggets, so you can get some nutrition in your kids without a fight.
Granola Bars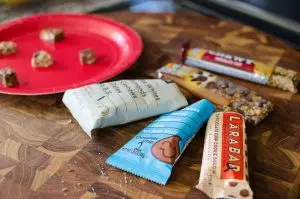 This is where things get a bit tricky. Granola bars also have the "health halo," but they taste like a candy bar (and have just about as much sugar). I've made granola bars from scratch on several occasions and my kids reject them every time. I had my kids do a taste test of some of the top commercial brands – Clif Kids bars, KIND Kids, RxBAR, RxBAR Kids, and Larabar. Basically, they hated them all. But if I was insistent about swapping out our regular option they would probably adjust to the Clif Kids or KIND Kids – but only the chocolate chip flavors. However, I'm honestly not sure of the benefit – most of the nutritional details were identical. There is 2g less of sugar in the "healthy" bars, but more sodium. So I'll probably just stick with my regular granola bar option and not worry about it.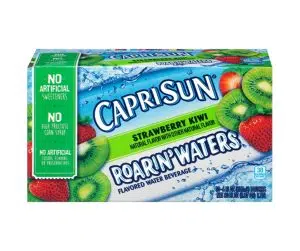 Drinks
Even natural juice is sugar-laden and should be enjoyed in moderation. I give my kids the "Roarin' Waters" variety of Capri-Suns and they don't even know they're not getting the real thing. I mean, water would be better but with these, at least they're staying hydrated and cutting their sugar almost in half over the full-sugar version.
Grab-and-Go
Pre-packaged carrot sticks and apple slices, along with personal-sized dips like hummus, guacamole, and ranch dressing make great grab-and-go snacks.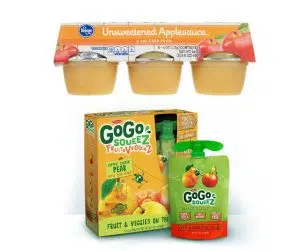 Fruit Pouches
Whenever I buy applesauce, I always buy the "no sugar added" version and my kids like it just fine. I also like these GoGo Squeeze Fruit & Veggie pouches because they're another way to sneak nutrition and veggies into your kids. However, they're sweetened with fruit concentrate so they do have a little extra sugar. But they also have a decent amount of fiber, so…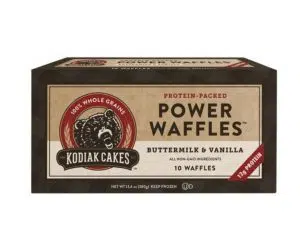 Toaster Waffles
I'll admit, my kids had no ideas that waffles could come out of toasters until we did this taste test. But some of us at allmomdoes are a bit obsessed with toaster waffles so…I had to try and see if there was a healthy version out there. My kids tried Vans Original Power Grains and Kodiak Cakes Power Waffles. The clear winner was the Kodiak Cakes. They were fluffy and had a nice texture, and they were the only ones that were made with 100% whole grains. (Bonus tip: Don't be deceived by tricky ingredients like "wheat flour." Traditional flour is always made from wheat. It's just not WHOLE wheat.) While the sugar was a little higher, the protein was through the roof, it had significantly more fiber, and the sodium was on-par with the regular brand your kids never wanna…*ahem*…leggo.
Also worth noting – I also heard about a brand called Garden Lites waffles that actually have butternut squash and carrots baked into them. I was super curious to try them but unfortunately they aren't sold in my area.
Ready-Made Lunches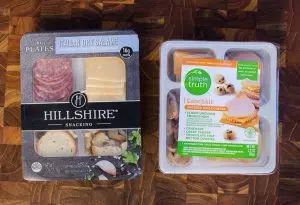 Lunchables are a popular grab-and-go meal option, but my kids have never been crazy about them. Instead I tried the Simple Truth brand (from Fred Meyer) and a Hillshire Farm pack (because even though it's not marketed to kids doesn't mean they won't like it). Simple Truth is another tricky brand because some of their things are organic, but this particular product isn't. However, the ham is uncured and it doesn't contain a piece of candy like the other guys. However, there are cookies. With Hillshire Farm option you're just getting meat, cheese, and crackers without the treat, which I liked. My kids far preferred the Hillshire Farm meat and cheese – but declared Simple Truth the winner because it included cookies. *eyeroll*
Microwavable Rice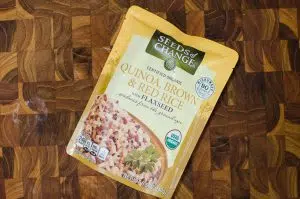 I tried this microwavable Quinoa, Brown, & Red Rice with Flaxseed as a convenient substitute for rice, potatoes, pasta roni…basically any side. I found it to be nutty, flavorful, and fast – but my kids found it too bland. This would be a good, fiber-filled side if your main dish included a sauce or something to give it some added flavor. Serve it beside a rotisserie chicken and bagged salad (with half the included dressing because those are full of sugar) and you've got a complete meal.
What are some of your favorite healthy(ish) convenience foods for your kids?
RELATED:
Your Kids Can Pack Their Own Lunch (Yes, Even Your Kindergartener)
---
Read more of Kristina's contributions to allmomdoes here.