I volunteered to pre-assemble gingerbread houses for my son's second-grade class. Clearly, it was a moment of pure insanity. Have you ever had those moments where something sounds so reasonable at the time and then when it comes down to it you ask yourself what was I thinking?! Yup, that was me.
I am far from a pro in the kitchen. I literally had to remember where my Kitchen Aid was stored. I had already over-committed myself so I knew I couldn't make it over complicated. I was not going to attempt to make gingerbread from scratch. But I knew that the icing should be made from scratch because I wanted to ensure it was super sticky and the store bought kind just doesn't always cut it.
I recruited my son and a friend to help. I figured if it was for their class, they had no choice but to get their hands dirty (and oh so sticky) with me. As it turns out, second graders can be wonderful little helpers. It also turns out they are a little heavy handed on the frosting and don't quite have the finesse needed to apply the word gently when holding the house pieces together to dry. Lots of icing, broken and uneven walls, one giant mess. But honestly, it was so much fun.
Graham Cracker Gingerbread Houses and Easy Icing
3 Ingredients for easy icing that will dry like glue:
3 large egg whites (I buy the egg whites in a carton)
½ teaspoon cream of tartar
4 cups powdered sugar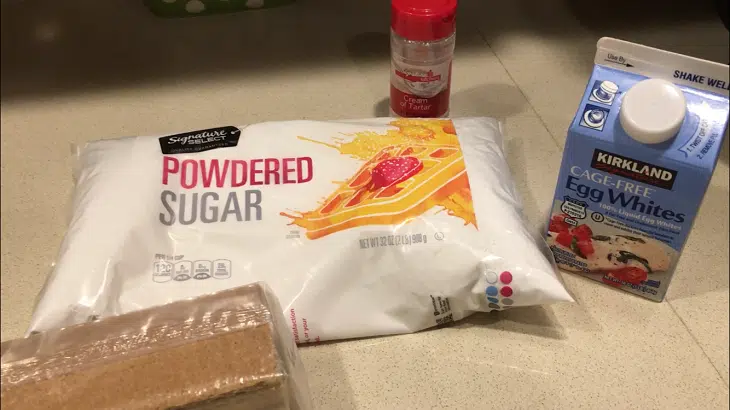 2 easy steps to make the icing:
In the bowl of a mixer with whisk attachment, beat together egg whites and cream of tartar
Beat for about a minute until foamy
Beat in the 4 cups of powdered sugar (slowly)
You can then put into piping bags (make your own using ziplock bags!) and off you go.
The video showed how to carefully cut the pieces but if you want tips from more of a pro, check it out here.
RELATED:
Tips for Making Your Own Gingerbread House Without Losing Your Mind
The Best Frosting for Homemade Gingerbread Houses
---
Read more of Stephanie's contributions to allmomdoes here.