Our hens are almost 2 years old and since their laying has slowed down a bit during the winter, I've been experimenting with other satisfying breakfasts, besides eggs. Homemade Granola is something our family loves and it's fun to create different seasonal varieties.
This Gingerbread Granola took only about 5 minutes to put in the oven and the intense flavors of Molasses and Ginger are perfect (if you're into those sort of things!). Not only does this granola taste amazing, but it makes your whole house smell like Christmas while it bakes!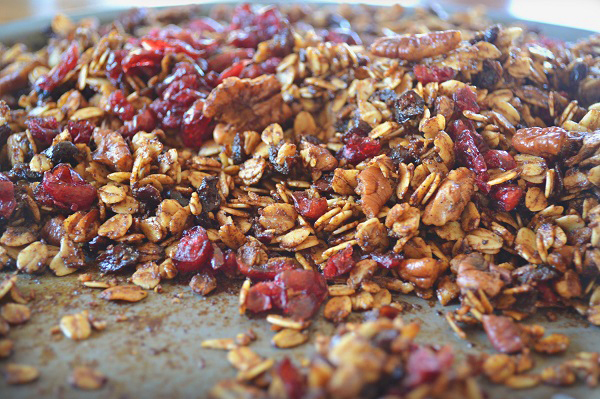 The holidays will be here shortly and granola makes a great non-traditional gift. Anything like this people tend to really appreciate, since it's so hard to stay away from all the cookies and sweets. Package up generous bags or jars of granola for teachers, neighbors, family members, and friends.
I hope you enjoy this recipe and have a chance to try it sometime soon, whether you bake it for your family, or whip it up as a thoughtful, homemade gift.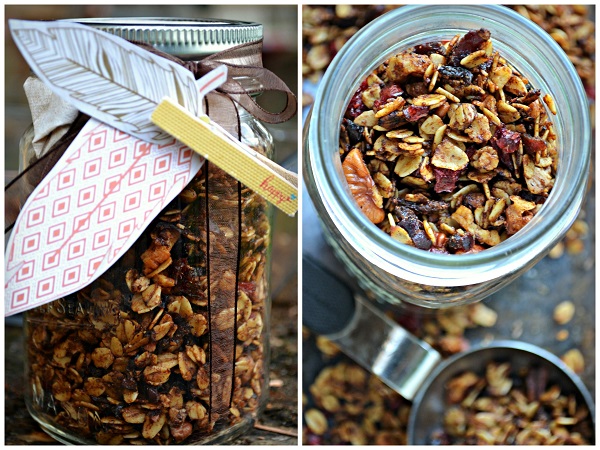 Ingredients
4 cups old-fashioned oats

1 cup chopped pecans

2 teaspoons ground ginger

1½ teaspoons cinnamon

1 teaspoon ground nutmeg

½ teaspoon salt

⅔ cup coconut oil, melted and cooled

6 tablespoons molasses

1 teaspoon pure vanilla extract

1 cup sweetened dried cranberries
Instructions
Position rack in center of oven and preheat to 350°F.

In a large bowl, mix together oats, pecans, ginger, cinnamon, nutmeg and salt.

Combine molasses, coconut oil and vanilla.

Pour over oat mixture, and stir all ingredients until evenly coated.

Transfer granola onto a 13'x18'x1′ rimmed sheet pan and spread into an even layer.

Bake, stirring and flipping with a spatula every 10 minutes, until the mixture turns a nice, even, golden brown, about 30 minutes total.

Watch carefully for the last 10 minutes of baking time, checking every few minutes and stirring as necessary to prevent over-browning.

Remove granola from the oven and stir frequently as it cools, scraping the bottom of the pan to prevent sticking.

Once completely cool, mix in dried cranberries. Store in an airtight container.
Notes
Wonderful add-ins for Granola include: slivered almonds, white chocolate chips, chia seeds, shredded coconut, roasted pistachios, honey or maple syrup.