Over the weekend I shared a recipe for Resurrection Rolls. I got the idea from a sweet mom online. She made them with her two kids (ages 2 and 4). Her children happily participated.
They dipped the marshmallows into the butter and cinnamon/sugar mixture. They sat in rapt attention while she read them the story of Jesus and the empty tomb. They squealed in delight when the rolls were opened to reveal an empty hole. They ran around the house yelling, "The tomb is empty, the tomb is empty!"
Since my grandkids are roughly the same ages, I was excited to recreate the experience with them. How amazing it would be to share the story of the empty tomb with them and see the delight on their sweet faces!
And, from reading my blog, you would think that was exactly what happened. You would be wrong.
Here's what really happened:
It all began when I sent my husband to the store to get the simple ingredients. He gets frustrated when I'm not specific about what I want. So, instead of simply writing "marshmallows" I wrote "big marshmallows" on the list (so he wouldn't buy the miniature ones).
How was I supposed to know that they make JUMBO marshmallows that are roughly the size of my head? So, another step had to be added to the recipe: figure out a way to cut the huge marshmallows down to size.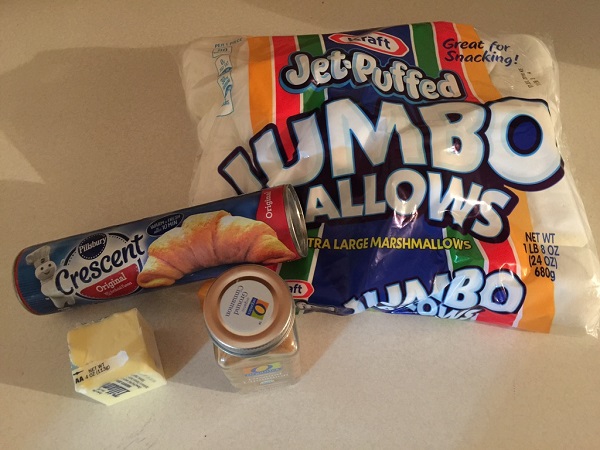 I enlisted my son-in-law to help so that I could take pictures. When he went to open the tube of dough, my granddaughter freaked out and ran out of the kitchen. Her dad chased her around the house with the tube in his hand yelling, "It's not loud, I promise!" while she screamed at the top of her lungs. Things were already not going according to plan.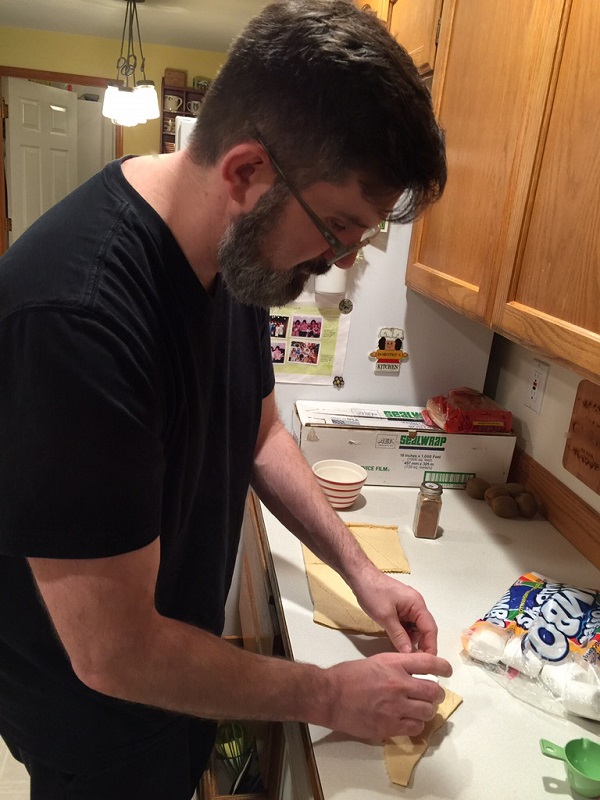 Once the tube was open, we tried to get the kids to help. They watched their dad dip a marshmallow into the butter and cinnamon/sugar and quickly announced that it looked gross and they didn't want to get their hands dirty. My granddaughter also reminded us that marshmallows taste horrible. Their dad ended up making the rolls while they wandered off to play.
When the rolls were in the pan, my grandson left his trucks long enough to poke each roll, licking his finger after each poke (he, of course, had a bad cold at the time). I figured at least he showed some interest.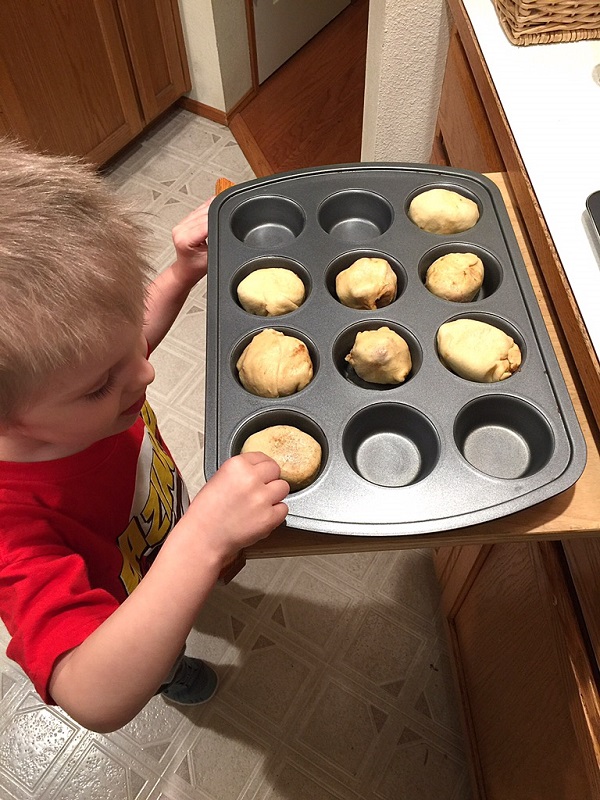 While the rolls baked, I grabbed a kids' Bible and sat next to my granddaughter. She announced that she had the same Bible at home and had already read it like a thousand times. I asked her to at least hold it while I took a picture. Having skipped her nap that day, she was most adamant that she didn't want her picture taken. Her dad finally said, "Do you want to go home?!" And, that's how I got my picture.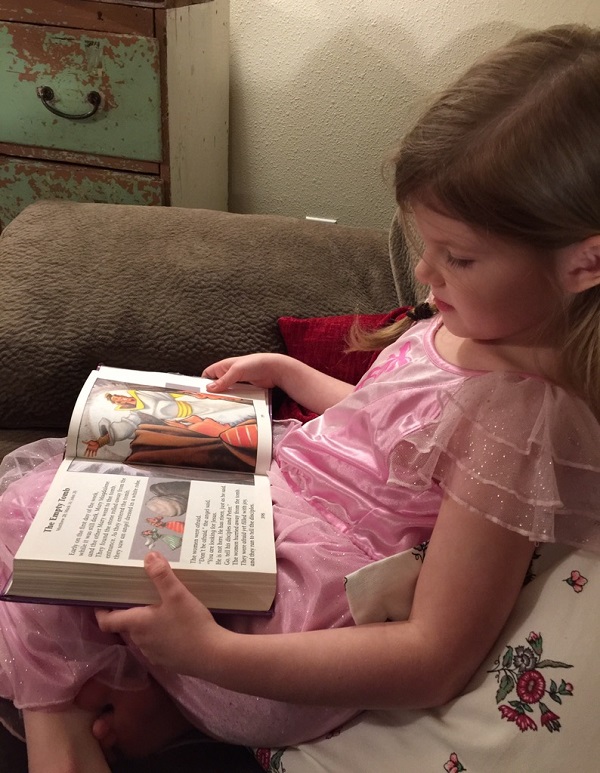 After I read the story of the empty tomb, my granddaughter looked at me in frustration and said, "I'm so confused!" So, I launched into a sermon about how we all do naughty things and fall short of what God wants us to do and so we need a savior. I thought it was rather inspired.
My granddaughter disagreed.
She announced that she didn't want to go to heaven because everyone she knows is down here. When I told her that heaven is more beautiful than she could ever imagine, she interrupted me and said, "Yeah, yeah, I know, there's jewels and streets of gold," (apparently she's had this conversation before!). She then asked me very politely to please stop talking about it. So much for my brilliant sermon.
When the rolls were baked and cooled, my son-in-law and I called the kids into the kitchen to open them and see the empty tombs. "Ewww," my granddaughter exclaimed. "What is that gross melted stuff inside?" "I'm not eating those." So much for the magical reveal. No one was running around the house yelling, "The tomb is empty!" Instead, both kids announced that they would much rather have a popsicle.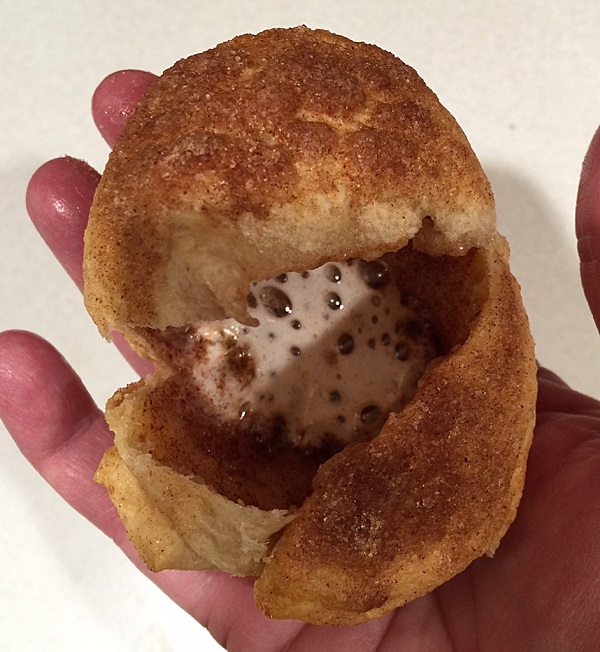 While they ate popsicles, their dad and I ate the rolls. They were delicious. I ate four.
So, when you're reading blogs with beautiful pictures of well-behaved kids and you're feeling a little inferior as a mom, remember this: you just might not know the rest of the story.
While things didn't turn out as expected, it was still worth it. Because even though they didn't run around yelling 'The tomb is empty!', I can only hope that at least some little nugget got tucked in their hearts that day.
Kids are funny like that. They pick things up even when we think things ended up a disaster.
Thankfully, we don't have to be perfect to teach our kids about Easter. Because if we were perfect, we never would have needed Easter in the first place.