Barbecue season is just around the corner, and with that comes – potato salad! I'll be honest. Potato salad just isn't my thing. It's either too heavily dressed, too dry and bland, too tangy, or the potatoes too firm.
And so, I decided to make a potato salad to right all the wrongs associated with the traditional mayo-and-mustard dish. It's a delicious twist on the traditional baked potato with all the fixings. Bring this to your next picnic and I guarantee you'll come home with an empty bowl – the true testament to a potluck winner!
Ingredients
8 medium russet potatoes

1 cup shredded cheddar cheese

4 strips of bacon (or bacon crumbles)

4 green onions (chopped)

1 cup mayonnaise

1 cup sour cream

1-2 Tb apple cider vinegar

3 Tb mustard

Salt & Pepper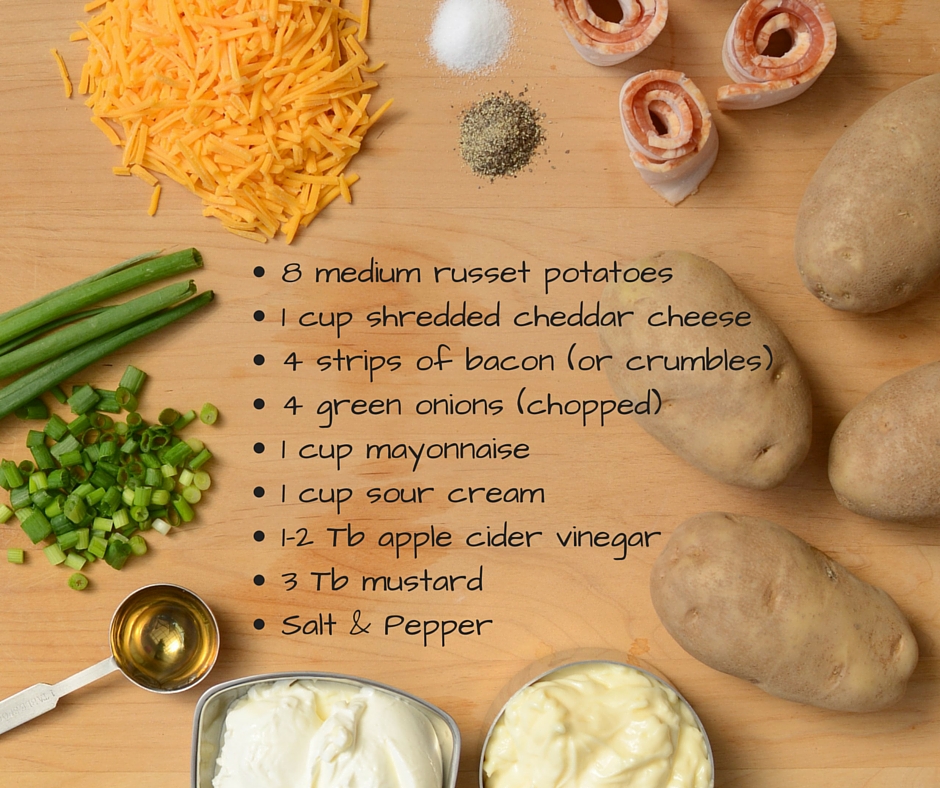 Instructions
Peel the potatoes. Cut each of them in half, place in a pot, and cover with water. Bring to a boil and cook for 20-30 minutes (potatoes should pierce easily with a fork when done).
Drain the potatoes and place in the refrigerator to cool completely.
Combine the mayonnaise, sour cream, mustard, and 1 Tb of the apple cider vinegar. Mix well, then season to taste by adding salt & pepper, more vinegar, or more mustard to achieve desired flavor.
Cook and crumble the bacon.
When potatoes are cooled, chop them into 1/2-inch pieces. If they crumble a bit because they aren't very firm, don't worry. It means they're perfect.
Place the potatoes in a large bowl and add

half

of your dressing. Mix well. Continue to add more dressing, little by little, until the potatoes are dressed to your liking.

You may not add all the dressing, and that's okay.

Make it as heavy or light as you like.
Reserve a couple of tablespoons of each of the green onions, cheese, and bacon and set aside to garnish the top when you're finished. Add the rest of them to the potato salad and mix well.
Garnish with your reserved cheese, bacon, and green onions.