Thank you to everyone who entered our s'mores contest! We received some amazing submissions. In fact, they all looked so yummy we wanted to share them for you to try!
WINNER:
AMY JO IRWIN: Peach Crumble S'mores
1/4 of a ripe yellow peach
1 large marshmallow
1 full graham cracker (divided in two)
Dark chocolate bar or chips (optional)
-Roast peach slices and marshmallows over the campfire.
-Make like a tradition s'more piling and squishing between the graham cracker, or throw the roasted marshmallow and peaches in a bowl, crumble the graham cracker on top.
-Dark chocolate is optional if you are craving that component.
This was born out of a need to use up some peaches on our family's trip to Yellowstone last year. They needed to be used before they were a mushy mess, and we love grilled peaches at home. We thought why not roast over the fire with some marshmallows for dessert–heaven! Thanks for letting us share this!
(I believe the roasting sticks are Coleman product!)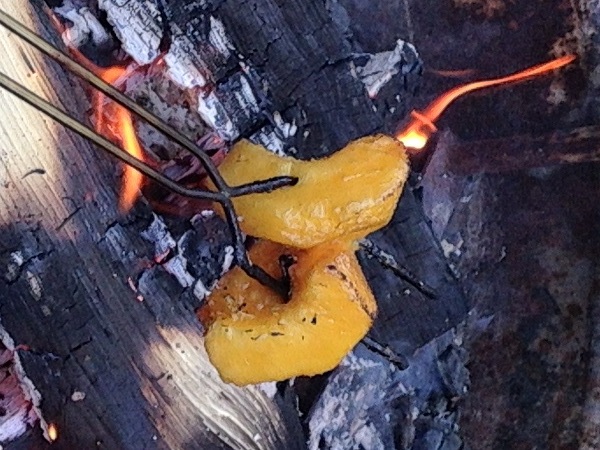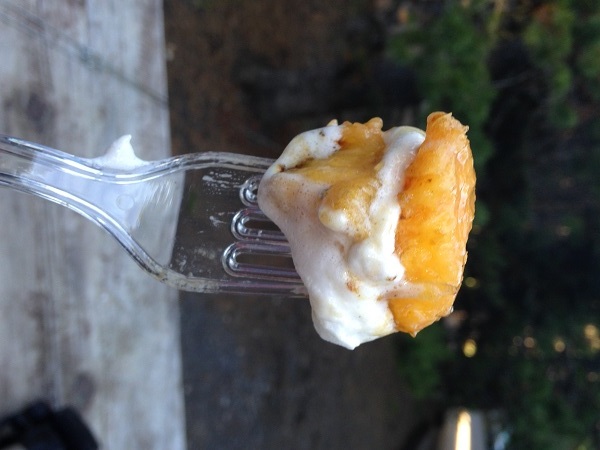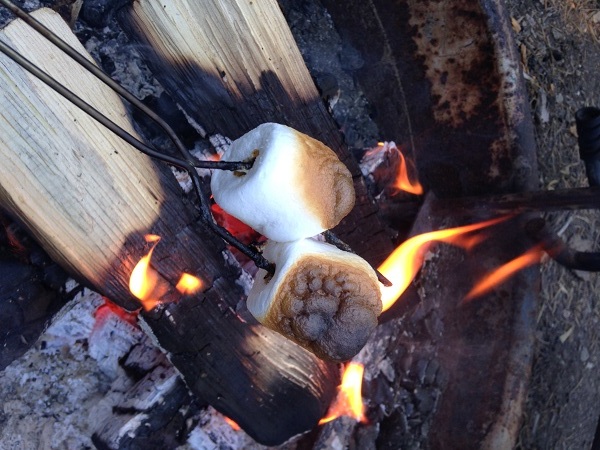 Runner's Up: While our runner's up don't receive a prize we want to recognize their delicious recipes!

Pauline Mallory
Toast your marshmallow nice and brown, while hot insert an unwrapped chocolate kiss (pointed end first) into the marshmallow, place between 2 Ritz crackers, squish together and enjoy! Yum.
Tammy Gonzalez
Graham Crackers- 2
Marshmallows (the square ones work best)
Make a small slit in the bottom of the marshmallow- insert your favorite candy bar (Mini or fun size bars work best) or piece of chocolate into the marshmallow.
Roast marshmallow
Once cooked to golden perfection put on graham crackers.
My kids call it 'Dirty Diapers'
Kimberly Dunton
Put Crunchy Peanut Butter on one side of the graham cracker. Next, add chocolate chips and marshmallows and microwave.
Pam Lammon
Chocolate Chip cookies, Cadbury Fruit & Nut Bars, and Homemade Marshmallows
Sarah Morell
Put heath chocolate bars in a cast iron skillet and top with marshmallows , melt over the camp fire and use graham crackers to dip the yummy gooeyness
Will Irwin
Chocolate for melting, large marshmallows, graham crackers, (optional: mini chocolate chips, chopped nuts, coconut, mini M&Ms)

We went camping at Pearyginn Lake last year in August when camp fires are likely to be banned due to extreme fire danger–in this case they were most definitely banned. We knew our kids would want s'mores so my wife and I thought we could do somewhat of a reverse s'more. We put out little bowls of chopped nuts, mini-chocolate chips, mini M&Ms, and most importantly crushed graham cracker. We melted chocolate and put the marshmallows on skewers, then let them dip them in chocolate and roll in the graham cracker and/or other toppings. (Mini M&Ms were a little heavy.) We had our trailer so we had access to a microwave and a freezer to get them to set easy, but you could melt the chocolate in a mason jar in a pan of water. You can let s'more pops set (which is hard for kids) or eat them all gooey and messy making it more fun for the kids. Not a truly original idea but our kids really enjoyed them and still talk about them.