I think I've told you all before that Fall is my favorite season. While the rest of my family grumbles about the cooler weather and the end of hot, summer days, I am doing my happy dance.
The sound of rain on the roof? Love it!
The excuse to snuggle inside with a good book, a scented candle and a pot of tea? Yes, please!
I actually have entire boards on Pinterest dedicated to Fall. In one (titled "Fall Food") I save recipes for soups, stews and anything made with pumpkin. In another (titled "Fall Décor") I gather ideas to show my excitement for the coming season.
Magazines and social media are full of beautiful homes decked out for Fall right now. I admire these people greatly. They change out their slipcovers and throw pillows, add a few pumpkins in muted colors, and Voila! Their rooms are instantly transformed into classy, autumn showpieces.
In contrast, my house looks like The Great Pumpkin upchucked in it.
I have those solar dancing scarecrows from the dollar store on my window sill. And, I have the most garish stuffed pumpkins on my buffet that my mom made (I couldn't bear to give them away when she passed).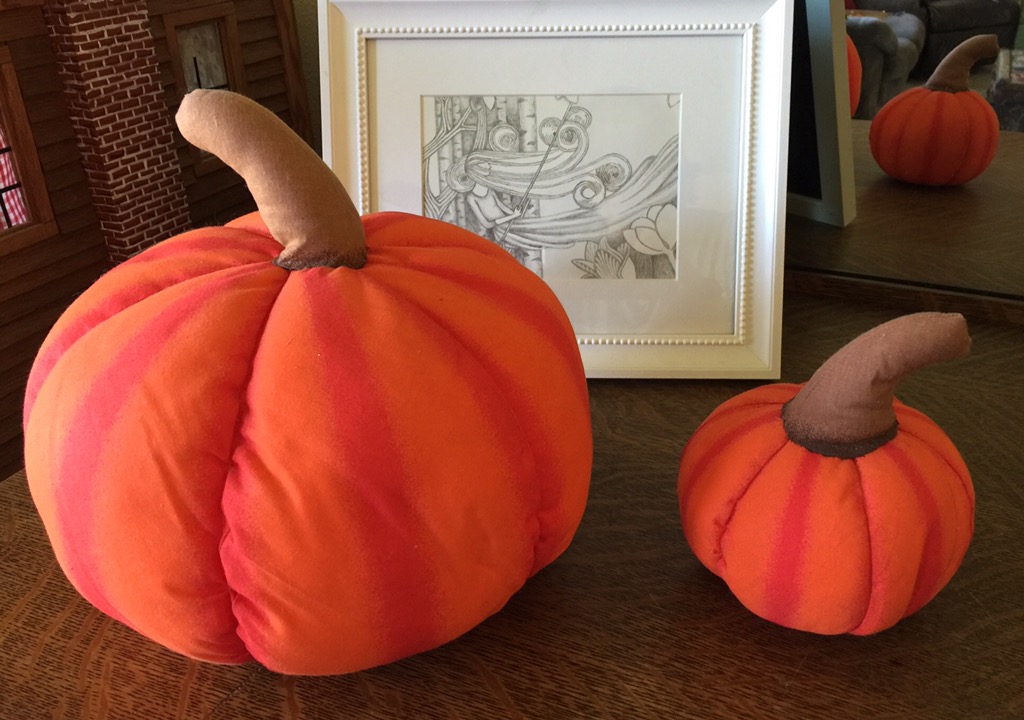 I have glittered acorns piled in a dish. There are rag balls made with autumn fabric, and lavender sachets (cross-stitched with Fall designs). And, in every corner there are pumpkins, gourds, wheat stems and twig trees.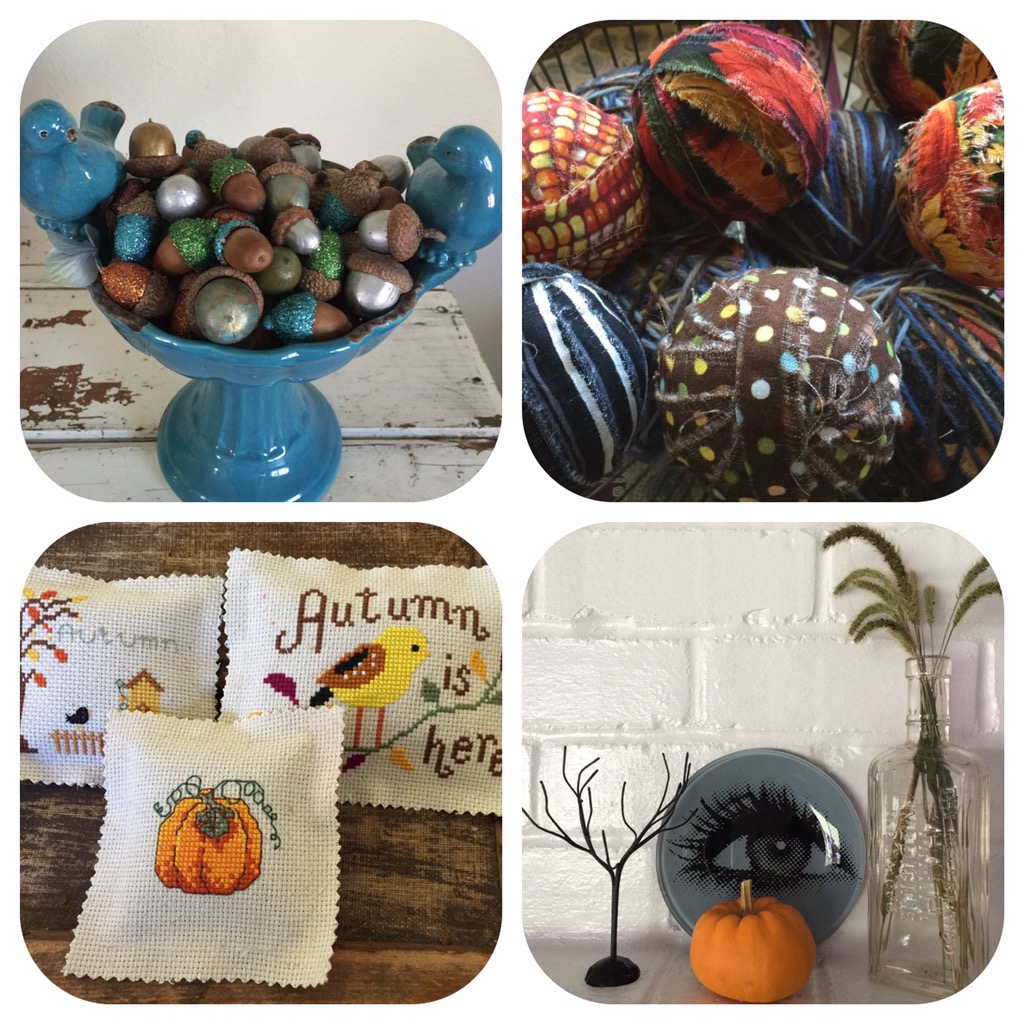 Now, I really do envy those serene rooms I see online with their white couches, cream colored pumpkins and cotton wreaths. And, it has crossed my mind more than once that I should just donate all my "stuff" and start over. Instead, it currently takes two large tubs in my garage just to hold all my Fall treasures (and my collection keeps growing). Because, to me, Fall means color and lots of it!
This year, my granddaughter helped me decorate. She had a ball opening up the tubs, unwrapping each item and then lovingly placing them around the room. For the first time she remembered them from the years before and she greeted each one like an old friend.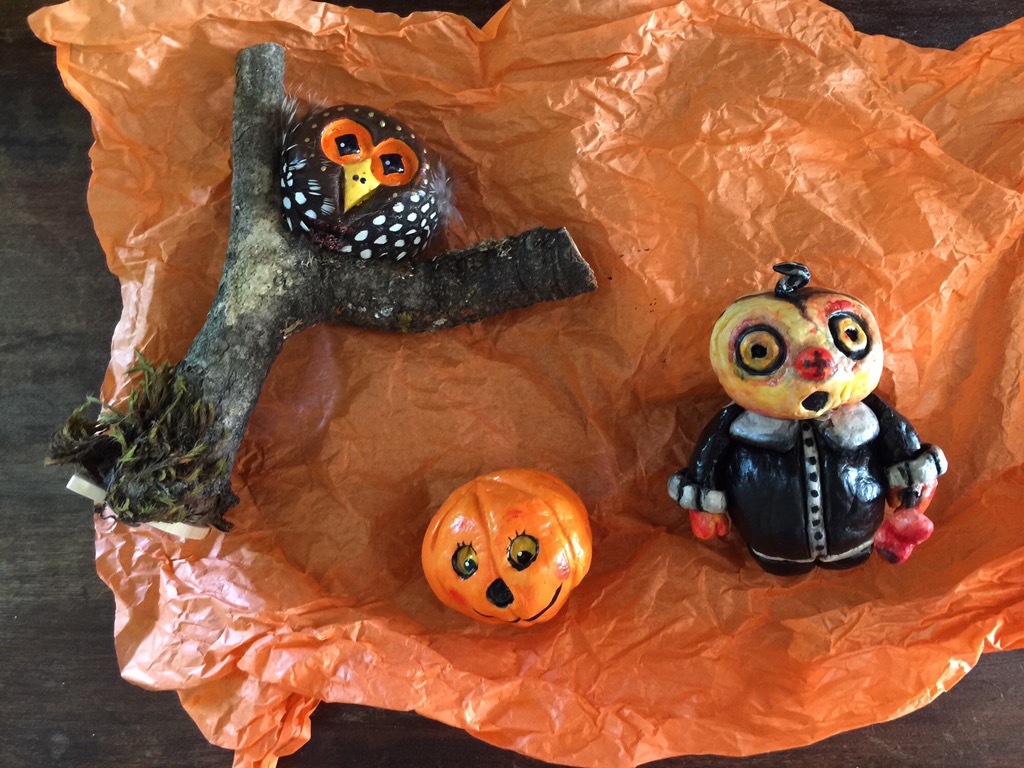 Her joy was contagious and I loved seeing her happiness over each funny little thing. It just wouldn't have been the same to hand her a few white pumpkins and tell her to "decorate".
So, my home may be eclectic, but it's mine. And, who knows? Maybe someday my granddaughter will pull out the same gaudy pumpkins and glittered acorns and use them to decorate her own home.
How do you greet autumn?