Ann has been given the opportunity to try Edmonds Ideal Weightloss in exchange for the opportunity to review it honestly. All opinions are her own.
I went shopping this week. I got two pairs of tall designer jeans for …. drumroll, please …. zero dollars!!!
That's because, instead of shopping at the mall or online, I shopped in my closet.
This is what the top of my closet has looked like for years.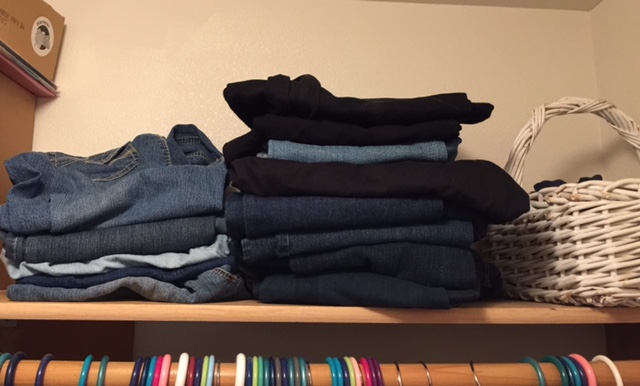 The same pairs of pants have been hanging around gathering dust forever. Every once in a while I'd pull a pair down, try them on, get depressed, refold them and toss them back onto the "shelf of shame".
There were many times I toyed with the idea of just throwing them out so I didn't have to look at them anymore. But, here's the thing, when you're tall – you can't just go buy jeans off the rack. The manufacturers know that and believe me, they charge accordingly. So, there my stacks of pants sat, year after year, mocking me from the top of the closet.
Here's another fact about being tall: it takes a lot of pounds lost before you lose a single size in clothing (especially in pants sizes). I once lost 20 pounds at a diet center and so did the shorter gal sitting next to me. She had gone down four sizes! And, I hadn't gone down a single size. Sure, that works in a tall person's favor when our weight is on the way up. But, losing isn't as much fun. In fact, I usually quit after 10-20 pounds because it feels pretty pointless.
Well, I have lost 30 pounds with Annie at Edmonds Ideal Weightloss and I finally realized that my pants were getting really baggy. I looked at that pants tower and wondered. Was it time? Or, was I setting myself up for depression again?
I grabbed a pair and tried them on. They slid up easily. Too easily, in fact. They were too big!
In a frenzy I began ripping pants down and found out that the vast majority of them were now too large. The weight loss I am experiencing with Edmonds Ideal Weightloss is different than any I've experienced before. My stack of "you-couldn't-get-these-on-with-a-shoehorn" pants are now so baggy I can't wear them. How's that for motivation?
I did find two that fit. They were given to me by a friend many years ago. They are a skinny style that I never imagined I could wear. But, now they are the only ones that fit. The rest of my pants will have to be donated.
So, here's the top of my closet now.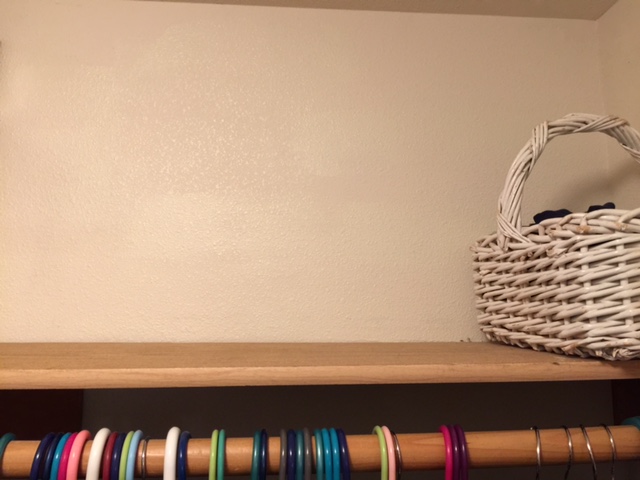 I think it's time to go shopping!
Do you look longingly at items in your closet, hoping that someday you'll fit into them again? Then, give Annie a call.
Annie: 425-233-9167
www.edmondsidealweightloss.com
anniet@therenewalcenter.com