My grandson turned four last week. Like most young boys, he is really into vehicles. Whether it's cars, trucks or trains, he loves pretty much anything with wheels. And, he knows them all by name: road graders, excavators, cement mixers, etc. He tests me all the time. "Nana, what is this?" he'll ask me. And, I usually answer, "It's a yellow truck." He'll sigh and say, "No, Nana, it's a crane for fixing telephone lines."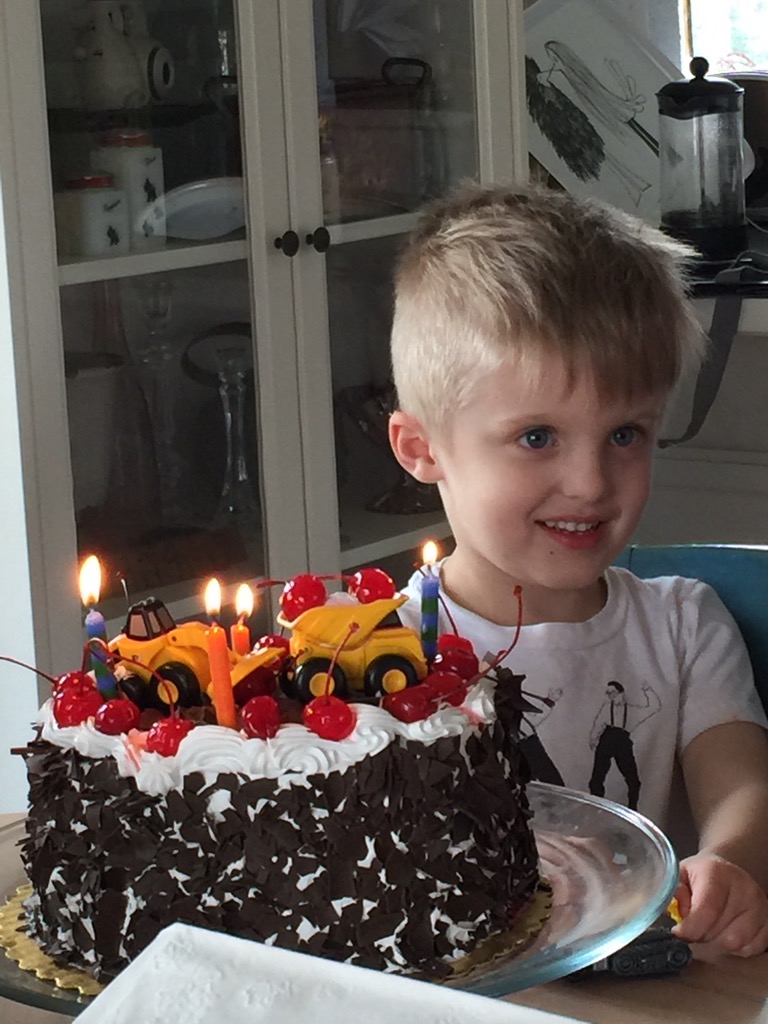 In spite of my ignorance, I knew that this would be the perfect year to make the veggie train I had pinned on Pinterest years ago. I'd love to give the genius mom who invented this the credit for it, but there are so many versions online that I have no idea who it was (I, myself, mushed a bunch of different examples together to make this one).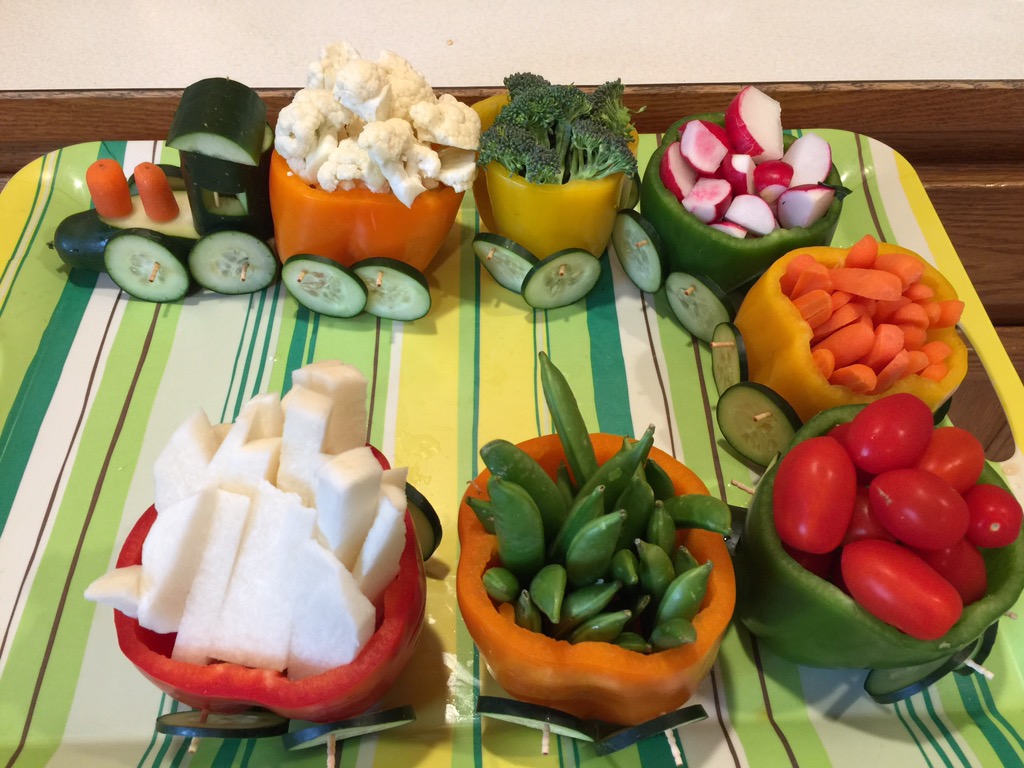 It starts with peppers. Normally, yellow, red and orange peppers are way more expensive than the green ones (you could use all green in a pinch) but, serendipitously, my grocery store had them all on sale last week.
Basically, you cut a little slice off the bottom of the peppers to make them stand up straight. Then, cut off the tops and carefully cut the membranes and seeds out. Slice cucumbers to make the wheels (hint, attach them with toothpicks in the meaty part of the cucumber, NOT the middle, seedy part). And, fill each pepper with cut veggies. I used: pea pods, jicama, broccoli, cauliflower, grape tomatoes, carrots and radishes.
The engine is made out of a cucumber and a small carrot. You can follow my picture (or design your own).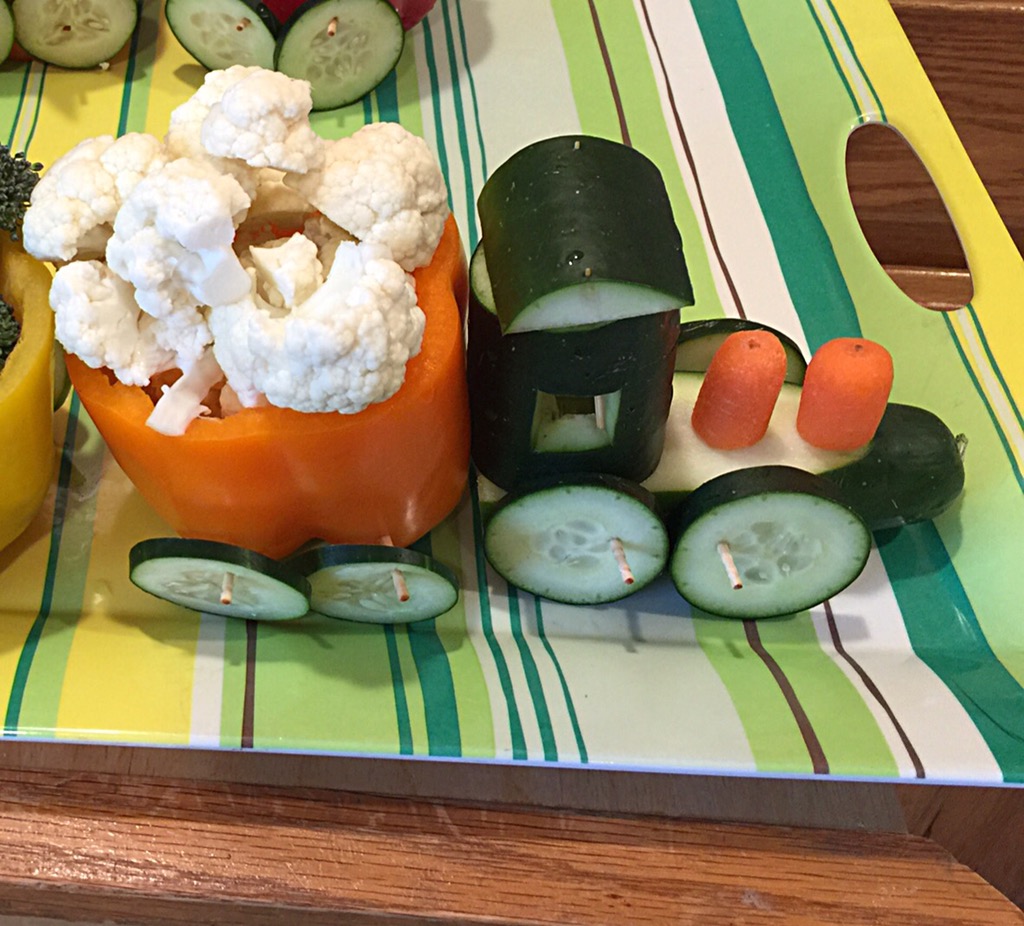 Just add a bowl of ranch dip to the center of the tray and you're good to go.
Optional Ideas: Put your finished train on top of toy railroad tracks (I didn't have any). Put a red pepper last to resemble a caboose. Cut the peppers on their sides so that the stems can be used to connect the cars (I found this too difficult). And, I noticed that some moms didn't make the engine, they just made the pepper train cars (my grandson would have called me out on that!). I would also suggest chopping as many veggies ahead of time as you can instead of starting this project right before the party (like I did). If you store them in ice water in the fridge they will stay nice and crisp.
By the end of the party, the train was empty. And, here's the beautiful part! I took the empty peppers home and made stuffed peppers for our dinner the next day. Here's that easy recipe: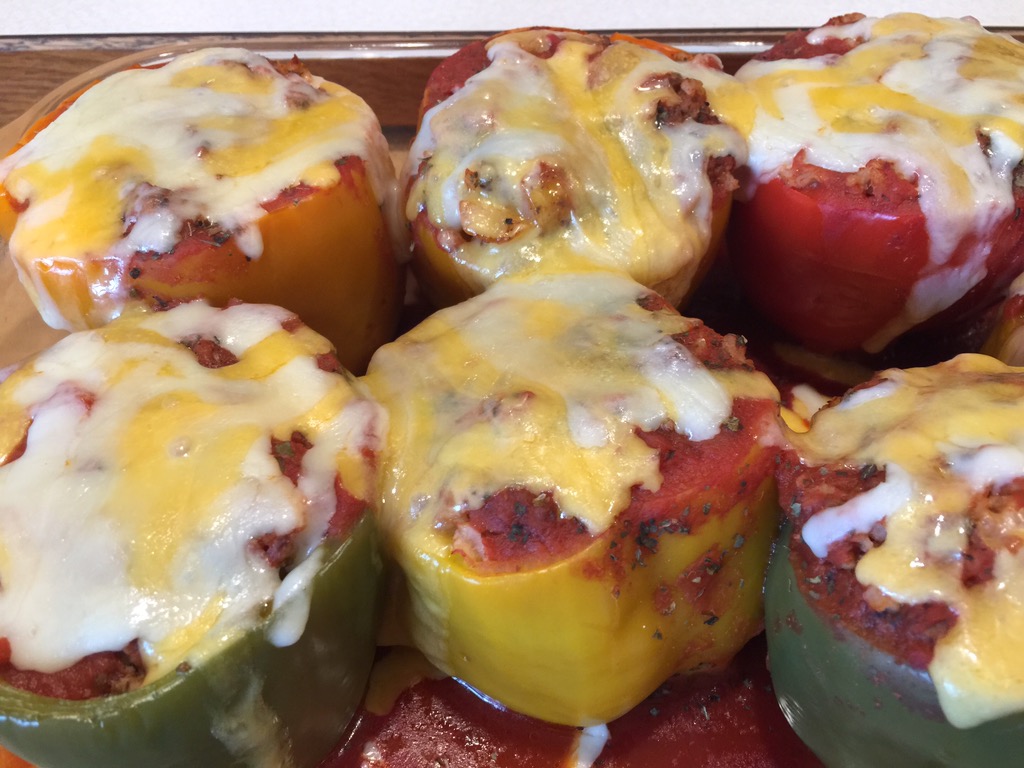 STUFFED PEPPERS
6 peppers
1 pound hamburger
1 diced onion
1 teaspoon salt (optional)
1/8 teaspoon garlic salt
2 cups cooked rice (I used brown minute rice)
2 – 15oz cans tomato sauce
Shredded cheese (your favorite kind)
Optional: splash of hot sauce, sprinkle of cayenne, oregano, basil and Italian seasoning (I like to jazz things up!)
Preheat oven to 350 degrees (and make sure your rice is cooked). Parboil the peppers in a large pot of boiling water for five minutes. Drain them and place in a 9 x 13" pan. Brown the hamburger and diced onion. Drain off any fat and add one of the cans of tomato sauce, any spices you're using, and the rice. Stir together and spoon into the peppers. Pour the other can of tomato sauce over the top of the peppers. Cover the pan with foil and bake for 45 minutes. Remove foil, sprinkle with cheese and bake for another 10-15 minutes.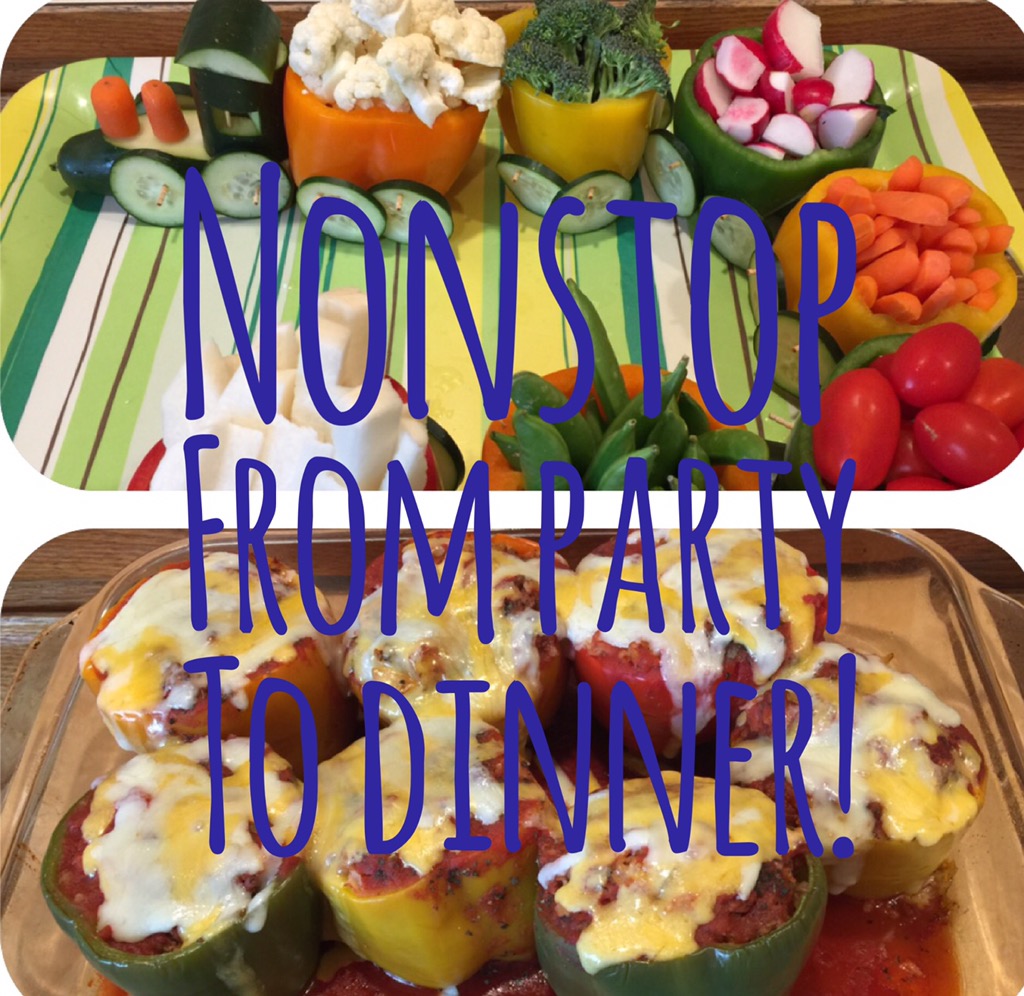 Yummy! And, this recipe is so versatile. Sometimes I add whatever leftover veggies I have into the rice mixture. You can also bake some of the rice mix separately (without the peppers) so your kids will eat it. Don't forget to add cheese to the top of that too. Kids will eat almost anything if it has cheese melted on top of it!
Enjoy.
Choo-Choo!