There's just something about splashing around in the water on a hot summer day that makes summer feel like, well, summer. We got to have a little summer preview of a new place to play the long humid days away when we packed up three of our kids and headed to Typhoon Texas, a new water park in the Austin metro area.
In this part of the county, summer lasts almost half the year…not even kidding. From May until mid-October, days boast ninety degree plus thermometer readings, and all that heat and sunshine needs some well-hydrated options to keep the fun in the sun.
As my kids and husband and I played our way through the lazy river, multiple slides, plenty of splash pads, and tummy-tickling thrills and chills, I was reminded afresh about what makes a day to play a success. Here are some mom pro tips for making the most of your Typhoon Texas adventure!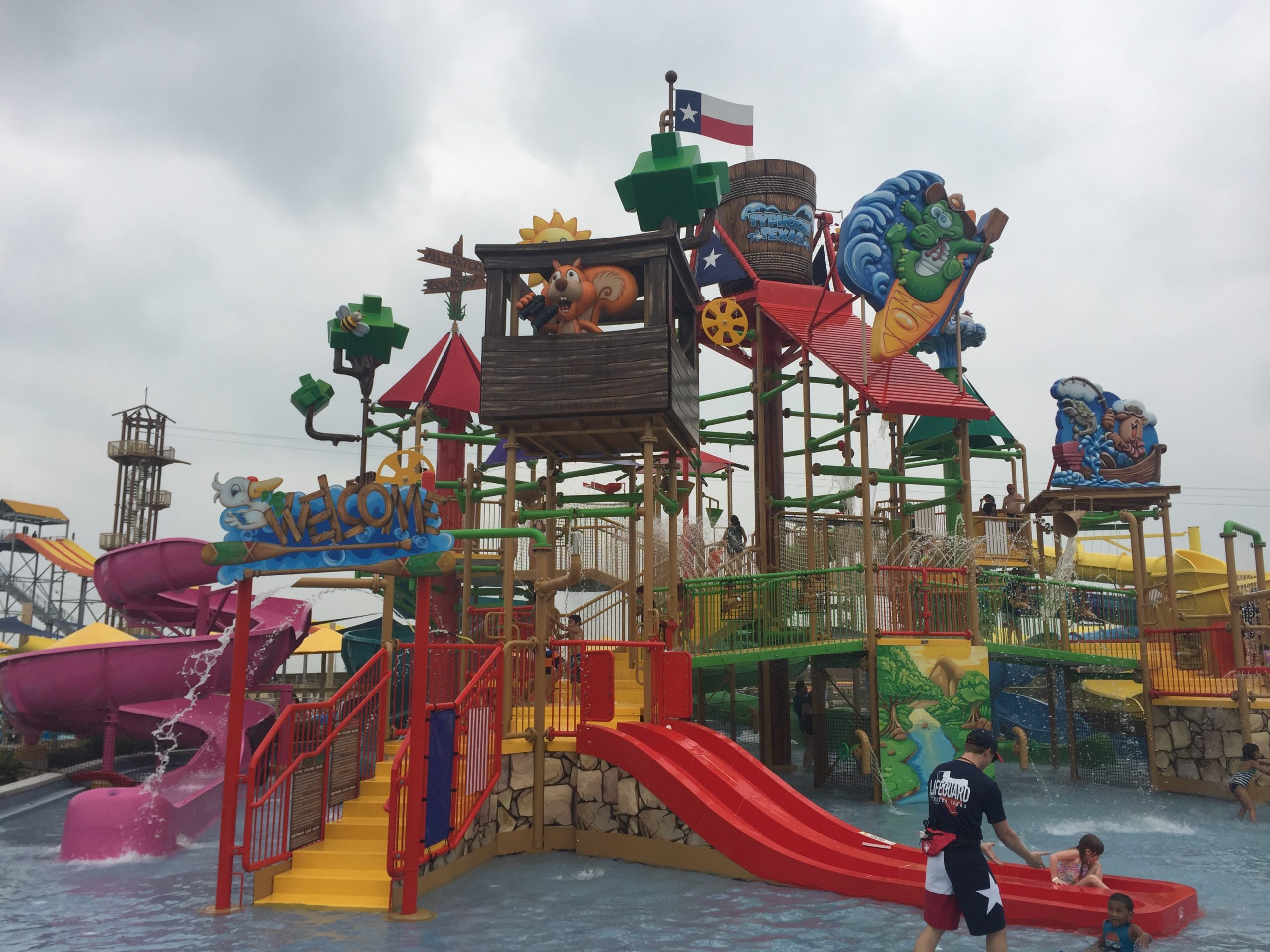 1. Bring a waterproof camera case…that fits your camera. I've got a camera case I really like, and I was able to fit my id, credit card and phone into its protective climes as I navigated the lazy river and the splash pad areas of the park. I did have to laugh at myself, though. I hadn't checked to see where the blue plastic details of my waterproof camera case intersected with my phone camera lens…so I've got some pictures and videos on my phone now that are a mysterious azure ripple. Which would be the edges of the waterproof case, caught on camera. But I'm so glad I grabbed pictures of our day, even with some interesting blue borders, and didn't have to worry about any water damage to my phone. Please note: on water rides, you won't be able to take your phone case with you. That's where the large lockers at the entrance to the park are a great resource to rent for the day.
2. Thank a staff person. My husband Michael and I try to be really intentional to help our kids appreciate and see the great people who staff various venues. Set a challenge for yourself as a family on your water park day: see how many staff people you can 'catch' doing a great job…and thank them for it. In the doing, you'll help your kids come up higher in their people skills and the encouragement to staff who serve on those hot sunny days will be a great refresher.
3. Get the lay of the land. When you first arrive at the park, take a bit to acquaint yourself with where the rides, pools, and features are that best fit your family's activity level. We all tried to get a handle on the various names of the rides and areas of the park so that we could keep up with each other and know where various members of the family were headed. There are paper park maps available at the entrances, which can help you with your strategy to conquer all the park has to offer. Be sure and ask for one.
4. Hydrate and protect. Our day at Typhoon Texas started out with comfortable temperatures and cloudy skies. Which was great. But which also meant that I let the sunscreen and hydration game get a little ahead of me. It was a great reminder that even if the day you visit the park with your family isn't full of blazing sunshine, set your phone to remind you to keep those water bottles full and that sunscreen at full throttle.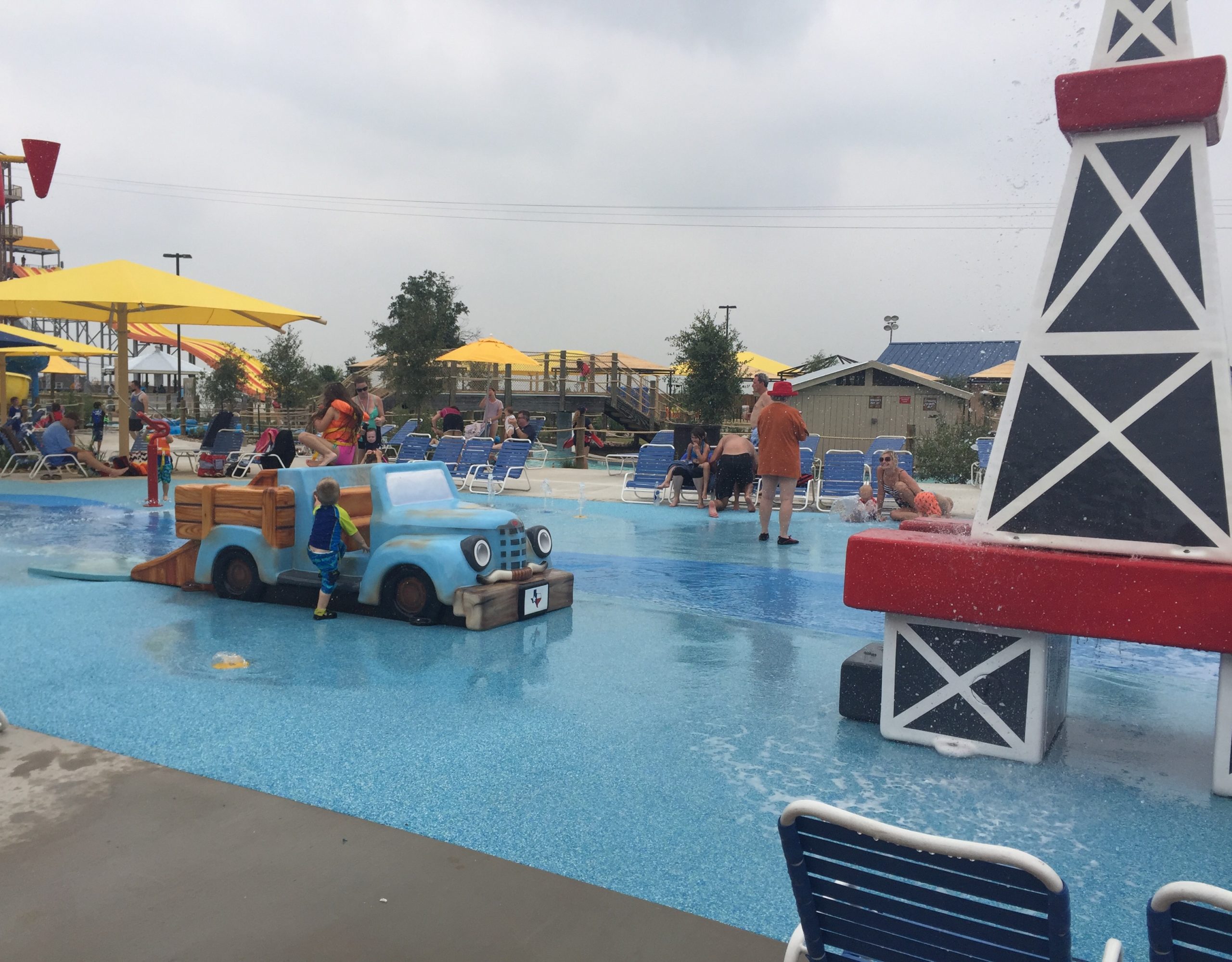 5. Eating onsite opportunities. Typhoon Texas boasts a large number of onsite eateries, food trucks, shaved ice and ice cream stations, along with areas for water and soft drinks. Even though you can leave and re-enter the park as needed, I'm one of those who likes to dig in and camp out for the day, so I appreciate all the eating options available. Additionally, there is a shop that has sun glasses, sunscreen, and other essentials onsite, so that you can pick up those items you forgot back at home on the kitchen counter. Please note: Typhoon Texas does not allow you to bring in outside food, so be sure you've thought through your meal plans for the day.
6. Handstamp. I really appreciated this about the park. At the exit, you can get a stamp on your hand to re-enter later in the day if you choose. That means if you need to make a quick food or supply run at the shopping center across the street, you can. There is a fantastic shopping area directly across from the park with restaurants, a Super Target, and a variety of other stores. So between all the offerings of the location and Typhoon Texas's handstamp, it makes for a convenient experience.
7. Get there when it opens. We arrived right as the gates were opening…and it made for a fantastic time early in the day in which very few people were in the park and my kids were able to tackle their favorite rides over and over. Throughout the day, more people began to show up, and Typhoon Texas does a fantastic job with fast-moving lines and thoughtful queues for the various attractions. But it sure was fun to be some of the first people in and have that bit of time that felt like we practically had the place to ourselves. That little bit of extra umph to get there when the park first opened made the day even sweeter.
8. Bring both water shoes and closed toe shoes. During the sunny hot days of summer, you're going want some water shoes on those tootsies of yours as you traverse the hot concrete between rides. Not just flip flops, mind you. Some good ol' neon water shoes that you can keep strapped to your feet, no matter how far the drop on that water slide is. Additionally, consider bringing closed toe shoes for this very cool reason: Typhoon Texas boasts an awesome ropes course and zip line course, that has you climbing and zooming across the park. My husband Michael particularly loved the zip line experience, getting a bird's eye view of all the pools and rides.
9. There is plenty for kids of all sizes. Typhoon Texas has significantly expanded the areas they have for little kids, in addition to all the fun stuff for the big kid in all of us. I loved the large splash pad area and sat for a while enjoying all the darling toddlers playing in the water and happily shrieking with joy at all the fun features. There's just the right mix of areas customized for kids of all ages; I've been to parks that seemed to only cater to the big kid set and I've also been to parks that only seemed to have stuff for the younger kids. Typhoon Texas has done a fantastic job of mixing it up.
10. Lifejackets on site. In addition to plenty of inner tubes and float items, there are also plenty of racks of lifejackets in a variety of sizes.
11. Consider a cabana. Michael and I already have our next Typhoon Texas day planned out…and we're going to make a resort day of it. For a fee, you can rent a cabana at the park, that comes with food service and the best views of the park, all with the shade of the open cabana tents. We decided that 'going cabana' next time would make an already great experience even better, with that little extra 'treat' to the day. There are a variety of cabana locations within the park, so whether you need to be closer to the little kid attractions or want to have your day's view be a section of the lazy river, there's a spot perfect for you.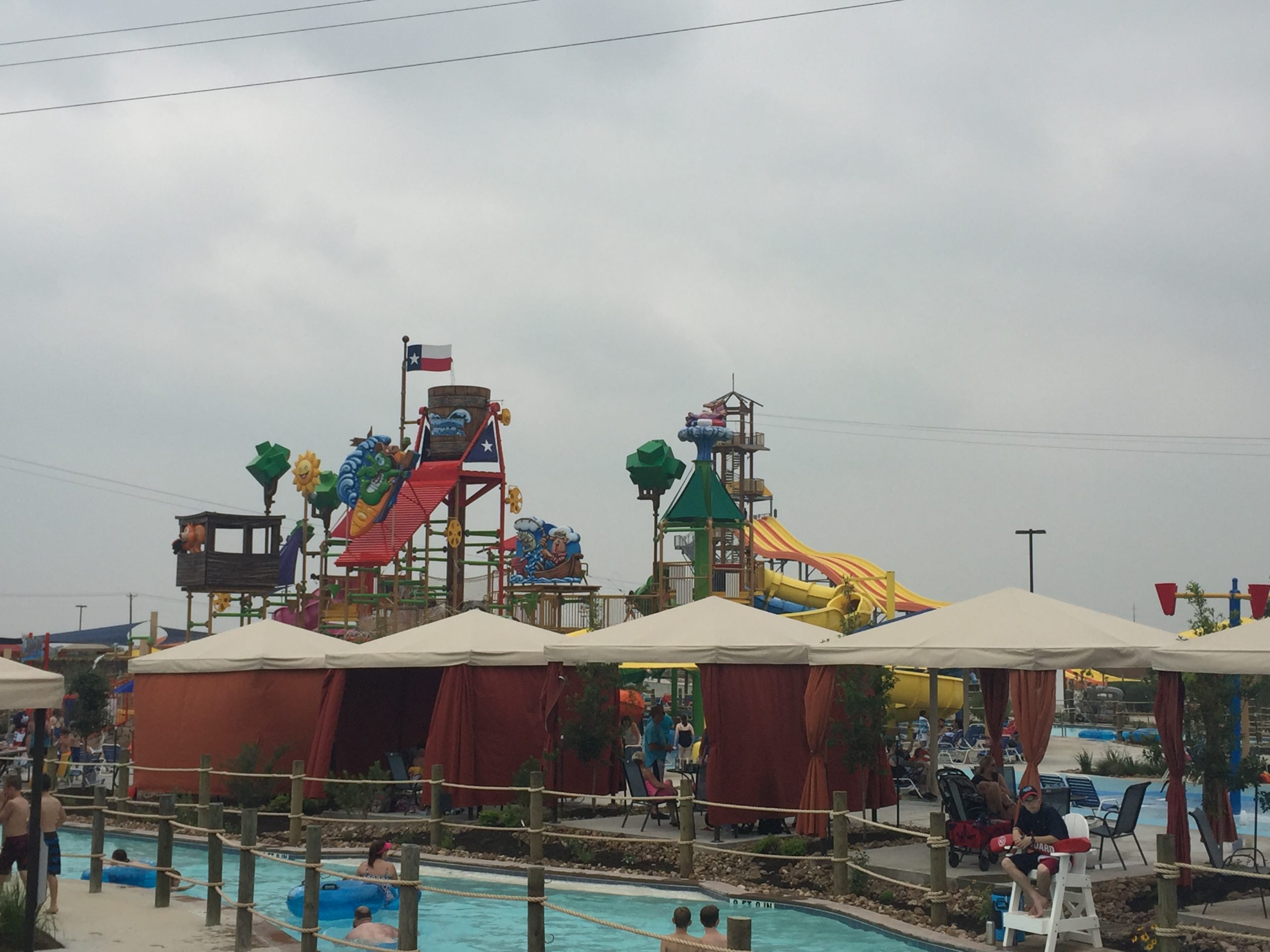 A great time was had by all, cheeks are sporting new freckles, memories have been made. And, in addition to all the fun, laughs, adventures, relaxation, thrills and chills, that's the most powerful part of these kinds of outings, the time as a family that's different than the every day. It's so great to have this new venue of Typhoon Texas here in the heart of metro Austin, where adventures can be had close to home!