I cook daily for my family, and it's a task I really enjoy. So when the Instant Pot hit my Facebook feed I was really intrigued.
People seemed to love it. It was like a miracle machine.
But the price tag gave me pause, so I never bought one. It wasn't like I was trying out a $25 appliance. The Instant Pot isn't exactly expensive, but it's not exactly cheap either. And as a fairly frugal person, I wasn't ready to buy one until I knew I'd love it.
Enter my sister-in-law, who offered to let me borrow hers for a week.
And now, a week has turned into a few months and I'm ready to give my assessment. For the Instant Pot holdout, here's what you need to know.
It's not like a crockpot. I don't know why, but I kind of thought of the Instant Pot as a fast crockpot. But it actually has several different settings, which make it way more versatile than a slow cooker. For example, it has a "saute" feature, meaning you can make dishes in just one pot instead of needing to start something on the stovetop and move it to your appliance.
It's easy to clean. I also figured it was a pain to clean, either requiring me to wash the whole appliance (like an electric skillet) or heavy, cumbersome stonewear (like my slow cooker). Actually, there is a stainless steel insert that you easily remove and wash. Foods don't stick to it like stonewear, and it's not a pain at all.
"Fast cooking" is relative. The biggest draw to the Instant Pot is that you can cook things quickly. Veggies steam in 2 minutes. Eggs cook in 5. Chicken, pot roast, and pulled pork are done in a fraction of the time it takes stove-top or in a slow cooker. This is true – kind of. What these times fail to tell you is that before the clock starts ticking, your Instant Pot must come up to pressure. This takes 10-15 minutes. Yes, I made boiled eggs in 5 minutes – after it took 15 minutes to come up to pressure, for a total of 20 minutes in the Instant Pot. I could make them stove-top in the same amount of time.
The same goes for cooking rice or quinoa. Where it makes the most difference is in recipes that require long cooking times. Slow-simmered chili can be done more quickly, and pulled pork takes about 2 hours as opposed to 12.
Veggies are super simple. Steam them for 2 minutes. Perfectly tender-crisp, no mushy veggies. Super simple and yummy.
Using the Instant Pot takes skill. From what I saw on social media, you could basically throw any random collection of ingredients into your Instant Pot and come away with an amazing meal. I've learned this isn't necessarily the case.
The first time I used it, I knew I should stick with tried-and-true recipes. I tried butter chicken with rice using the pot-in-pot method and it came out pretty good. My confidence boosted, I went rogue on Day 2. After all, I'm pretty skilled in the kitchen so I was pretty sure I'd be able to come up with a recipe that would work in the Instant Pot.
Big mistake.
I quickly went back to reviewed & tested recipes, but if I'm being honest they've been hit-or-miss. Which leads me to my next point…
The food may or may not be better than what you make stove-top. Some things have impressed me in the Instant Pot. Veggies are perfectly crisp-tender. My crock pot pulled pork recipe (that I didn't think could possibly be improved upon) blew me away. Quinoa was perfectly fluffy instead of overcooked as per the usual.
But other things haven't been super impressive. I've tried chicken several different ways (whole, seasoned breasts, cooked from frozen) and they've all turned out more dry than I prefer. I'd heard that cooked-from-frozen meats is where the Instant Pot shines, but the one time I tried to do it (and consulted several recipes that all agreed on the cooking time), it was still mostly raw when I pulled it out of the pot.
Flavors haven't blown me away, either.
Soups have been decent, but again not mind-blowing. More often than not, I sat down to my Instant Pot meal and came away disappointed.
It can actually increase your kitchen chaos. One thing I've realized is that I'm not cooking an entire meal in the Instant Pot. Most likely I'm just cooking an entrée – and still need to cook sides. When I use the Instant Pot I find myself scrambling to get food prepped and into the pot, and then I'm scrambling to get sides ready before the entrée is done.
The end result is a rather stressful cooking session and a messy kitchen. This contrasts with the slow cooker, where I've prepped everything in advance and it's all ready to eat whenever I finish the sides (at a leisurely pace) in the kitchen.
It's hard to customize. When I cook, I'm always making adjustments. Adding extra seasonings or liquid or changing the temperature. Everything takes a bit of finesse in order to come out just right. With the Instant Pot you add your ingredients according to the recipe, set the time, and hope for the best. You can't check your food in the middle of cooking, so there's no room for adjustments.
I have to admit – it's kind of fun. It's like you throw all your stuff into this magical machine and after a few mysterious minutes something amazing comes out. I was always so excited when it came time to open the top.
But sadly, most of the time I found the magic to be lacking.
It's big. Having an instant pot means having another appliance to store. If you're lacking in space, this could be an issue. Some people actually find the IP to be space-saving because they get rid of other large appliances (like their slow cooker or yogurt maker) since the Instant Pot can perform these functions and essentially replace the items.
The capacity isn't huge. When cooking with pressure, you have to be mindful of how full you fill your IP. When I make things like chili or soup I usually make HUGE batches and freeze portions for another day, so I can have a night off of cooking. I'm not able to make nearly as much volume at one time in the IP, so I don't have enough left to do this.
It's better for "wet" meals. If you're cooking with pressure, you need to have liquid in your recipe. Of course. But that means the meals you're cooking are more "wet" like salsa chicken or soups. If you prefer your meat grilled or roasted, the flavor and texture you get from the Instant Pot will be different. But if you love pot roasts and pulled pork on the regular, this may be your new fave appliance.
Recipes aren't vegetable-heavy. I mentioned you can steam veggies in your Instant Pot. You can, and they're fantastic. But you likely won't be cooking both meat and veggies at the same time because their cooking times are so drastically different and the likely result will be mushy, unappetizing veggies. So if you're used to eating lots of produce with your dinner, prepare to cook it separately – or to steam your veggies after your main dish has finished cooking.
It's not for everyone. My conclusion is that the Instant Pot isn't for everyone. People who love cooking – who love the process of tasting and seasoning and getting creative with their recipes – may not find that the Instant Pot works well for them. Similarly, the Instant Pot is not a substitute for food planning or preparation.
And, at least in my experience, it doesn't cook things any better than they could already be cooked on the stovetop or in the oven.
For people who absolutely love their slow cooker, however, I think the Instant Pot is a great fit. It will save time off the typical crock-pot recipes and help you to get dinner on the table sooner. Personally I also don't love my slow cooker so…maybe that has been my primary Instant Pot problem.
It would be a nice option for someone who didn't have a large kitchen, or was living mainly with a kitchenette thanks to all of the different features it has.
Overall, my assessment of the Instant Pot is very "meh." I've made fantastic pulled pork and a really great soup – though both were still a little labor-intensive prior to setting the pressure.
Nearly all of the other recipes I tried seemed like a lot of work for very mediocre flavor results; I honestly thought things tasted better using traditional cooking methods. There were a couple things (like veggies and quinoa) that were great in the Instant Pot, but I'm not sure they justify they expense of the appliance.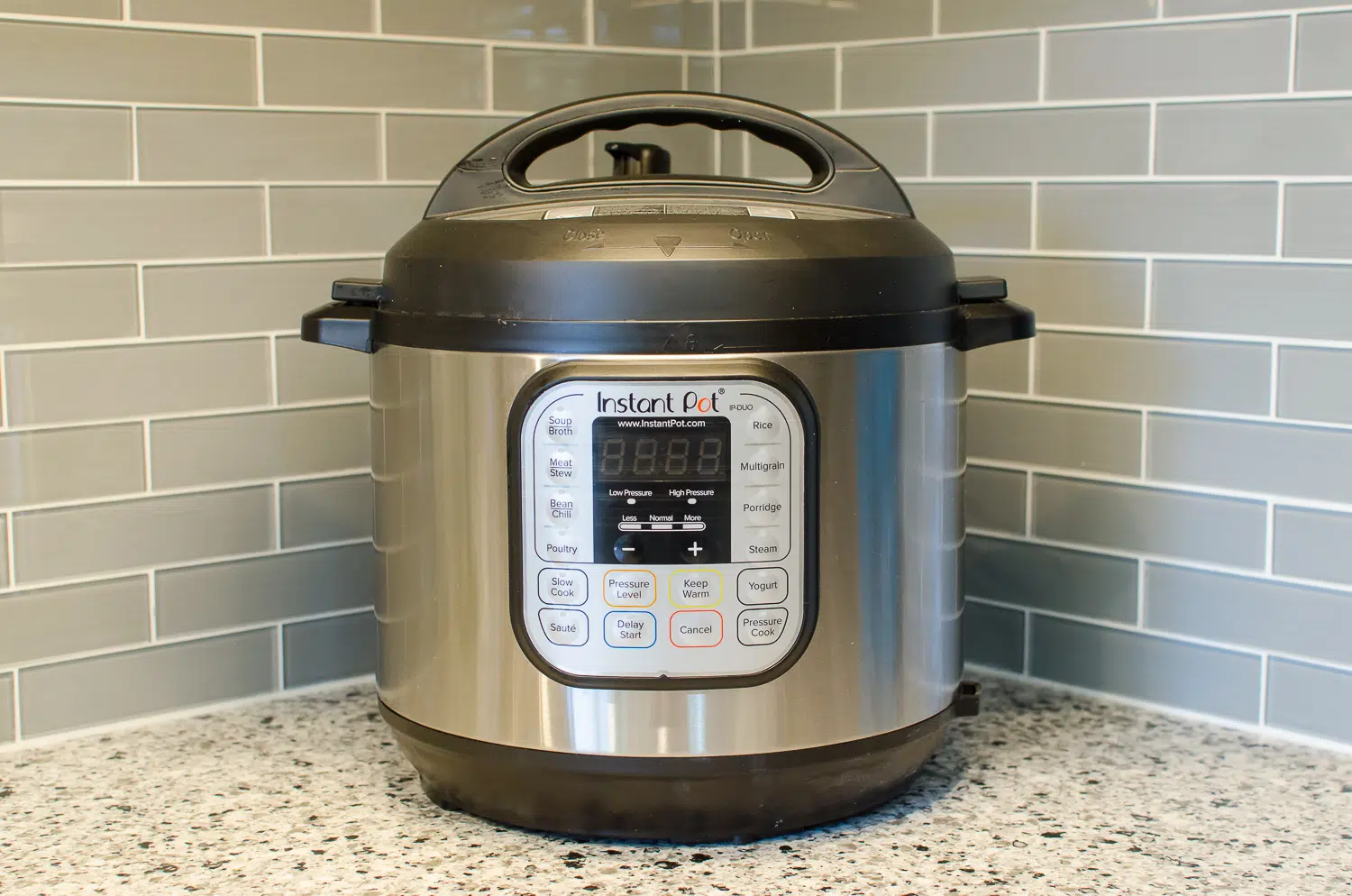 I tried to love it – I really did. I used it over and over and over for two months thinking that maybe I was just missing something. I used it during our kitchen remodel thinking it would make dinnertime easier (it didn't) and after our remodel was done thinking that maybe the chaos of construction tinged my opinion (apparently not).
I tried different foods, different techniques, and I just couldn't fall in love no matter how hard I tried. I really feel like I gave the thing a fair shot, and my conclusion is that it's just not for me.
Just for fun, here are some of the things I tried in the Instant Pot:
Butter chicken with saffron rice using the pot-in-pot method. The chicken was a little dry for my taste, but my husband thought it was really good. The rice was fantastic.
Thai chicken and noodles. I kinda-sorta followed a recipe but also went a little rogue since my IP confidence had been boosted after the first day. Big mistake as I got a "burn" message. I salvaged the dinner, but not my pride. Back to all the IP internet experts' recipes.
Saffron rice. We were in a hurry, so I just tried to make some more rice to go with the leftover butter chicken from two days prior. The first time it was amazing, but this time it was crunchy. I added more water and turned it back on. Still crunchy. Third time's a charm? No. We got fast food on the way to our destination. Fail.
Pulled pork. MIND-BLOWING. A total win.
Taco meat. I didn't ACTUALLY make taco meat in the IP. As I was experimenting with getting a full immersion into the IP experience I looked up a recipe. It looked like way more work than just browning meat on the stove and adding seasonings as per the usual. I stuck with stovetop that night.
Boiled eggs. They don't really save time over the traditional boiling method, UNLESS you make a ton at a time. But you can do them all with only a cup of water instead of a whole big boiling pot, which is kind of nice.
Chicken and green beans. The chicken was again…just okay. I'm pretty picky about my chicken and it tasted dry to me. However, after removing the chicken I steamed the green beans in the renderings and they turned out perfect and flavorful.
Cauliflower soup. This was AMAZING. It's totally going on the long-term menu rotation.
Artichoke. Artichokes are my favorite food but they take about 45 minutes to steam stove-top; I was hoping the Instant Pot would help shave off some of that time. After diligently researching cooking times, I set the time and pressure. After that time it wasn't even close to done, so I set it again. Still not done. I added even more time. After about an hour and a half of playing with my artichoke in the Instant Pot, it still wasn't as soft as I would have liked but I was starving so I ate it anyway. Major bummer.
Quinoa. I needed quinoa for a recipe and it was perfect and fluffy. I struggle making it well on the stove, so it was a pleasant surprise.
Whole chicken. I love roasting chickens in the oven, and I have a really great recipe I use for a crock-pot whole chicken. While my husband thought that this was on par with the slow cooker version, I didn't feel it was quite as moist or tender.
Baked potatoes. I needed a quick side and was excited to make baked potatoes in a fraction of the time. Turns out, they were still hard when I took them out. I finished them in the microwave.
Frozen chicken breasts. I felt like I'd had a good introduction to the Instant Pot, but I had never experienced "cook-from-frozen" like I heard so much about. I needed lunch, so it seemed like the perfect time to try. I found a recipe from a super-trusted blogger, and then research how much time I needed to add for frozen chicken. Four different people agreed on the time, so I set the pot. When I opened it, it was raw a quarter inch into the chicken. Set the pot again, and then found the chicken to be too dry for my liking. Fail.
Do you love your Instant Pot? Why or Why not?