September is here!  For most of us mommies, September feels more like the New Year than January 1st does.  I don't have any kids returning to school anymore, but September still feels like a time of new beginnings.
In September, my garden cries out for cleaning as we head into the cold and rainy months.  I pack away my tank tops and capris and move into my much-loved sweaters.  I replace my sandals with my trusty converse tennis shoes and the vases of garden flowers on the mantle are replaced with pumpkins, wheat stalks and scented candles.  And, I go from eating salads to craving hot, comfort food.
As you make your way into fall, here is an easy one-pot chicken and rice dish that I adapted from an old recipe.  Feel free to "re-adapt" it with whatever you have in your fridge!  Bonus:  you can also use this as a burrito filling!
One Pot Mexican Chicken and Rice
1 Tablespoon of oil
3-4 chicken breasts
1 cup uncooked rice (not instant)
2 cups low sodium chicken stock
1 – 15 ounce can of black beans – drained
1 – 15.25 ounce can of corn – drained
1 – 4 ounce can of diced green chilies (optional) – undrained
1 – 14.5 ounce can of diced tomatoes – undrained
1 cup of shredded cheddar
Heat the oil in a large stockpot.  Brown the chicken breasts for 4 minutes per side.  Remove them onto a cutting board.  Pour two cups of stock (or water) into the stockpot and add the: rice, black beans, corn, chilies and diced tomatoes.  Cut the chicken on the cutting board and put the pieces into the pot (the chicken will not be cooked all the way through).  Turn the heat up to high and bring the mixture to a boil.  Put a lid on the pan and turn the heat to low.  Let simmer 20-25 minutes or until rice is fluffy and cooked through.  Sprinkle the cheese on top, replace the lid and keep the pot on low until the cheese is melted.  Serve and enjoy!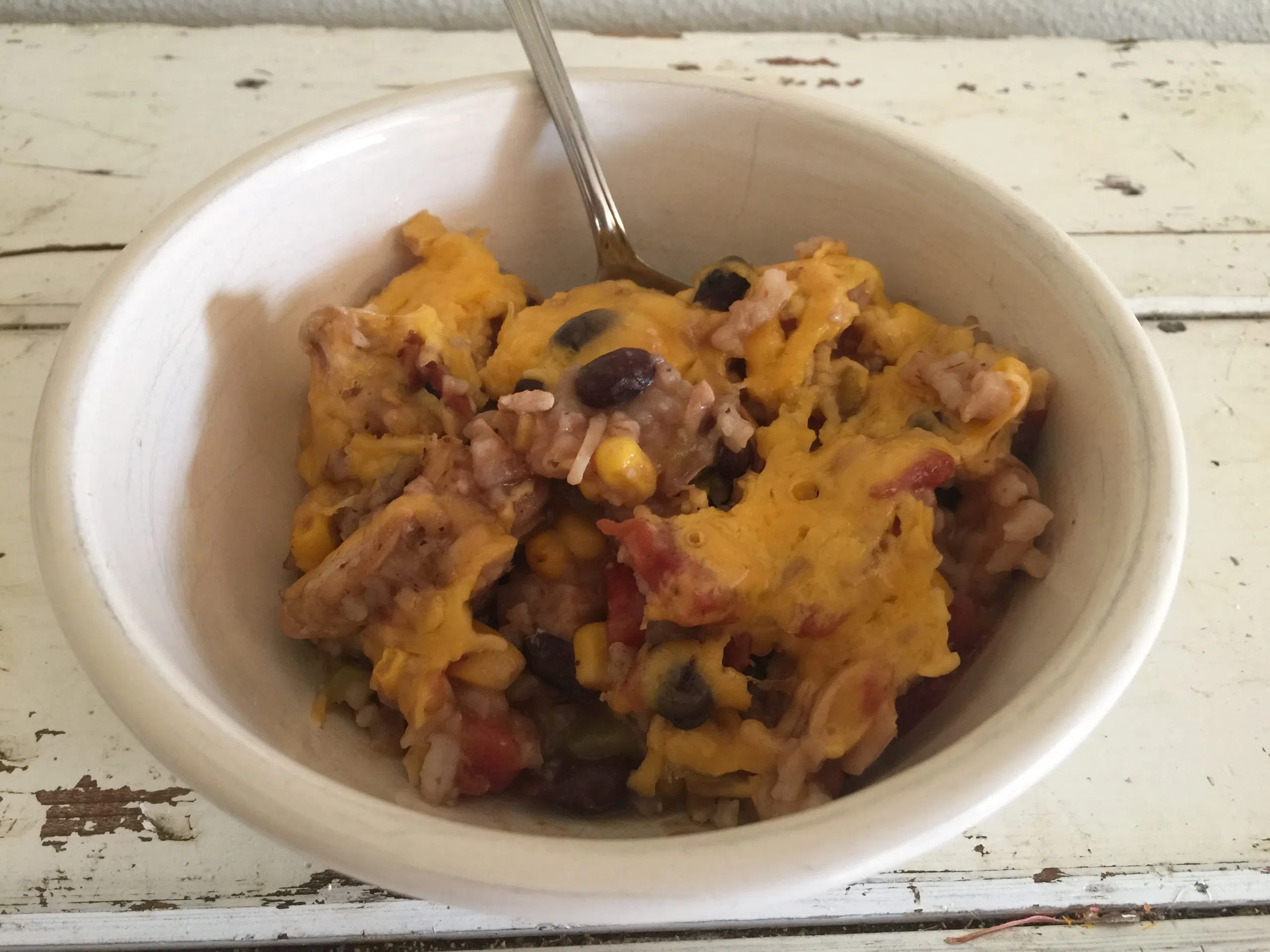 And, Happy Fall!
---
Read more of Ann's contributions to allmomdoes here.