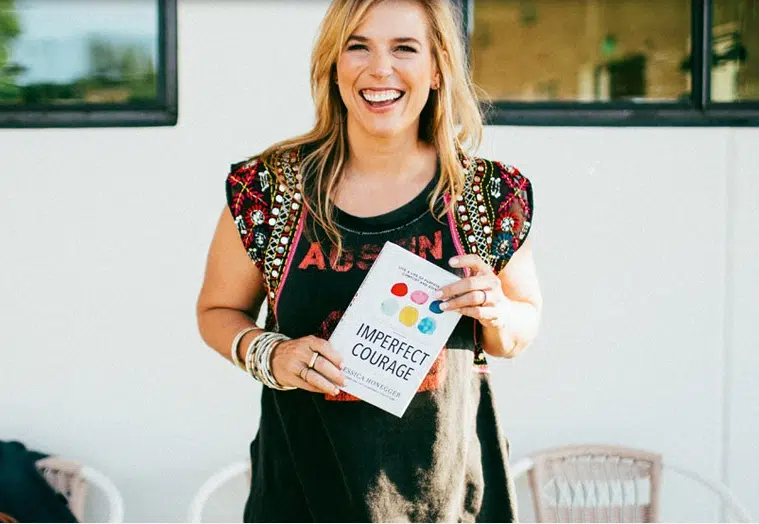 She started something on a whim only a few short years ago. She had no idea what would happen. Founder of the Noonday Collection, Jessica Honegger, joins us today! If you need a burst of courage, a reminder that what you are doing matters or a jolt to keep going, listen in!
Hear her journey of loving fashion and shopping and how that passion combined with overseas ministry led to Noonday Collection.
Can you love shopping and 'stuff' and still have a missions-oriented heart?
The decision to grow their family through adoption propelled Jessica to make some big decisions. Hear about that.
Jessica refused to let fear sideline her. She stepped forward anyway. A beautiful reminder for us all to keep going amidst the fear.
Noonday Collection didn't always get it right. Jessica shares some of their road bumps along the way and how they walked through it.
Jessica talks about putting on her parachute and wanting to jump out of the plane. Her wisdom for those looking at the exit sign is really encouraging.
We are the biggest voices against our own success. Jessica talks through this narrative and how we can overcome those voices.
Jessica and Julie talk through overcoming a scarcity mentality. So powerful! Don't miss this.
We are often stuck in a mentality of parenting by ourselves. Learn to embrace a we mentality! Find out what this is and why it is important.
Jessica talks about the practice of vulnerability. Hear your specific tips.
Julie and Jessica share about the global beauty of women and how we are all doing amazing things.
Jessica talks about handling the pressure of being a CEO and mom, managing the artisans and really balancing the fact the business affects people's very lives.
The balance between entrepreneurship and also collaborative work can be challenging. Jessica and Julie talk about how we can build this in our own lives and in our businesses and homes.
We are more alike than different. Let this be a tremendous encouragement to you as Jessica describes what she encounters while she is traveling.
Next week we are excited to share with you a conversation with Dannah Gresh! She has an incredible ministry with Secret Keeper Girl. See you next week!
Friend, we a have something incredible to share with you. We are looking to have 10 children sponsored from Compassion International. Did you know that these children are waiting and they KNOW they are waiting? When you see on the Compassion Website the amount of days a child is waiting, the child knows. They see other children at the Child Development Center having the benefit of a sponsor. Please prayerfully consider joining us as we look to get these children sponsored, especially those that have been waiting a long time!
Follow AllMomDoes on Facebook, Twitter, Pinterest & Instagram and subscribe to our newsletter
Follow Julie Lyles Carr on Instagram and Facebook
You'll be able to find the latest episode of The Modern Motherhood Podcast with Julie Lyles Carr every Tuesday on iTunes, Google Play, Stitcher, TuneIn here on the blog, SoundCloud,YouTube & Facebook. Subscribe now so you don't miss an episode! Full list of episodes. Full list of show notes.
Please take a moment to give us a rating on iTunes to help us spread the word! We want to feature your review on the podcast. Take a moment to leave us some words and you could hear yours!