Hallmark has broken a record with their recent announcement that they are adding a 37th Christmas movie to the lineup this year. Here is the complete list for this year so you can get ready. It appears Hallmark is also going to be coming out with an app soon that will be the ultimate viewing guide! We'll let you know when we find out more about this.
If you are trying to find a way to watch these new films, catch up on my Hallmark 101. Last year we had the opportunity to chat with Candace Cameron Bure and Carlos & Alexa PenaVega about their Christmas films. Get ready for the season by checking those out. Plus, it isn't new to THIS lineup, but you won't want to miss my favorite show on Hallmark Movies & Mysteries: Signed, Sealed & Delivered.
Hallmark Channel – Festive Romantic Movies

*You can download the printable guide from The Hallmark Channel!
Hallmark Movies & Mysteries – Uplifting Seasonal Stories

November 4th – Marrying Father Christmas
November 11th – A Veteran's Christmas
November 17th – Return to Christmas Creek
November 18th – A Godwink Christmas
November 19th – Last Vermont Christmas
November 20th – Hope at Christmas
November 24th – Christmas on Honeysuckle Lane
December 1st – Welcome to Christmas
December 2nd – Northern Lights Christmas
December 8th – Memories of Christmas
December 9th – Once Upon a Christmas Miracle
December 15th – Time for Me to Come Home For Christmas
December 16th – Reunited at Christmas
December 22nd – Small Town Christmas
December 23rd – Christmas Bells are Ringing
*Click here to download the printable guide from Hallmark Movies & Mysteries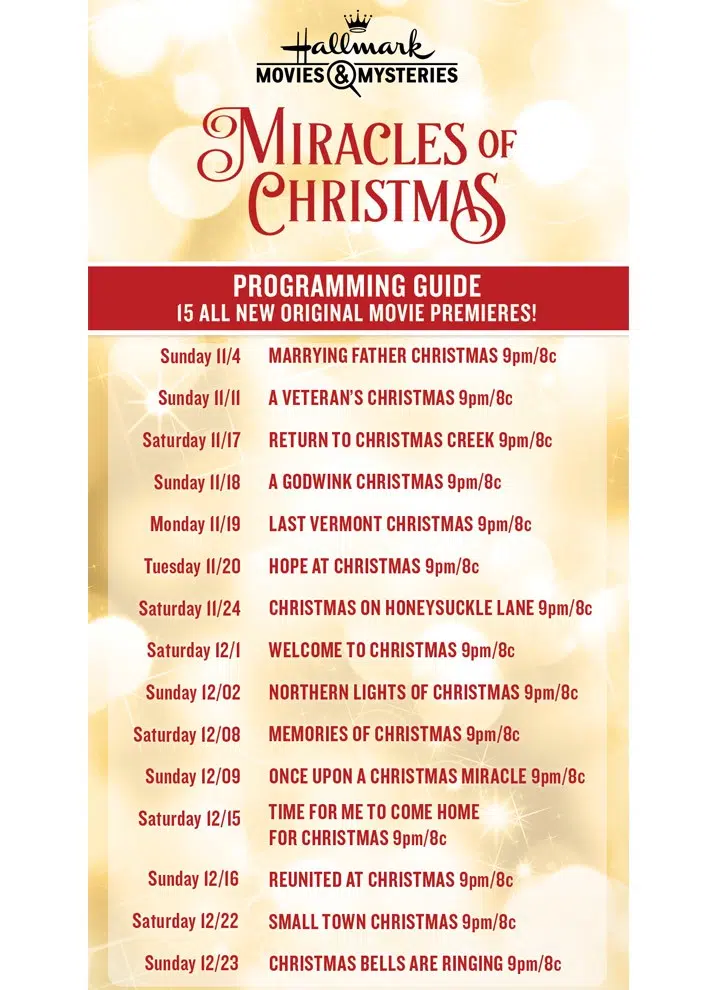 More information will be coming as we approach the October 27th start date of the Hallmark Countdown to Christmas, so get ready. Fall is in full swing and the holidays are right around the corner.