Who doesn't love a good casserole this time of year? If you've never had baked mac 'n' cheese, you're missing out. Sure, I love the blue box as much as the next person but this is an entirely different dish. Plus, it's way easier than you think.
This recipe is super customizable. You can make this with whatever cheese you have on hand – I had some sharp cheddar and some white cheddar. But get creative and you can really make this dish impressive. You can also substitute diced ham or crumbled bacon in place of the sausage. And while traditionally you'd make this with macaroni noodles, a friend had given me these adorable pumpkin-shaped ones and seriously, how could I possibly resist using them in this comforting dish that's absolutely perfect for fall?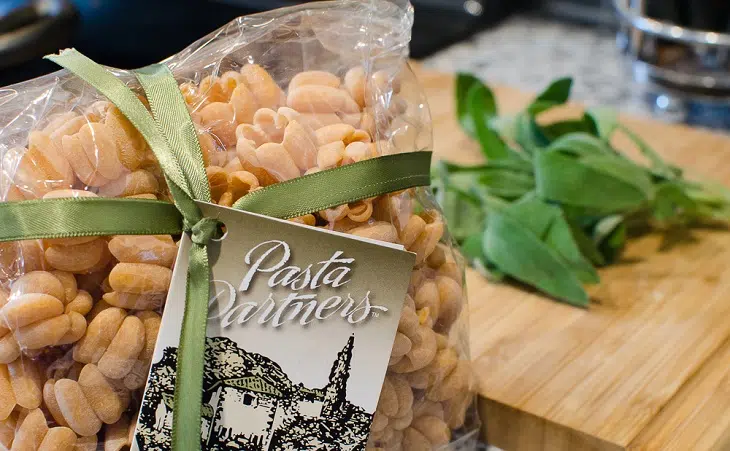 INGREDIENTS
3 cups uncooked pasta
1 lb. Italian sausage
1 tsp. sage
1/4 cup + 1 Tb. butter, divided
1/4 cup flour
2-3 cups milk
1/2 tsp. paprika
2.5 cups shredded cheese, divided (I used 1 cup sharp cheddar/1 cup white cheddar/half cup parmesan)
1 cup bread crumbs
2 Tb parmesan cheese
salt + pepper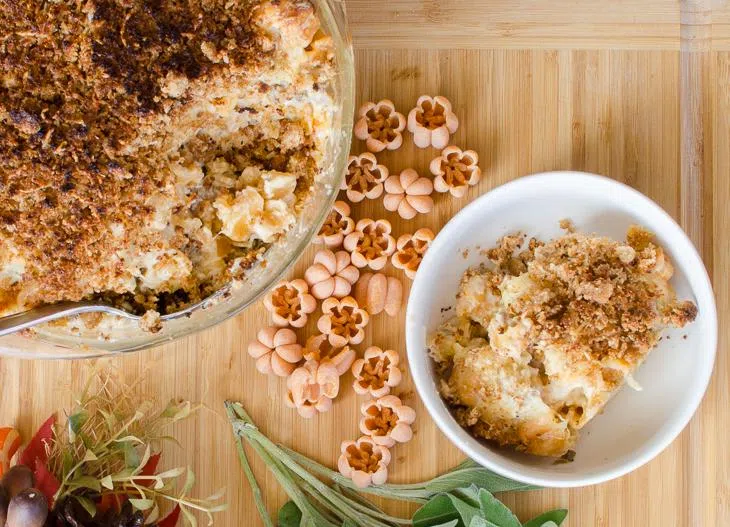 COOKING INSTRUCTIONS
Cook pasta in salted water; undercook by 1-2 minutes so it's still fairly firm. Drain and set aside.
Brown sausage along with 1 tsp sage.
Melt 1/4 cup butter in saucepan. Whisk in 1/4 cup flour and cook over medium-low heat for 3-4 minutes until browned. Stir constantly.
Whisk in milk. Bring to a simmer and whisk continually until your mixture thickens. If it's too thick add more milk.
Remove from heat and stir in paprika and 2 cups of cheese. Taste; add salt and pepper as desired.
Combine pasta, sausage, and cheese mixture. Pour into greased casserole dish.
Top with remaining 1/2 cup of cheese.
Combine bread crumbs and 1 Tb. butter in small bowl. Microwave 30 seconds until butter is melted. Mix in 2 Tb. parmesan cheese. Set aside.
Bake macaroni uncovered at 350 for 20 minutes.
Top with bread crumb mixture and return to oven for 10 minutes. Broil for 5 additional minutes if desired.
---
Read more of Kristina's contributions to allmomdoes here.