Have you ever really craved a cookie but don't want to deal with the hassle of making cookie dough?  Often, the thought of softening the butter, creaming it and mixing the dry ingredients separately is enough to stop me in my tracks.
But, there's just something amazing about homemade cookies.  It's like making magic in your oven.
Well, I found the perfect solution.  It's this easy, amazing recipe that also happens to be gluten-free and delicious!  There are only three ingredients so you can whip them up in minutes.
Easy PB Cookies
1 cup of peanut butter (I use Adam's because there's no added lard or sugar)
½ cup of brown sugar
1 egg
Preheat your oven to 350 degrees.  Meanwhile, mix together the peanut butter, brown sugar and the egg until blended.  Roll into 1 ½ inch balls and press with the back of a fork in the traditional crisscross pattern.  Bake for 8 minutes and let cool for 5 minutes before removing to a cooling rack.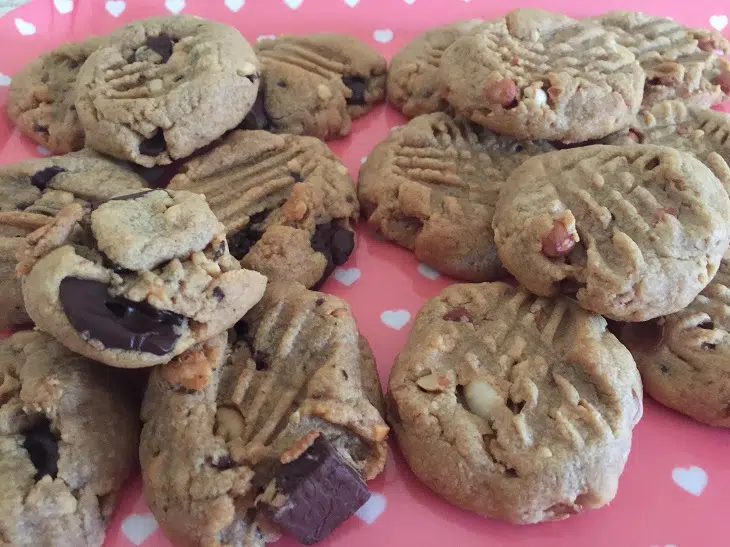 And, that's it!  That's the basic recipe.  Here are some ideas for making them uniquely your own:
Melt some chocolate and dip half the cookie in.
Add ½ cup of chocolate chips or chunks to the batter.
Add ½ cup of peanuts to the batter.
Put chocolate frosting on the bottom of a cookie and sandwich two of them together.
I split the dough in half and added peanuts to half for my weird husband who hates chocolate, and added big chunks from a chocolate bar to my half.  They were both yummy and since my gluten-free son was here, they disappeared in a day.
Add this to your recipe arsenal and you'll be able to produce yummy cookies in about 10 minutes!  Enjoy!
---
Read more of Ann's contributions to allmomdoes here.